When the term "unicorn" first emerged in 2013 to describe a privately owned start-up valued at over $1 billion, there were no start-ups from emerging markets on the list of thirty-nine. Three years later, the list has more than quadrupled to 179, including 11 from emerging markets. Beyond their 10-digit valuation, emerging market unicorns such as Jumia (Nigeria), Go-Jek (Indonesia), Decolar (Argentina) or Hike (India), have rapidly become major commercial and socio-economic players in their respective regions. Combined, these four unicorns have 6,500 employees and several hundreds of thousands of contractors; Go-Jek operates a fleet of 200,000 drivers and Jumia works with a network of 30,000 sales agents.
While start-ups in emerging markets are vital forces in both the innovation ecosystem and the wider economy, the majority struggle to reach scale. They are often stifled by a dearth of investment capital, lack of payment infrastructure, difficulty to reach unconnected users, a shortage of market insights and limited government support, among other challenges.
Likewise, mobile operators have touched the lives of billions and reached impressive scale across all population segments. Emerging markets represent 75% of the world's 4.8 billion unique mobile subscribers. Nevertheless, these mobile operators face a plethora of challenges. Sustainable competitive advantage in the telecommunications sector is becoming increasingly difficult to achieve. Digital disruption has made it difficult for mobile operators to keep up with the accelerating pace of innovation.
Today in emerging markets,more than anywhere else, there are opportunities for mobile operators and start-ups to collaborate. Mobile operators have reached the scale that start-ups lack, while start-ups have the local innovation mobile operators need.


When it comes to scale and innovation, mobile operators and start-ups have certain "haves" and "needs". As we looked at examples of collaboration between mobile operators and start-ups in emerging markets, it became clear that these "haves" and "needs" primarily determine the potential synergies, or opportunities for collaboration. Based on this finding, we were able to design a framework that outlines theses "haves", "needs" and resulting synergies.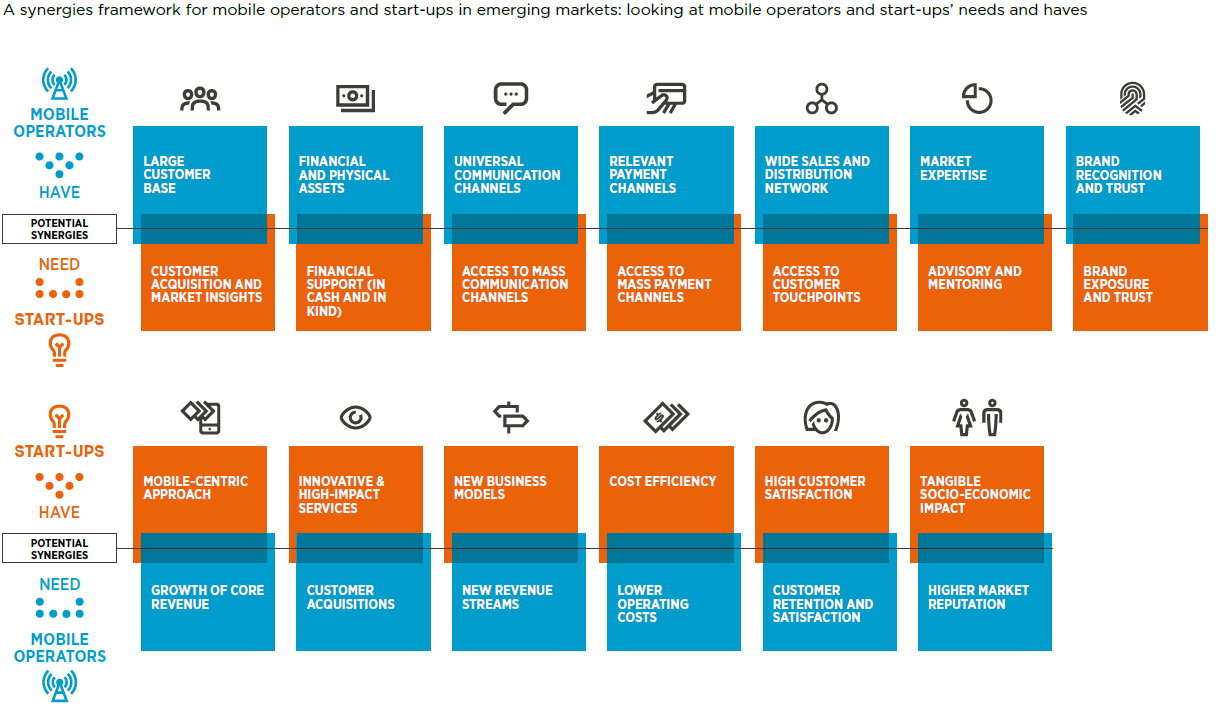 Collaborations between mobile operators and start-ups which yield mutually beneficial synergies are already a reality in emerging markets. The below video gives voice to the ones who talk about it the best: mobile operators, start-ups, and local ecosystem stakeholders.


With this report, the GSMA Ecosystem Accelerator programme calls on mobile operators and start-ups in emerging markets to continue seeking partnerships and opportunities for collaboration.