The GSMA Ecosystem Accelerator Innovation Fund was launched in 2016 in order to provide selected start-ups in Africa and Asia-Pacific with grant funding, technical assistance, and the opportunity to partner with mobile operators in order to scale their products and services into sustainable businesses with positive socio-economic impact. After selecting nine start-ups for its first round, the Fund is looking to support a second portfolio of a dozen mobile start-ups across these two regions. Here are some insights from the applications we received from Africa.
After looking at the top 100 pitches from Round 2 of the Innovation Fund and then more specifically at the Asia-Pacific start-ups' applications, the Ecosystem Accelerator team extracted insights from the pitches we received from start-ups in Africa.
As was the case for the first round, a large majority of applications from the continent came from four countries: Kenya (34%), Nigeria (24%), Uganda (10%) and Ghana (6%). Outside of these four, and similar to what we observed in Asia-Pacific, we received applications from a very diverse set of countries, sometimes where start-up ecosystems are quite small or still young, including for example Mozambique (3%), Zambia (2%), Zimbabwe (2%) and Benin (1%).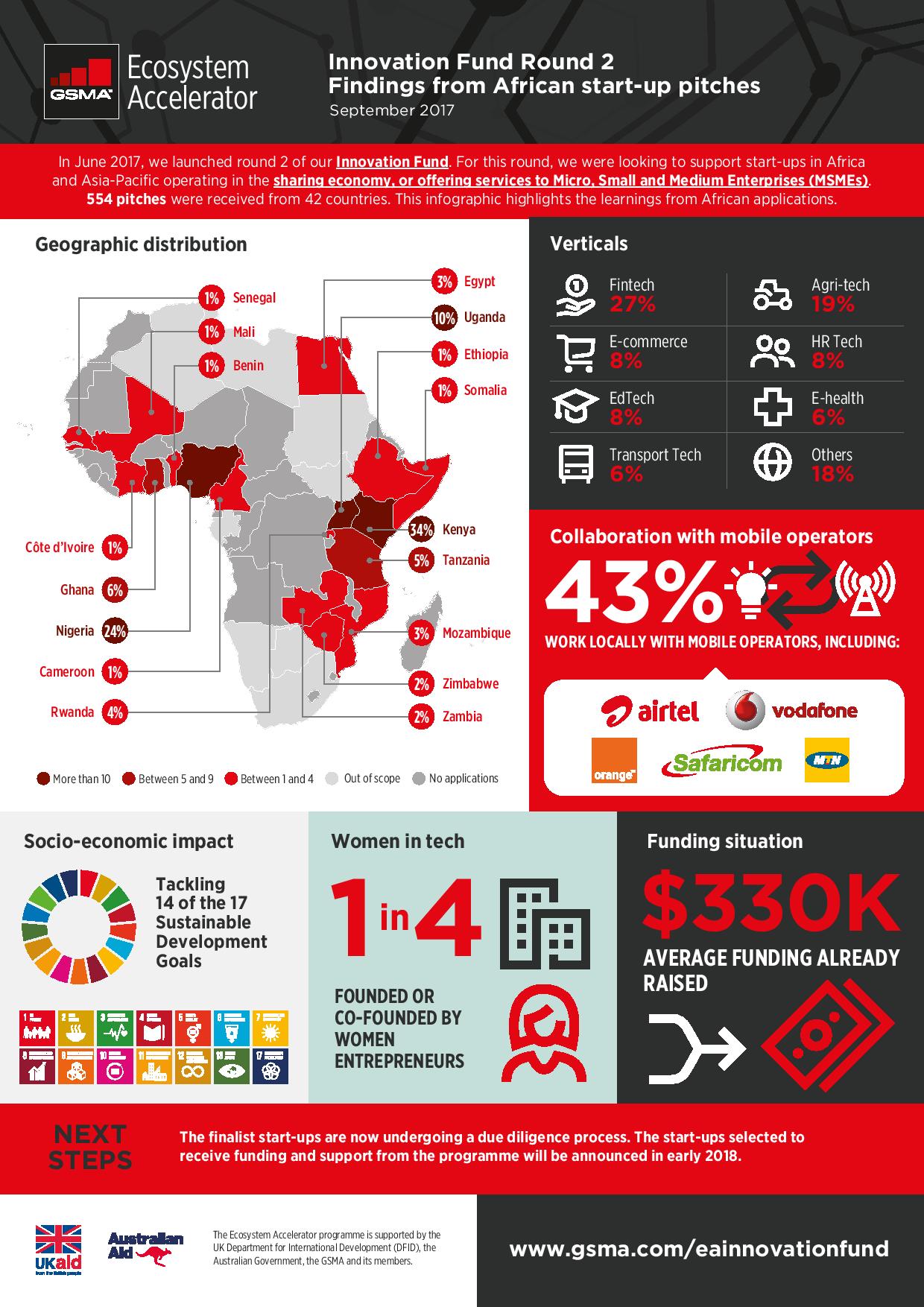 These start-ups in Africa have on average the following attributes: 12 team members, $175K revenue generated since commercial launch and $330K funding already raised. The latter is compared to an average of $195K funding raised from start-ups in Asia-Pacific, as mentioned in our previous blog. This suggests that start-ups that apply to our Innovation Fund from Africa are more mature than the ones applying from Asia. An assumption behind why more mature start-ups are still seeking support from our Fund is that it is more difficult for African start-ups to raise additional funding after having secured seed funding than for their Asian counterparts. Finally, in this sample from Africa, a quarter of the start-ups were founded or co-founded by women entrepreneurs.
Our analysis on the verticals reveals that Fintech and Agri-tech clearly lead the pack in Africa with almost half of the start-ups operating in these two sectors (27% and 19% respectively). In Fintech specifically, it is worth noting that 60% of the start-ups we reviewed offer credit or savings products and the remaining 40% focus on payments solutions for MSMEs. To illustrate those numbers, an example is Numida, a start-up that issues affordable, convenient and unsecured credit to Ugandan MSMEs who use their free business financial management mobile app. When it comes to Agri-tech, AgroCenta, a start-up based in Ghana, provides a market linkage platform for smallholder farmers in the staple food value chain to sell directly to off-takers.
One of the principal objectives of the Ecosystem Accelerator programme is to facilitate collaboration between mobile operators and start-ups. From this perspective, it was encouraging to see that in this regional sample of start-ups from Africa, 43% are already working with mobile operators in their local markets. The mobile operators most represented in these partnerships are Safaricom, Vodafone/Vodacom, MTN, Airtel and Orange. Unsurprisingly, these operators are also the most active in the start-up ecosystems of many African countries.
For example, Safaricom has its own corporate venture fund, Spark Venture Fund, that invested in six early growth stage start-ups using mobile technology as an enabler. Similarly, Orange, through its corporate venture arm Orange Digital Ventures, has been investing in early-stage innovation projects in Africa and also operates Orange Fabs, start-up accelerators in Cote d'Ivoire, Cameroon and Senegal. MTN has been working with several tech hubs and incubators on the continent including BongoHive in Zambia, Outbox in Uganda, and ActivSpaces in Cameroon. In Ghana, Vodafone is also active and has partnered with Meltwater Entrepreneurial School of Technology (MEST) to organise hackathons designed to give entrepreneurs and software developers a chance to develop mobile applications solving problems in health, education, entertainment, agriculture or finance.
Lastly, when analysing the socio-economic impact of these start-ups, it's interesting to note that they already claim to tackle 14 of the 17 UN Sustainable Development Goals (SDGs) with five being most frequently mentioned by the applicants: decent work and economic growth (SDG 8), no poverty (SDG 1), improvement in industry and infrastructure through innovation (SDG 9), gender equality (SDG 5) and reduced inequalities (SDG 10). For instance, mumm, an Egyptian start-up, is giving more women the opportunity to generate income for themselves and their families through an online platform connecting home-based cooks with hungry customers in the office to provide homemade food on demand. Another example is myAgro, a start-up from Mali that helps reduce poverty among smallholder farmers by allowing them to buy seeds, fertiliser and training with small payments via their own mobile layaway savings.
The Ecosystem Accelerator team is currently supporting the top 32 applications in building a more in-depth proposal, and performing due diligence on them. An independent panel will select a dozen of them before the end of the year and award a total of GBP 3 million in funding. Stay tuned for the announcement of our Round 2 portfolio start-ups in early 2018, and for our next round to be launched shortly after that.
The Ecosystem Accelerator programme is supported by the UK Department for International Development (DFID), the Australian Government, the GSMA and its members.