The GSMA Ecosystem Accelerator Innovation Fund was launched in 2016 in order to provide selected start-ups in Africa and Asia-Pacific with grant funding, technical assistance, and the opportunity to partner with mobile operators in order to scale their products and services into sustainable businesses with positive socio-economic impact. After selecting nine start-ups for its first round, the Fund is looking to support a second portfolio of a dozen mobile start-ups across these two regions. Here are some insights from the applications we received from Asia-Pacific.
After looking at the top 100 pitches from Round 2 of the Innovation Fund, the Ecosystem Accelerator team took a more regional approach to extract insights from the pitches we received from start-ups in Asia Pacific. In this region, many applications came from start-ups operating in relatively mature ecosystems such as Indonesia (18%) and the Philippines (7%). However, we were also very pleased to receive and review applications from start-ups in more nascent ecosystems such as Bangladesh (14%), Myanmar (13%), Cambodia (4%) or Papua New Guinea (4%).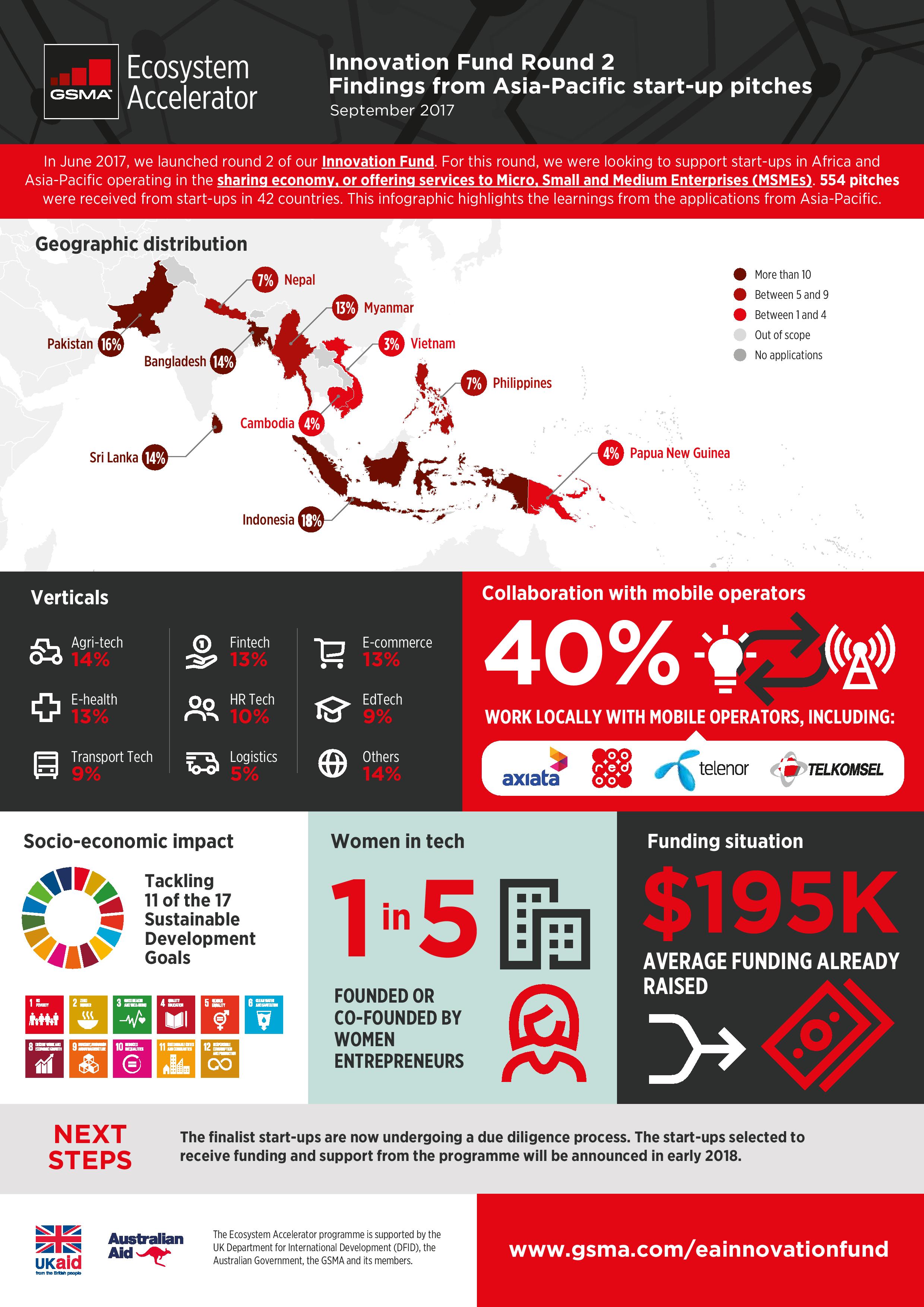 These start-ups in Asia-Pacific have, on average, the following characteristics: 14 team members, $179K revenue generated since commercial launch and $195K funding already raised. However, within the region, some disparities occur between countries: for instance, Indonesian start-ups that applied to the fund had raised $358K on average, whereas start-ups from Pakistan had raised an average funding of $108K, just about a third.
When further looking at the start-ups' teams, it is interesting to highlight that 20% of these organisations have been founded or co-founded by women entrepreneurs and overall close to 60% of them have women in their management teams.
When it comes to verticals, the proportion of start-ups present in each sector is fairly well distributed. Nevertheless, more than half of the start-ups are offering products or services in either Agri-tech (14%), E-commerce (13%), Fintech (13%) or E-health (13%). Looking beyond the numbers, in Agri-tech for instance, Ricult, a start-up based in Pakistan, has built a mobile phone-based platform that provides smallholder farmers access to farm inputs on credit, agronomy services and end-buyers. In the E-commerce space, which is expected to grow significantly in the region thanks to a growing middle class and rapidly expanding internet access, start-ups such as Jarvis Store in Indonesia help local MSMEs build mobile-optimized online stores to sell their products through the internet.
One of the key focus of the Ecosystem Accelerator programme is the collaboration between mobile operators and start-ups. In this perspective, it was encouraging to note that, in this regional sample of start-ups from Asia Pacific, 40% of the start-ups already have a partnership with mobile operators in their local markets. The mobile operators most represented in these partnerships are Axiata (27%), Telenor (24%), Telkomsel (9%) and Ooredoo (6%). This does not come as a surprise since these operators are very active in the start-ups ecosystems of several countries of the Asia-Pacific region – Axiata in Malaysia, Sri Lanka, Nepal, Bangladesh, Cambodia and Indonesia; Telenor in Malaysia, Thailand, Bangladesh, India, Myanmar and Pakistan; Ooredoo in Myanmar and Indonesia; Telkomsel in Indonesia.
For example, Axiata operates Axiata Digital Innovation Fund (ADIF), Malaysia's largest corporate venture capital fund, whose purpose is to support high growth digital start-ups. Based on its early success, they have now replicated the fund model in Cambodia (SADIF). Axiata has also launched in 2015 a group-wide API platform, MIFE, to simplify the process of partnering with start-ups in the digital space. Similarly, MDI Ventures, the venture capital arm of Telkom Group in Indonesia, has been investing in digital entrepreneurs in Southeast Asia. As illustrated in our past research on tech hubs, Telenor runs a few start-up accelerators in-house including dtac Accelerate in Thailand, Telenor Myanmar Accelerate, Telenor Pakistan Velocity, Grameenphone GP Accelerator and Digi Accelerate in Malaysia.
Finally, when analysing the socio-economic impact of these start-ups, it's interesting to note that they already claim to tackle 11 of the 17 UN Sustainable Development Goals (SDGs) with five being most frequently mentioned by the applicants: decent work and economic growth (SDG 8), no poverty (SDG 1), improvement in industry and infrastructure through innovation (SDG 9), gender equality (SDG 5) and good health and well-being (SDG 3). Examples include Impact Terra, a Myanmar-based enterprise whose mobile platform Golden Paddy helps reduce poverty among smallholder farmers by giving them advice on harvest productivity and better information on input market prices; and eMedics, a start-up improving access to quality health care in Pakistan by providing ICT based healthcare solutions to rural areas such as teleconsultations and e-pharmacy.
The Ecosystem Accelerator team is currently supporting the top 32 applications in building a more in-depth proposal, and performing due diligence on them. An independent panel will select a dozen of them before the end of the year and award a total of GBP 3 million in funding. Stay tuned for the announcement of our Round 2 portfolio start-ups in early 2018, and for our next round to be launched shortly after that.
The Ecosystem Accelerator programme is supported by the UK Department for International Development (DFID), the Australian Government, the GSMA and its members.