Between 8 and 10 July 2017, our team (GSMA Ecosystem Accelerator) held a bootcamp for our nine Innovation Fund portfolio start-ups. The three-day closed-door gathering, held in Dar es Salaam, Tanzania, consisted of expert presentations, workshops and networking sessions. Here are some of the highlights from the event.
1. Measuring social and economic impact in emerging markets
One of the sessions focused on articulating the socio-economic impact that the start-ups from the first cohort of our Innovation Fund are having. Teams from the nine start-ups – representing eight countries – brainstormed and shared with the broader audience the key socio-economic impact they were having in their local markets.
For instance, we heard from eSewa how they support small shopkeepers in Nepal, from Raye7 how they enable women to commute safely in Egypt, from UX how they use mobile to connect informal sector workers to jobs in Mozambique and from Twiga Foods how they provide improved market access to farmers in Kenya, as well as hassle-free supply chain to roadside vendors, with improved quality and lower prices for end customers. SafeMotos expanded on how their platform increases road safety and enables more transparent market interaction between motorcycle taxi drivers and customers in Rwanda. Optimetriks shared how their mobile crowdsourcing platform provides more reliable field data to SMEs while providing employment opportunities in East Africa.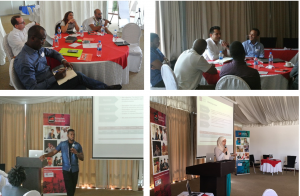 2. Knowledge sharing across innovation focus areas and across sectors
Another workshop focused on the Ecosystem Accelerator's two current focus areas: Sharing economy and Services for SMEs. Start-ups were grouped into their respective focus areas to discuss how they address key challenges specific to this area.
For instance, at the "Sharing Economy" table, the six teams looked at two critical features most sharing economy platforms need to build: efficiency and trust. It was also the opportunity for our edtech cluster (Kytabu in Kenya, Prepclass in Nigeria and Ruangguru in Indonesia) to exchange ideas on how to build trust on to their respective platforms. "Trust is a very expensive commodity in emerging markets" concluded Chukwuwezam 'Wezam' Obanor, co-founder of Prepclass.

3. Building synergies with mobile operators in emerging markets
Trust is indeed a challenge faced by most sharing economy platforms in emerging markets and one of the many aspects where partnership with mobile operators could bring value to a start-up. Another workshop we run therefore focused on helping start-ups identify their "Haves" and "Needs" but also those of the mobile operators they want to partner with. The Ecosystem Accelerator team ran each start-up through our synergies framework. While some of the nine start-ups are already closely working with mobile operators in their respective markets – like eSewa in Nepal or UX in Mozambique – it was the opportunity for most to map out their value proposition to further engage with mobile operators locally.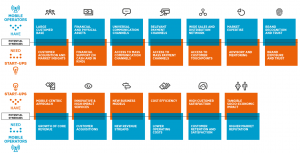 4. Turning theory into actions: networking and engaging with mobile operators, donors and investors
On the last day of the bootcamp, we invited some of the key stakeholders of our programme to join us and meet with the teams of the nine start-ups. To get a concrete example of operator-start-up collaboration, the day was kicked-off by a fireside chat with Lilian Makoi, founder of Jamii Africa, to discuss how her mobile micro-insurance start-up was able to secure a partnership with Vodacom Tanzania. This was followed by talks from GSMA Ecosystem Accelerator donor representatives, Magdalena Banasiak (UK Department for International Development) and Dan Woods (DFAT innovationXchange). Both discussed the priorities of their respective organisations and why they have decided to partner with the GSMA Ecosystem Accelerator to scale innovation in Africa and Asia Pacific.
Start-up teams then got a chance to receive tips on "Investor Readiness" by four seasoned investors: Boldewijn Sloet (Africa Tech Ventures, TBL Mirror Fund), Claudia Makadistro (Seedstars), Eric Osiakwan (Chanzo Capital) and Wale Ayeni (IFC Venture Capital).
As a conclusion to the bootcamp, the nine start-ups pitched to each of the mobile operators, donors and investors during a speed-networking session. This was also the opportunity for all to align agendas for further more in-depth meetings during the M360 Africa conference, set to start the following day in Dar Es Salaam.

We would like to conclude this blog by extending a warm thank you to the start-ups who travelled to Tanzania for the bootcamp, as well as to all our stakeholders who joined us and helped make this bootcamp a success.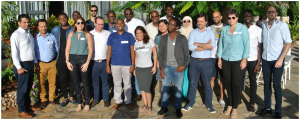 The Ecosystem Accelerator programme is supported by the UK Department for International Development (DFID), the Australian Government, and the GSMA and its members.