Last April, 2017 – a year ago – we announced the nine start-ups from across Africa and Asia Pacific selected for the first round of the GSMA Ecosystem Accelerator Innovation Fund. Since we last updated you in October, these nine start-ups have been continuing to grow, pitch partnerships to mobile operators, present at regional and global events and bring about social impact to their local ecosystems through mobile technology. To mark this one year anniversary, we thought it was the right moment to share some further updates with you.
A lot can happen in six months: Highlights from the programme
Between November and January, the GSMA Ecosystem Accelerator organised two remote clinics, which were attended by all of the round one portfolio start-ups. Vegard Aas, as Head of Innovation at Telenor Group, is in charge of identifying and partnering with start-ups that have the potential to bring value to Telenor's 174 million customers across Asia, the Nordics and CEE, was the guest speaker for the November session. Tobias Wacker, User Research Manager for the GSMA mHealth and mAgri programmes, ran a clinic that deep-dived into mobile user research – the evaluation of mobile solutions through a series of testing with target users.
The new year kicked off with seven start-ups (eSewa, Kytabu, Optimetriks, Biscate, PrepClass, Twiga Foods and Raye7) pitching on GSMA's Mobile Word Congress (MWC) showcase stages (see our blog). Beyond the exposure, the event gave the start-up teams the opportunity to network with mobile industry stakeholders, whilst the Ecosystem Accelerator booth at 4YFN enabled them to hold meetings. Two start-ups, PrepClass and Ruangguru, were also invited to share their insights on improving educational content to low-income families at the Ministerial Programme.
April continued to be jam-packed with learning as the GSMA Ecosystem Accelerator held a second Bootcamp in Singapore (see our blog). The round one start-ups attending our three-day long closed door event were instrumental in contributing their key learning experiences of working with mobile operators through workshops and panel sessions. These learnings, often echoing our report, 'Opening Doors: A Start-Up's Guide to Working with Mobile Operators in Emerging Markets' and emphasised by the handful of mobile operators executives present at the event, were substantial in highlighting both the benefits and challenges of the journey.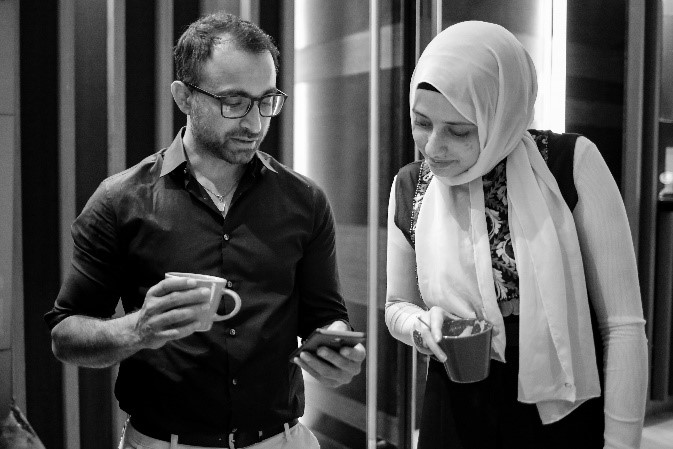 Founder of Raye7, Samira Negm sharing insights with Tootle's founder, Sixit Bhatta.
Noteworthy growth/commercial opportunities and partnerships with mobile operators
Raye7, a Cairo-based community-focused carpooling service, entered a partnership with Dsquares, which runs Vodafone's local loyalty programme. The Vodafone Sherkety platform is a marketplace that provides discounts and offers to Vodafone Business customers. Raye7's partnership with Dsquares and Vodafone allows companies that are Vodafone clients to give their employees access to Raye7 services. In exchange, Raye7 is paid with Vodafone Red Points through the Sherkety platform (find out more in our latest publication, 'Start-ups and Mobile in Emerging Markets: Issue 2'.
eSewa, a leading Nepalese mobile payment service provider, received an award from the Minister of ICT for being Nepal Telecom's highest contributing airtime dealer in the market.
In Indonesia, the EdTech Ruangguru passed the seven million registered users mark. In January 2018, Ruangguru deepened its partnership with Telkomsel, collaborating with the team from Telkomsel's prepaid youth brand, Loop. Through the partnership, Ruangguru and Telkomsel Loop launched a campaign in February 2018 — the Ruangguru Data Package — that gives users 1GB of data, and 2GB of free data exclusively to access Ruangguru's educational content on the web and on mobile. Ruangguru has also begun feeding its content into Telkomsel Loop's educational portal, Ensikloopedia (Meet our portfolio start-ups: Ruangguru, Indonesia). Ruangguru also announced they will be the exclusive organiser to conduct online tests to select the prospective receivers of President University scholarship.
Optimetriks, a crowdsourced mobile-based and real-time data collection service for FMCG companies has continued to scale across Sub-Saharan Africa. The start-up now works with several leading mobile operators across the continent, including Tigo, Orange and MTN.
You can watch the Optimetriks video and read the case study.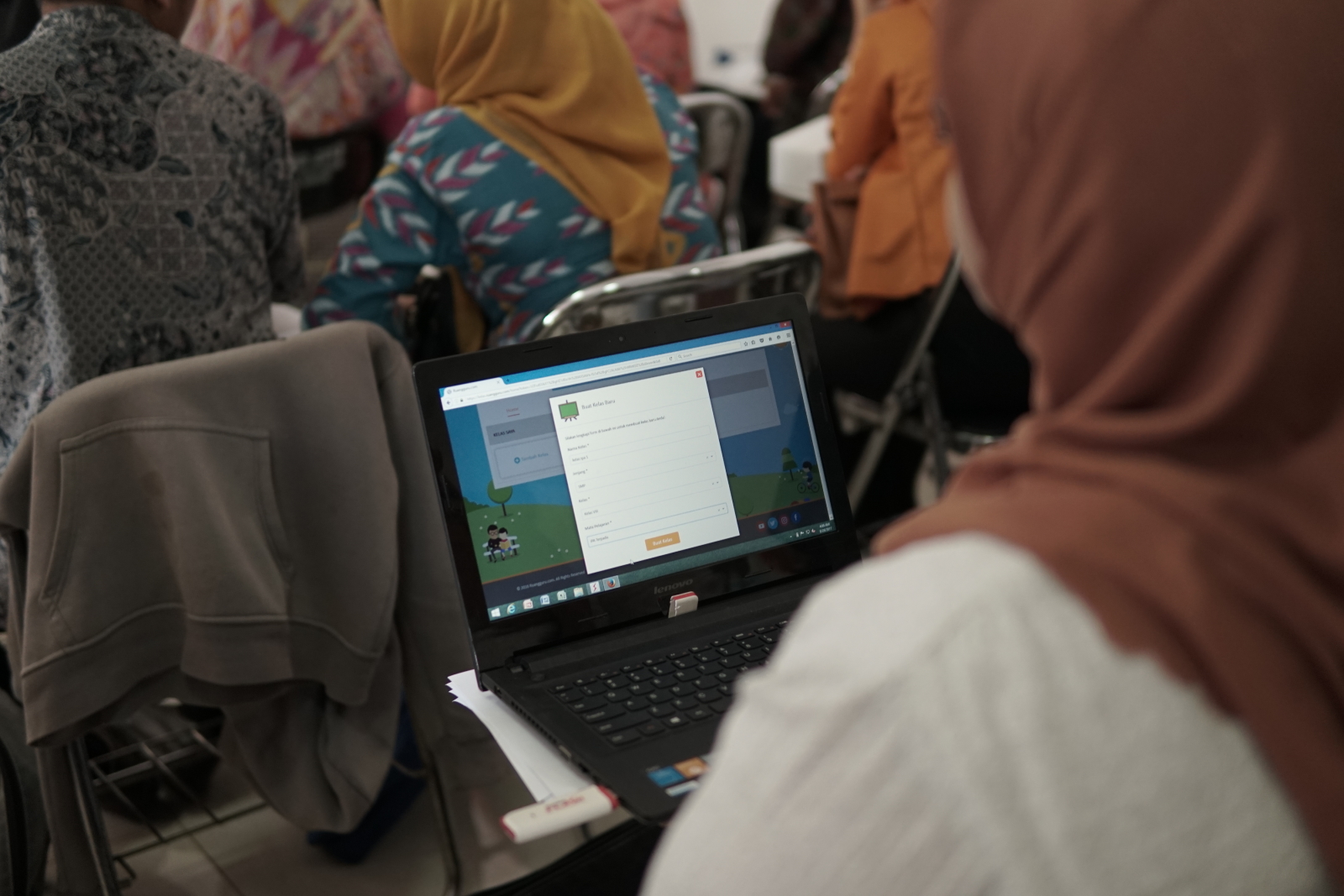 A student using Ruangguru software.
Recent awards
Although we are only just into the second quarter of the year, several of the portfolio start-ups have already received awards in 2018: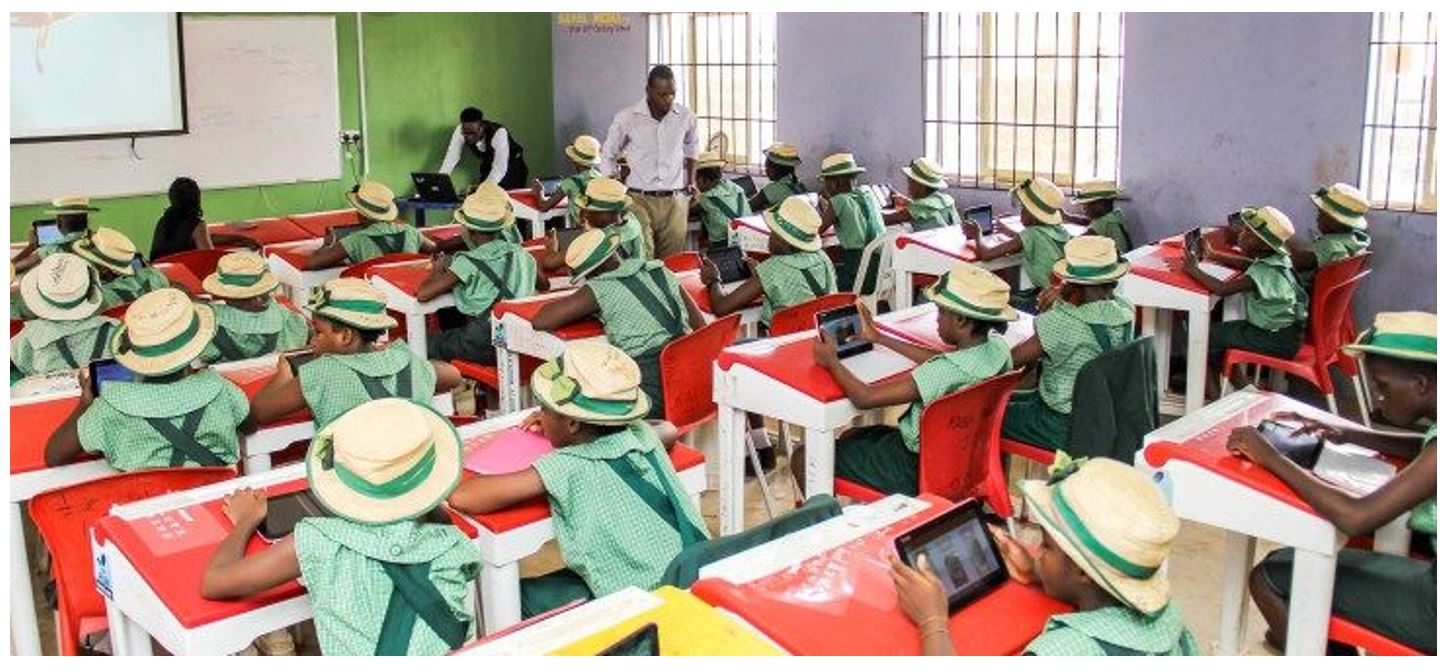 PrepClass learning software in action.
Global media and report coverage
In the past six months, several portfolio start-ups have gained impressive global and regional media coverage.
Frederico P. Silva, co-founder of Biscate (UX Information Technologies), the mobile marketplace for local workers, featured in The Financial Times and discussed how 'Tech innovation puts Mozambican workers on firmer financial footing' and how 'mobile platforms are helping to boost income and savings', highlighting how the start-up ecosystem is starting to grow in Mozambique. This is something his company, Biscate, is testament to as the online job board has over 47,000 workers to 25,000 customers in only a couple of years. SafeMotos, an Uber-style app designed to make the motorcycle taxi industry more efficient and less dangerous also had global media coverage as they were featured in The National Geographic.
Caine Wanjau, Twiga Foods CTO, interviewed with African Tech Roundup. He provided insights on how they have grown to scale and made sure they are 'resolving a real need', a message highlighted by CNN Africa in a video online demonstrating how their mobile solutions increase profits for farmers and vendors. Biscate also received great regional coverage as they were interviewed by CNBC Africa to discuss the entrepreneurial opportunities in Mozambique. Meanwhile, Raye7 featured in the United Nations Economic Commission for Europe PEP report. The article highlights how Raye7 is also helping to lower 'CO2 emissions'.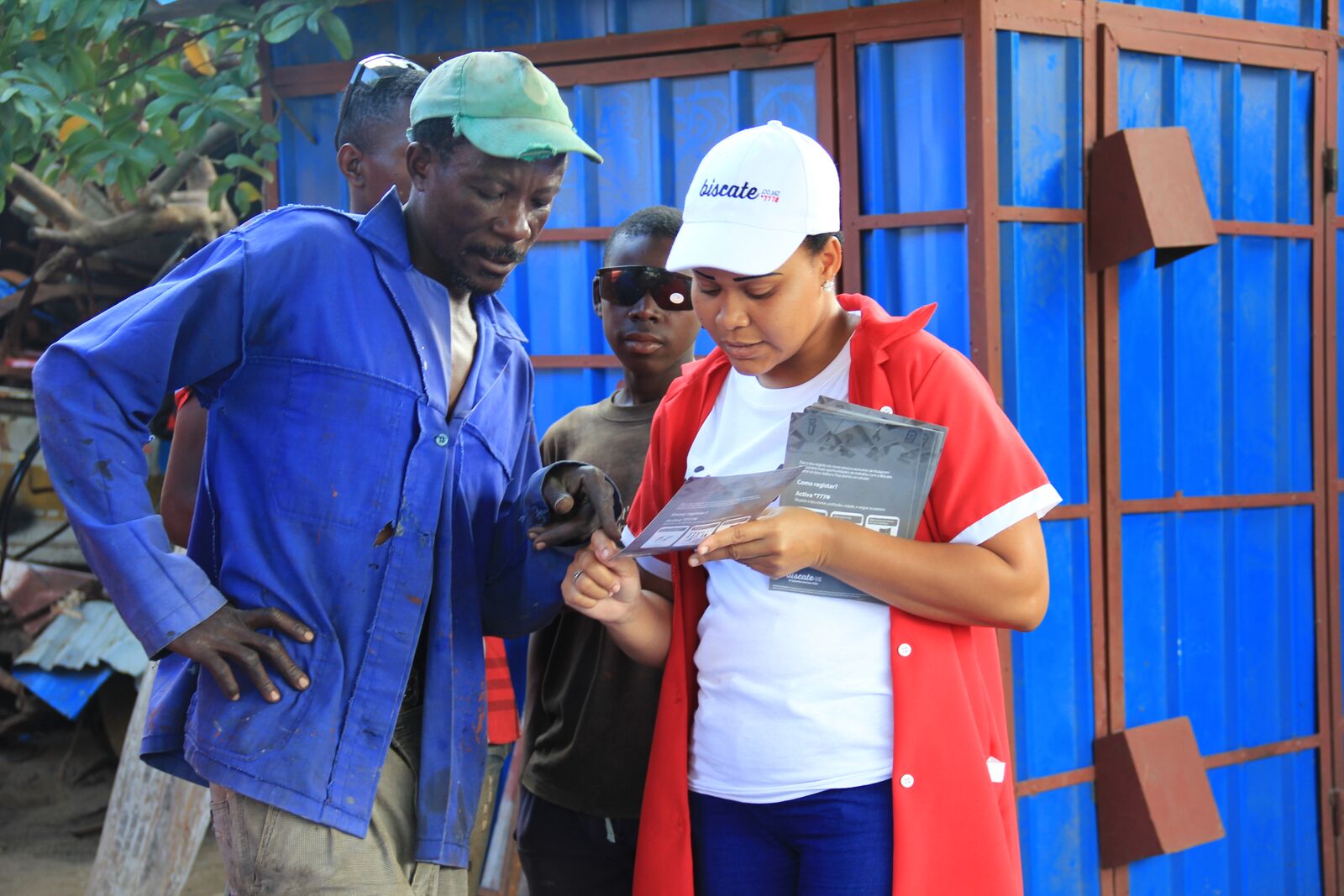 Biscate branded activation in Beira.  
Further support from other acceleration programmes
Some start-ups were successful in applying to other regional acceleration programmes. In November 2017, PrepClass, the Nigerian EdTech, enrolled onto the XL Africa residency, in Cape Town, whilst Optimetriks were one of 30 start-ups selected to launch at DEMO Africa and gained a place at Kenya's iHub Traction Camp.
Looking to the future
Twiga Foods and IBM Research Africa are developing a platform that enables thousands of FMCG companies to access financial services through blockchain. Given the success of an eight-week pilot, which processed more than 220 loans with the average loan around $30 (3,020 KES) and led to increasing order size by 30 per cent and profits for each retailer, on average, by six per cent, this is certainly a new collaboration to take note of (for more information see this video).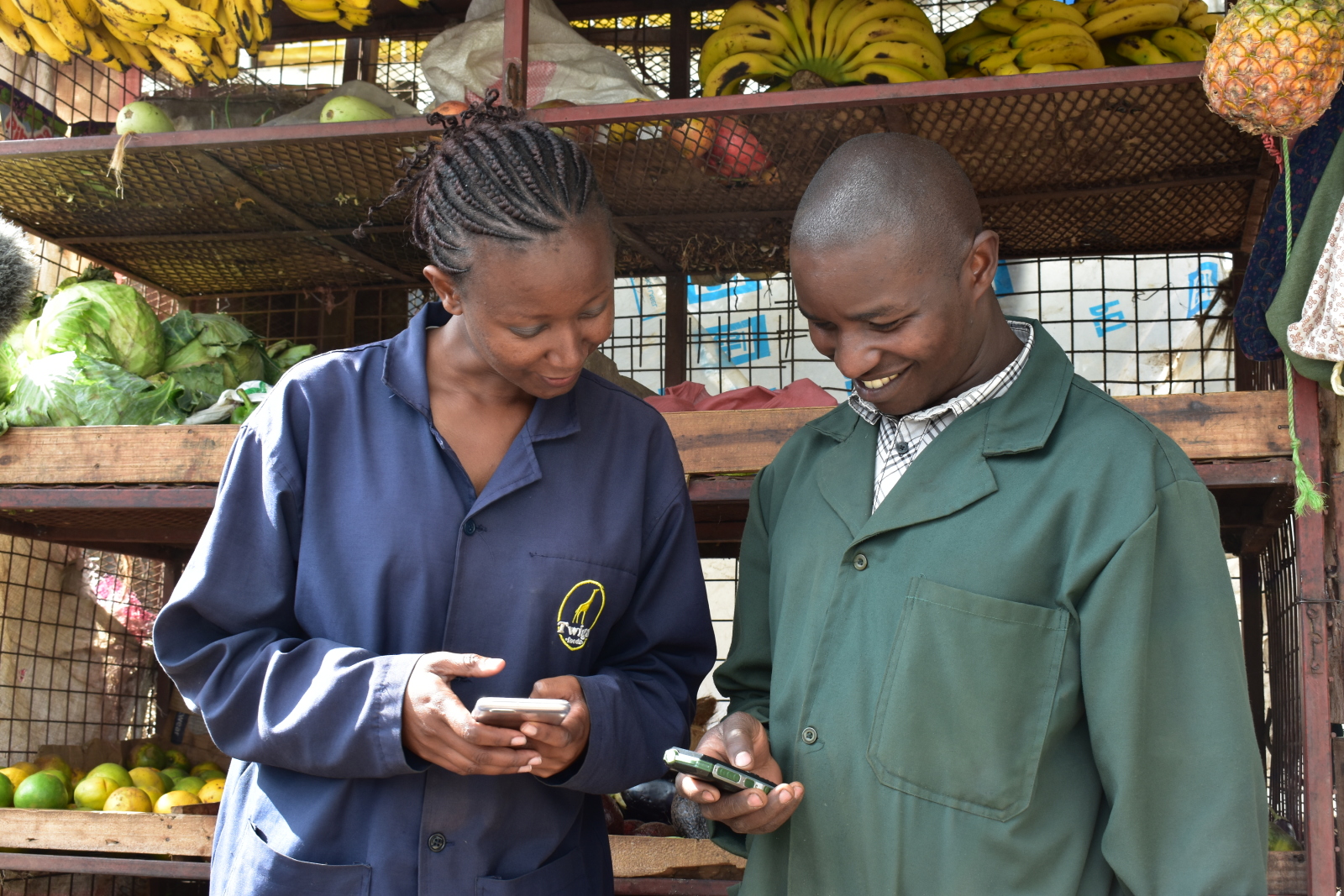 Twiga Foods farmer using the service.   
Raye7 plans to go global are coming to fruition – they arrived in Finland and have partnered with one of the largest financial groups worldwide to activate the latest smart transportation trends for their employees and customers. Along with hitting 3600 per cent yearly growth in 2017, their future plans to expand to other emerging markets including Nigeria, India and the Middle East show this app is definitely a ride worth hailing!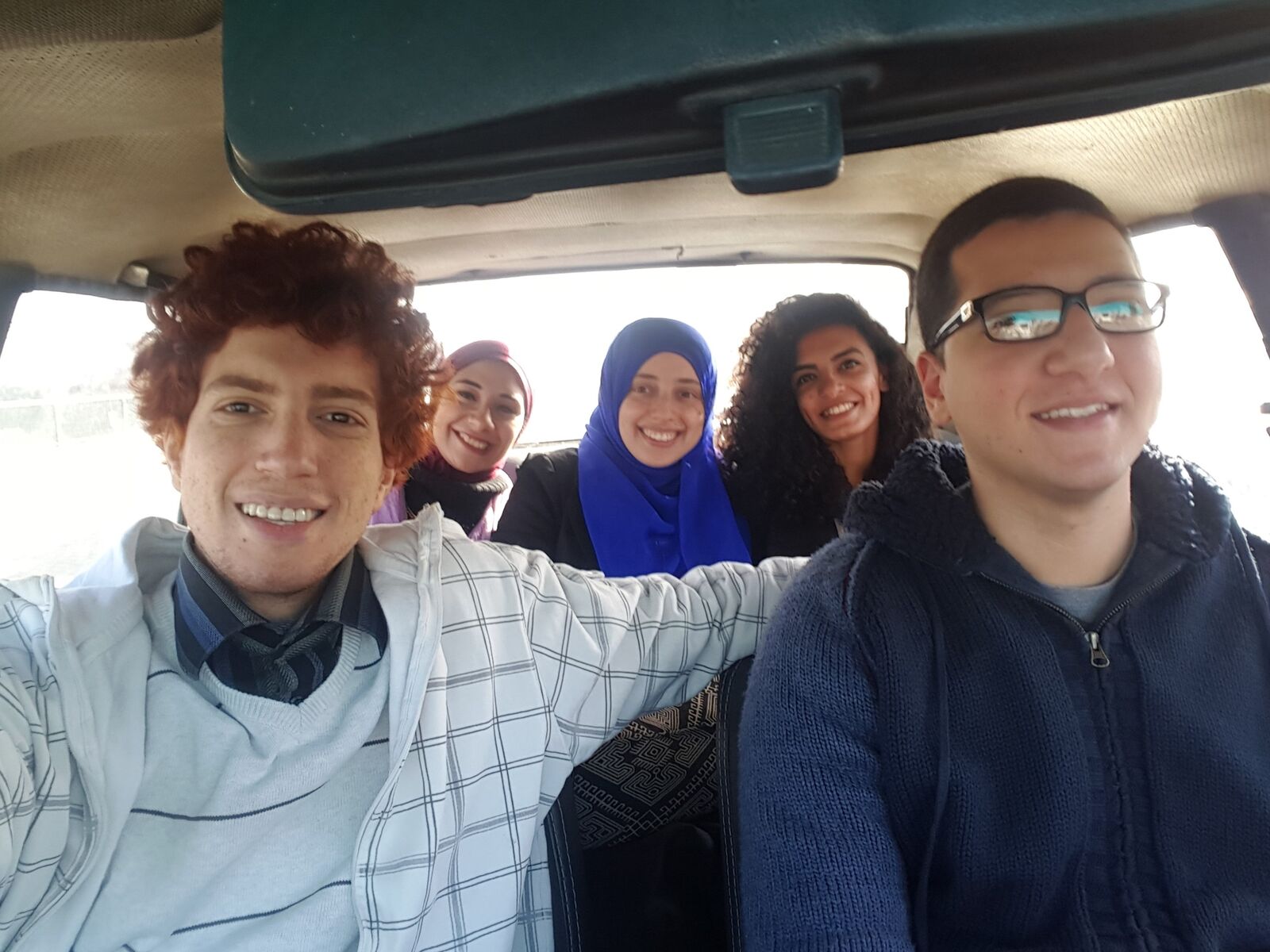 Raye7  team taking a carpool ride.
Still on the expansion chapter, SafeMotos announced they are making plans to expand to the Democratic Republic of Congo in 2018.
Whilst our work with these nine start-ups is drawing to a close, we have recently announced the portfolio of the second round of the Ecosystem Accelerator Innovation Fund and are currently selecting start-ups from Asia Pacific and Africa, who will be part of the third round. Stay tuned for some more updates in the  summer of 2018.
The Ecosystem Accelerator programme is supported by the UK Department for International Development (DFID), the Australian Government, the GSMA and its members.