On April 21st, the GSMA Ecosystem Accelerator team participated in the Africa Tech Summit London event. This congregated some of the brightest minds in Africa tech scene (from start-up founders and investors to mobile operator executives and tech hubs managers) to discuss key insights, trends, opportunities and concerns facing the tech ecosystem. Here are three points we took away from the event.
1. Digging deeper into the question of investment: Angel syndicate funding is rising in Africa
According to leading Venture Capital (VC) firm Partech Ventures, VC funding raised by African tech start-ups totalled a record breaking US$ 366.8 million in 2016. As is often the case in Africa tech-focused conferences, Africa Tech Summit London's discussions covered the investment topic. Speakers identified three types of investments today in Africa: Impact investment (for good), Commercial investment (for return), and Strategic investment by large corporations (corporate venture capital). However, agreement was that capital will only increasingly flow to Africa when entrepreneurs "show capital the money"; for commercial money to go to African start-ups, it needs to see returns.
"You want to invest to Africa? Go there. Experience the problems local start-ups solve. Partner", recommended Tom Jackson from Disrupt Africa when the discussion moved to the "how". An increasing number of investors seem to be following this approach as Africa-focused angel investor networks are growing. Sara Gamay (Cairo Angels) revealed that many angel investors are pooling resources and collaborating on early-stage start-up due diligence. She noted that Cairo Angels has invested $2 million in 19 Egyptian start-ups in the last two years alone. Reinforcing Sara Gamay's point, Ben White (VC4Africa) mentioned there are a growing number of high network individuals co-investing in Africa. More than 40 angel investing networks are currently active on the continent according to him. The VC4Africa founder also announced the official launch of XL Africa, a World-Bank led business accelerator programme focused on matching promising start-ups with mentors and investors.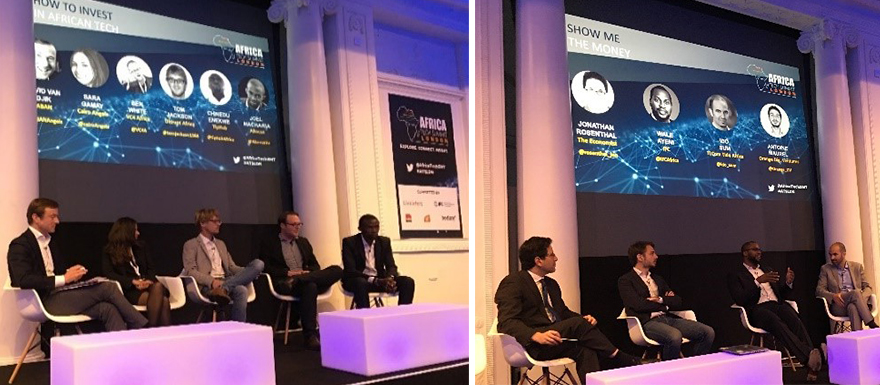 2. A strong collaboration with a mobile operator goes a long way in Africa
Still on the theme of collaboration, the "Mobile Operators & Start-ups – A Match Made For Impact" panel was moderated by GSMA Ecosystem Accelerator's Maxime Bayen who opened the panel with an introduction to GSMA Ecosystem Accelerator programme, our latest report on operator and start-up synergies and our Innovation Fund. The fundamental hypothesis for our programme is that today in emerging markets and specifically in Africa, mobile operators have reached the scale that start-ups lack, while start-ups have the local innovation mobile operators need. This calls for an increased level of collaboration which we believe will create a win-win situation for both parties and drive significant socio-economic impact across the continent by allowing mobile innovation to scale.
Speaking on that panel, Aurelien Duval-Delort from Orange Middle East Africa, mentioned that mobile operators have a lot to offer to start-ups in terms of channels of communication (USSD, SMS), payment and identity. Adia Sowho, representing Etisalat Nigeria on the panel, highlighted that often, unfortunately many start-ups self-select themselves out of the relationship with mobile operators because of negative rumours. Both start-ups Zazu Africa (Zambia) and Eneza Education (Kenya), also participating in the panel, proved collaborating with mobile operators is worth the effort. This point was reinforced by Eline Blaauboer (Safaricom Spark / Africa Tech Ventures) who supported Safaricom in closingsix investments into Sendy, Lynk, Eneza, MSurvey, Farmdrive and iProcure.
The two African start-ups (Eneza Education and Zazu) stated that they would actually like to do more with their respective mobile operator partners (MTN and Safaricom). Stephen Haggard from Eneza Education called on mobile operators to take advantage of the data they have access to, citing operators' geolocation data as a case in point. He noted that by opening these data points, mobile operators and start-ups can jointly build premium products that will enrich consumers' lives.
The discussion concluded by reminding the audience that African start-up founders should not disregard feature phone users when building products, noting that 85% of African mobile users are still on feature phones.

3. Start-ups, hone your storytelling skills
A key theme emerged throughout the day: the importance for African start-ups to craft and articulate a compelling story. Whether it is to secure investment, a commercial deal with a mobile operator, or a good article in a prominent media outlet, it was evident by the end of the conference that storytelling is a skill that pays dividend when properly executed.
From an investor perspective, Wale Ayeni (IFC's Venture Capital arm) shared the organisation's "ABC methodology" when considering investing into start-ups:
A – Asset (strong products)
B – Build it (strong execution)
C – Communicate it (communicating value proposition)
From a mobile operator angle, Adia Sowho (Etisalat Nigeria) noted in a keynote that smart marketing involves selling experiences not products. Similarly, Christopher Baker-Brian, co-founder of BBOXX (Rwanda), advised start-ups to have a clear and distinct story for their business at each funding round.
From a media perspective, Jake Bright (TechCrunch) insisted that when approaching press, start-ups should be able to answer 4 simple questions:
What's your value proposition?
What's your revenue model?
What's unique about your model?
Where are you in your investment plans?
Lastly, in a panel discussing what makes African start-up worth writing about, Africa tech media professionals highlighted the critical role of social media and especially Twitter in the African ecosystem. Time for African start-ups to get their business pitch fit into 140 characters!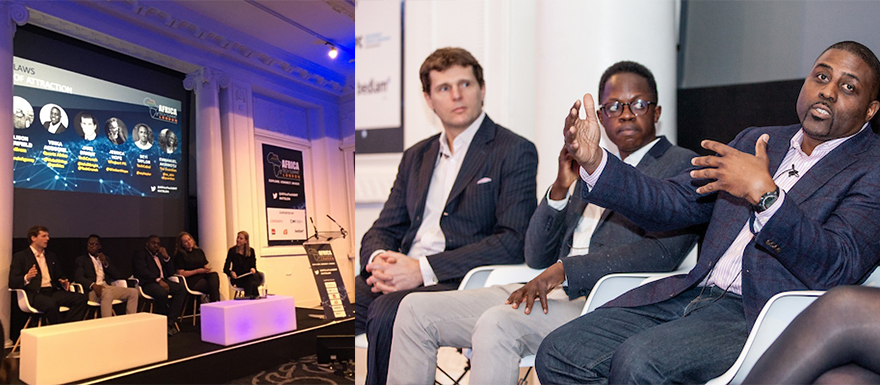 We would like to thank Andrew Fassnidge and his team at AppsAfrica for inviting us to participate and for bringing Africa tech ecosystem to London.