Between 9 and 14 July, part of our team was in Senegal in order to evaluate the progress made to date by two of our Innovation Fund start-ups (MaTontine, SudPay) since we started funding and working with them back in February 2018. We also took the opportunity from this visit to participate in the West AfricaCom Conference and meet with some of the key local ecosystem stakeholders. As usual we thought we'd share some short takeaways from that week.
1. Could Senegal become a regional pioneer in digital tax collection?
This, for sure, is what the team behind the start-up SudPay believes. Back in 2017, the team developed a solution dubbed, 'TownPay' designed for Senegal's municipalities to use mobile technology to collect local taxes from small shops and merchants. In Senegal, up to 70 per cent of local taxes go uncollected due to fraud at different steps of the collection process. This missed income in turn prevents municipalities from maintaining and investing in public services which has a direct impact on the local population. For a typical Senegalese municipality, the taxes collected are used to pay for healthcare services (30 per cent), education services (20 per cent), infrastructure and waste collection (20 per cent) with the remaining funding going to public lighting and municipality administrative costs.
(Presentation of the TownPay enrolment phase results with the municipality of Pout, 55km from Dakar)
TownPay allows municipalities to automate and digitise the collection of local taxes from local shops and merchants to reduce fraud and improve collection rates. The solution initially equips municipal tax collectors with proprietary mobile terminals (integrating a SIM card), merchants with NFC cards or tags and municipalities with dashboards to track tax collection. In a second phase, and in close collaboration with local mobile operators (Orange/Sonatel, Tigo, Expresso Telecom), merchants will be in a position to pay these taxes directly, using mobile money.
As of July 2018, seven municipalities have signed up for the service, three of which have gone live. More than 2,600 merchants have been enrolled since April 2018 and half of them have already paid their taxes using the solution since the tax collection started in late June 2018, with the amount of taxes collected averaging to 3,000 FCFA (around $5.5) per merchant and per month.
Beyond the digitisation and improvement of the tax collection process, TownPay aims to push digital and financial inclusion among mainly informal merchants throughout the country.
(Demo of the solution and meeting with Townpay users in the market of Passy, 235km from Dakar)
2. Turning traditional savings groups mobile to drive financial inclusion
This is the challenge that Dakar-based start-up MaTontine took up when they built a platform to digitalise traditional, informal rotating savings circles called 'tontines' and used this platform to offer users access to financial services (micro-loans, insurance). In a country where under 25 per cent of adults (with even lower rates in rural areas) have access to a bank account of any kind, people usually rely on these informal and often unsafe 'tontines'.
MaTontine offers a mobile-based automated platform for tontines. Typically, members send money to the shared 'pot' on a monthly basis using mobile money and each month, one of the group's member is picked up randomly and gets the full pot amount. By allowing users – the vast majority of which are women – to build credit scores over time, MaTontine allows them to access other financial services, such as small loans and insurance. The community-focused platform is deployed and run by tontine managers who generate some revenue through this activity.
(Demo of the solution and meeting with MaTontine users in a neighbourhood of Guédiawaye, 20km from Dakar)
As of July 2018 (and since their commercial launch in February 2018), MaTontine has built a community of 1,052 active members – more than 80 per cent of which are women – across five regions of Senegal. These members have already 'saved' upward of 51 million FCFA (around $90,000) through MaTontine and more than half of these members have benefitted from micro-loans and insurance services offered through the platform.
When meeting with several of these 'tontine groups' during our visit outside Dakar (where most MaTontine users live), we had the opportunity to better understand the demographics of the start-up's users. In a given 'tontine group', typically made of 10 members:
Nine are women (average age between 40 and 50);
Seven are small, informal merchants (only 30 per cent are formally employed), typically selling textile or food products;
Six had never used mobile money before registering with MaTontine; and
Four are illiterate (the way they use the service is often by asking their children or a mobile money agent to make the payments for them using their mobile phone).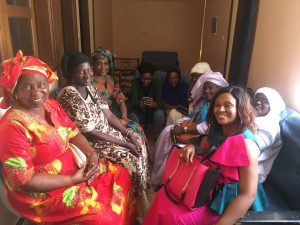 (Meeting with a group of MaTontine users in Guédiawaye, 20km from Dakar)
3. A young yet vibrant and fast-growing tech ecosystem
On 10 and 11 July, we had the opportunity to participate in the West AfricaCom conference and to share some of our programme's insights on the topic, 'Seeing the benefits of collaboration between MNOs and Start-ups in West Africa'.  The region, which is home to more than 3,500 start-ups, saw Senegal start-ups alone raise close to $11 million in 2017 according to figures from Partech Ventures. Although this is still 10 times less than the leading market in the region, Nigeria, the figure represents a whopping 65 per cent year on year growth and is reflective of the dynamism of this young yet fast growing ecosystem.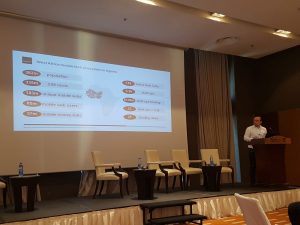 This scenario is calling for an increased and synergetic collaboration between local start-ups and mobile operators in order to scale some of these local mobile innovations. "The telcos can't do it [i.e. running digital solutions like TownPay] because you have to be flexible. But they have the networks and infrastructure so it's a win-win situation", noted Samba Sow, CEO and co-founder of SudPay in a fintech-focused panel. Echoing this point from a mobile operator standpoint, Marième Diop from Orange Digital Ventures Africa highlighted, "We opened our offices in Senegal because we know that there are amazing potential in this region, and we certainly want to tap into francophone West Africa".
(Samba Sow, SudPay [left] and Marième Diop, Orange Digital Ventures Africa [right] speaking at West AfricaCom)
Our meetings with the three local mobile operators (Expresso Telecom, Sonatel/Orange, Tigo) but also with leading local tech hubs (Jokkolabs, CTIC), reinforced the perception that this potential is slowly but surely being revealed. Cases in point – some of the start-ups (besides the two grantees from our Innovation Fund) we met during our week in Dakar and which raised our interest:
An exciting coincidence occurred the day we landed in Dakar. Senegal-based start-up Oolu – which provides in-home solar kits – announced it had raised funding from the GAIA Impact Fund as part of a Series B fundraising round that will close early next year.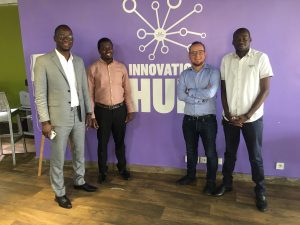 (With the team of newly launched Expresso Telecom Innovation Hub)
We would like to end this blog post by thanking the teams of SudPay and MaTontine – and more specifically Samba Sow and Bernie Akporiaye – for their flexibility and availability throughout the week, as well as the team behind West AfricaCom – and more specifically Chris Read – for offering us the opportunity to participate in and contribute to the conference.
The Ecosystem Accelerator programme is supported by the UK Department for International Development (DFID), the Australian Government, the GSMA and its members.