In April 2017, we announced the nine start-ups from across Africa and Asia selected for the first round of our Innovation Fund. As these start-ups have now been part of our programme for six months, we thought it was the right moment to share some updates with you.
Highlights from the programme
After onboarding these nine start-ups during the second quarter of the year, we hosted our first remote clinic session in June sharing recommendations on how to pitch to mobile operators. A month later, our team convened with the founding teams of the nine start-ups in Dar Es Salaam, Tanzania for a 3-day Bootcamp that consisted of expert presentations, workshops and networking sessions:
This Bootcamp was also an opportunity for the start-ups to participate in the GSMA Mobile 360 Series – Africa event and further network with some of the leading mobile operators in the region.
Noteworthy fundraising rounds and investments
The nine start-ups selected to be part of our initial portfolio all received grant funding between 100,000 and 250,000 GBP which has already allowed several of them to reach the next level in their fundraising efforts.
From Nairobi-based edtech start-up Kytabu that received 75,000 EUR from Belgium's King Baudouin Foundation, to Ruangguru (Indonesia) and Twiga Foods (Kenya) that respectively raised their series B and series A in July.
The 10.3 million USD round investment in Twiga Foods – one of the largest amounts raised by an African start-up this year – was led by Wamda Capital and included Omidyar Network, DOB Equity, Uqalo, 1776, Blue Haven Initiative, Alpha Mundi and AHL.
Ruangguru's funding round, led by UOB Venture Management, will be used by the Jakarta-based tutoring marketplace to drive the adoption of its service across the country. More recently, the Indonesian edtech has also been selected by the DFAT Indo-Pacific Development Prize under the theme of "preparing young people for the future of work". Ruangguru will receive 50,000 USD in grant funding as a result.
Lastly, Nepalese mobile payment solution provider eSewa received an equity investment from Kantipur Media Group (KMG), the largest media company in Nepal. Among others, this investment and partnership will allow eSewa to "increase awareness about financial technology products and raise people's access to mobile banking and mobile financial services".
Further support from other acceleration programmes
With the aim to further develop their expertise in specific areas and build-up a solid support network, some of the teams have been successfully applying to other regional and global acceleration programmes.
This is how Rwandan motorcycle ride-hailing service with a safety twist, SafeMotos, got enrolled in Impact Hub Geneva and UNDP-led Accelerate2030 programme. The start-up also took part in the Westerwelle Foundation-led Young Founders Conference in Berlin.
In August, World Bank-supported programme XL Africa announced that PrepClass – a Lagos-based e-learning and tutoring platform – was among the 20 scale-ups selected to receive mentoring from global and local experts before attending a two-week Residency in Cape Town, South Africa.
For the first time this year, Google selected six African start-ups to join the fourth class of its Google Launchpad six-month long programme including equity-free mentoring support and credits for Google products. Twiga Foods was one of them and its team headed to San Francisco in July for two weeks of all-expense-paid training at Google Developers Launchpad Space.
Increasing media and investors exposure
One of the challenges faced by early-stage start-ups in emerging markets is gaining exposure to customers, and also to investors and large corporations. In that perspective, obtaining quality media coverage is valuable.
Earlier this year, Samira Negm, CEO and Co-founder of Egyptian community carpooling service Raye7, was a finalist in the globally-run Cartier Women Initiative Award. Similarly, the co-founders of Indonesian edtech Ruanggurru, Adamas Belva Syah Devara and Iman Usman, were featured by Forbes in their 30 under 30 Asia 2017 series.
With the aim to bring some of the best African start-ups to potential European investors, Co-Creation Hub Nigeria and Google joined forces to select 14 promising start-ups across Africa for PitchDrive – among those was PrepClass. PitchDrive was a 3-week pitching tour across 5 hubs: London, Amsterdam, Berlin, Zurich, Paris (see our blog on the London and Paris stages).
East-African start-up Optimetriks – a crowdsourced data collection mobile solution designed to improve the distribution of Africa's fast moving consumer goods companies – was selected among the 30 start-ups that will have the chance to pitch at the upcoming Demo Africa 2017 hosted in Johannesburg at the end of November.
A few weeks later, in December, Seedstars, a global early-stage start-ups competition across emerging markets, will be hosting its Africa summit in Mozambique. The organisation has selected Maputo-based start-up UX (which, among others, runs Biscate, a mobile platform for recruiting informal tradesmen) to be the local Seedstars ambassador and flagship.
Lastly, all the Sub-Saharan Africa start-ups of our portfolio were also featured in the GSMA's renowned publication about the region: The Mobile Economy Sub-Saharan Africa.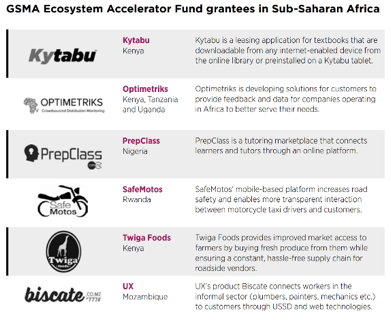 Growth, expansion and tangible impact
Over the past six months, the nine start-ups of the portfolio have focused their efforts on growing and expanding their service locally or regionally.
In July, Egypt's leading private bank, CIB, announced its collaboration with carpooling service Raye7, with the objective of encouraging thousands of its employees to share rides to and from work.
Still, at the corporate collaboration chapter, data-as-a-service start-up Optimetriks, shared in September that large retail corporates Nestle, Total and L'Oreal but also mobile operators Tigo (Millicom) and Airtel are now among their clients across the several African markets Optimetriks operates in.
Although all at an early stage of their growth, the nine start-ups supported so far by the Ecosystem Accelerator Innovation Fund continue to drive tangible socio-economic in their respective markets.
In an article looking at the impact of start-ups in African informal economies, Disrupt Africa highlights how Biscate in Mozambique allows informal handymen to connect with customers and hence unlocks additional income for these informal freelancers.
While our work with these nine start-ups continues, we are also currently selecting the start-ups that will be part of the second round of the Ecosystem Accelerator Innovation Fund. Stay tuned for the new portfolio announcement in early 2018.
The Ecosystem Accelerator programme is supported by the UK Department for International Development (DFID), the Australian Government, the GSMA and its members.