On September 23rd, the GSMA Ecosystem Accelerator team was invited to mentor start-ups for Seedstars Dhaka in Bangladesh, a pitching competition for start-ups with a goal to crown the most promising seed-stage start-up in Dhaka. The winner of the competition gets an opportunity to join the global Seedstars family in their regional and global summits with some potential follow-up investment. Here are three takeaways from the event that we wanted to share with you.
Start-ups are changing mobile operators' innovation culture
Among Seedstars' 88 local start-ups competitions, the Bangladesh stage is among the very few hosted by a mobile operator-owned tech hub. The event took place at GP Accelerator, the tech hub run by Grameenphone's team (Telenor Group).
Michael Foley, CEO of Grameephone, was the opening speaker at the event. In his opening remarks, he stated that the relationship between the mobile operator and the Bangladeshi start-up ecosystem is critical for Grameenphone. He voiced that in a world of minimum viable products (MVP), start-ups are changing mobile operators' innovation culture.
The CEO went on to describe partnering with Seedstars as a perfect fit for Grameenphone since Seedstars goes around the world impacting societies by mentoring entrepreneurs and creating opportunities for them to get their ideas on stage. He also mentioned that start-ups have a huge role to play in developing Bangladesh's economy as the fourth industrial revolution hits. Foley stated that Bangladesh has to move towards digital services, and entrepreneurs and innovators are going to be the ones creating the country's new economy.
Meet the finalists
For the local event, Seedstars selected eight local start-ups that were less than two years old, with scalable minimum viable products and less than $500k raised in funding.
We met with the eight finalists a few days before the competition, as we were part of the mentors selected by Seedstars to help the finalists craft strong pitch decks. This was an opportunity for us to share some of the learnings from our latest report: Opening Doors: A Start-Up's Guide to Working With Mobile Operators in Emerging Markets.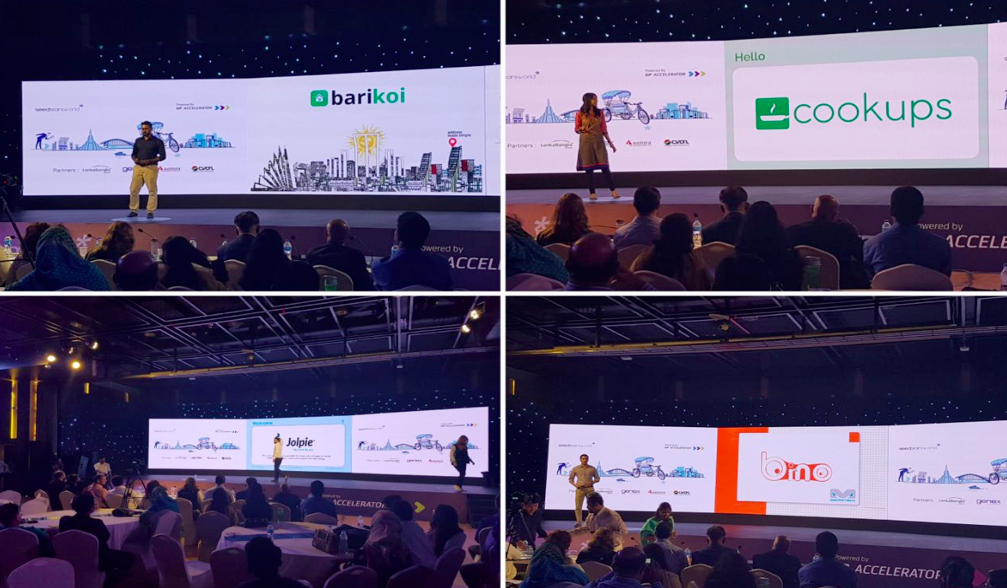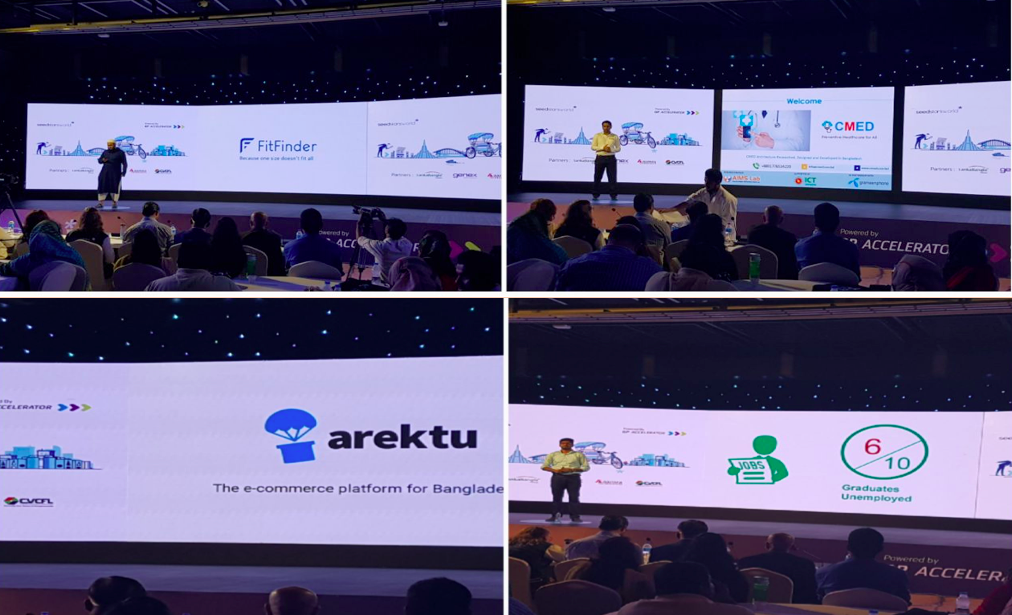 The eight start-ups are addressing challenges that are commonly faced in emerging markets. Their solutions cut across four different sectors and are applicable to other emerging markets' cities.
The start-ups were given five minutes to pitch their innovations, and another five minutes to address the feedback from the judges (1. Tareq Al Muntasir, Co-Founder & CT, Socian Ltd, 2. Khurshed Alam, Head of Personal Financial Services, LankaBangla Finance, 3. Kazi Hassan, Head of Transformation, Grameenphone Ltd, 4.Tina Jabeen, Advisor, Startup Bangladesh – IDEA, 5. Mustafizur Rahman, Managing Director, CVCFL, 6. Adriana Collini, Associate for Asia, Seedstars World, 7. Prince Mojumder, Co-Founder & CEO, Genex Infosys Limited, 8. Ahad Mohammad Bhai, Partner, Razor Capital, 9. Samad Miraly, Co-Founder, Startup Dhaka).
Meet CMED, the Seedstars Dhaka Winner
Cloud Based Medical System for Preventive Healthcare (CMED Health Limited) was crowned the most promising seed-stage start-up of Seedstars Dhaka 2017. The team behind the start-up runs an IoT enabled and cloud-based preventive healthcare platform that monitors health parameters, predicts health risks, and reduces health cost. Their platform aims to reduce deaths caused by non-communicable diseases by offering solutions that help people be aware of their health status.
The following are the services offered by the platform:
Health Monitoring: Users can buy smart medical devices to check their eight important vital signs (blood pressure, blood sugar, pulse, oxygen saturation, temperature, height, weight and BMI) by themselves, to reduce the risk of life-threatening non-communicable disease (hypertension, diabetes etc.) through regular monitoring.
Intelligent Health Statuses: Users will get instant feedback of their health status whether it is normal, alarming or emergency. It also represents data trends in tabular, line graph and pie chart format.
Cloud Based Health Records: Users will have their own personal health account. The data they get will automatically be stored in a secured cloud server. So, users can use the data whenever they need in the future. They can also get the data by using their own devices and can put the data in their health account manually.
An Initial Health Consultation: Users with alarming and emergency conditions will get an initial telephone consultation immediately through a health professional.
We would like to end this blog post by congratulating and thanking the extended Seedstars team and the Grameenphone Accelerator team for an amazing event and more specifically Adriana Collini, Rosie Keller and Tanvir Sourov for inviting us to participate.
The Ecosystem Accelerator programme is supported by the UK Department for International Development (DFID), the Australian Government, the GSMA and its members.