On April 20-22 we attended the Sankalp Global Summit in Mumbai, India. It was the 7th edition of this event organised by Intellecap, and one of the largest gatherings focusing on high-impact social enterprises, connecting them with key players across the value chain to help them reach scale. Local sister events are now covering East Africa and Southeast Asia, respectively since 2014 and 2015.
Here are three takeaways we wanted to share with you.
1. A good pitch goes a long way
If you're a 'corporate' – as I was often referred to – attending an event that attracts a large crowd of start-ups and social enterprises, prepare to field a lot of approaches. Even though not all were relevant to my job, I took the time to listen to most of them, sometimes just out of sheer curiosity. At the end of the day, the ones that stick in your mind share something in common: the pitch was good. This is by no means an exhaustive study of start-up pitches, but here are a few ingredients that I identified as crucial to a good pitch:
• Short, allowing plenty of time for questions and discussion
• Simple, avoiding abstract concepts and 'alphabet soup', unless you're talking to an expert on your topic
• Enthusiastic, conveying the passion of the entrepreneur for their company
• Adapted to the person you're pitching to, in particular to their knowledge of your specific field, and to what you could expect from them: A partnership? Some contacts? An investment?
On this last point: At the GSMA Mobile for Development Utilities' Asia Working Group co-located with the Sankalp event, I was invited to moderate a 'Jumpstart' session where three of the programme's grantees (Brighterlite, Gham Power, and ME Solshare) pitched in front of three Indian impact investor representatives from Aavishkaar, ResponAbility, and Sangam Ventures. The session illustrated that adapting the pitch is particularly important when pitching to potential investors. So is mastering your numbers: sales forecast, cash flows, burn-rate, valuation, and investment requests.
2. There is real value for both corporations and start-ups when they work together
On the second day of the event I moderated a panel on 'Corporate Engagement For Maximum Impact' with the following co-panellists:
• Cheryl Hicks, Executive Director of the Toilet Board Coalition
• Sanjay Bhalla, Head of B2G & IBDC at Panasonic India, and
• Navin Kumar, Entrepreneur Impact Programme Manager at Autodesk
Both sets of stakeholders – the 'corporates' and the start-ups – should work together to answer three core questions:
• Why would they collaborate?

There should be a fit between the needs of both parties. In the case of mobile operators for instance, they are constantly looking for new innovations to enrich their customer value proposition. Start-ups can be a great source of innovation, while benefiting from the added credibility and expertise of working with such large players.
• What does the 'corporate' bring to the table?

There can initially be a certain level of distrust from the start-up community, which corporations can overcome by communicating clearly regarding their contribution to a potential partnership. Mobile operators, for instance, can bring access to universal channels (USSD, SMS, voice) and to their customer base, along with practical payment options (mobile money, or airtime), their distribution channel, or their brand.
• How do they collaborate?

There is no one-size-fits-all model. Depending on the context, the 'corporate' can be a partner, a funder, an investor, or even a supplier. Both parties must work together to identify the most appropriate collaboration framework where the assets of each are leveraged maximally.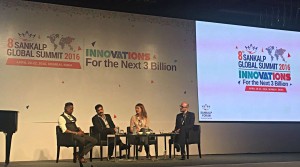 3. Governments must act now to support the innovation ecosystem
Energy, water, sanitation, health, and transportation – the range of issues that start-ups and social enterprises in emerging markets are tackling with their innovative solutions is extremely wide. These are also areas where governments in 'the global North' have traditionally played a critical role, usually through state-run champions operating for decades as monopolies. Today in emerging markets – which are catching up at a very rapid pace – different models apply but governments still have a central role to play in supporting the ecosystem, where they can source the ground-breaking ideas that will help address all the challenges listed above.

Most of these conversations were well covered in a panel moderated by the World Bank, 'Leading the pack for supportive policy: Role of Government in supporting Social Enterprises' with panellists from MaGIC (Malaysian Global Innovation & Creativity Centre), the Government of Vietnam, and Citizence. To summarise:
• Governments cannot act in isolation anymore, and must be inclusive of all the various stakeholders in the ecosystem: social enterprises, corporates, and investors for instance;
• Governments can act in two ways: with specific programmes, and through innovation-friendly policies; and
• Governments must adapt their policies to start-ups and social enterprises e.g. around tax exemptions, administrative support and a more enabling regulatory environment.
A big thank you to both the GSMA Mobile for Development Utilities and Intellecap teams for giving me a chance to attend and play an active role at their great events.