After the first session in June 2017, the GSMA Ecosystem Accelerator ran its second expertise clinic on 24 October. The session, aimed at our Round 1 portfolio start-ups, is part of the support we offer start-ups through our Innovation Fund. Vegard Aas, Head of Innovation at Telenor Group was our guest speaker. Vegard is in charge of identifying and partnering with start-ups that have the potential to bring value to Telenor's 174 million customers across Asia, the Nordics and CEE.  As usual, we thought we would share some insights from the session with you.
Telenor's Innovation Head to start-ups: focus on your "3Ps" and the "who, what, why"
Vegard gave insights into the fundamentals of presenting and he advised founders to focus on the '3Ps of Presenting' – Prepare, Practice and Present. He then jumped into the nitty-gritty of pitching to a mobile operator where he emphasized the importance of crafting a compelling story that resonates with the specific operator. Vegard provided an exemplary pitch structure based on "Who, What and Why".
Who: Who are you solving the problem for and what is the problem being solved? Vegard mentioned that start-ups should make sure they have done their market size research (preferably with a bottom-up approach) so that they are better equipped to answer questions from mobile operators about their target market and the future market potential.
What: What is your target users' current workaround? What is your solution? Are there any competing solutions to yours? On the question of competition, Vegard said, "Be honest, the mobile operator representative(s) might have done some research and analysis on your solution. Therefore, your unawareness or dishonesty about your competition could come across as a red flag".
Why: Why are you and your team the best people to execute and scale, and why do you have an "unfair advantage" over your competitors?
Lastly, Vegard mentioned that after following these three steps, start-ups can discuss their specific needs from the mobile operator i.e. funding, distribution support or seeking the mobile operators' customer channel to help pilot a new solution. He insisted that start-ups should always come to a mobile operator meeting with a specific ask.
Start-ups interested in engaging with Telenor in Southeast Asia and across its global footprint can find out more on their dedicated website: https://planet.telenor.com/
Four tips from the GSMA Ecosystem Accelerator team
Getting Vegard's views on the practicalities of presenting and crafting a pitch deck for a mobile operator was immensely valuable. He echoed the GSMA Ecosystem Accelerator programme's message on how to approach mobile operators for potential collaborations. After Vegard's presentation, each start-up got the opportunity to present their one-slide pitch emphasising their value proposition to mobile operators.
We concluded the session with four takeaways (see image below) for start-ups looking to put together a pitch deck for a mobile operator. More information on this can be found in our publications i.e. Opening Doors: A Start-Up's Guide to Working With Mobile Operators in Emerging Markets and Building Synergies: How Mobile Operators and Start-ups Can Partner for Impact in Emerging Markets.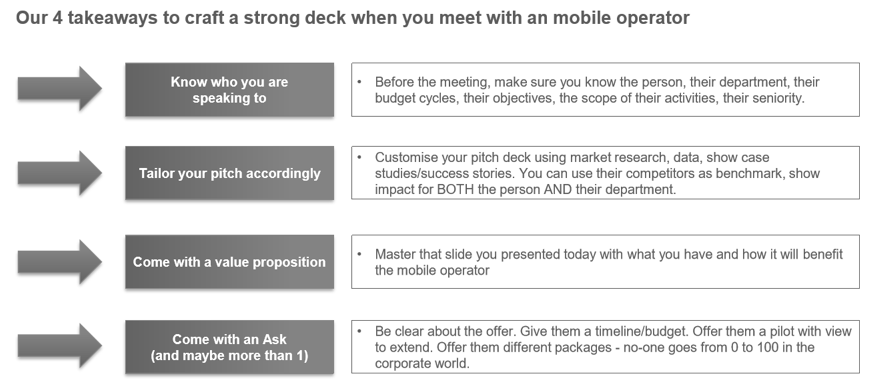 We would like to conclude this blog by thanking Vegard Aas for his insights during this session. Likewise, we want to thank the teams of eSewa (Nepal), Kytabu (Kenya), Optimetriks (Uganda), PrepClass (Nigeria), Raye7 (Egypt), Ruanggurru (Indonesia), SafeMotos (Rwanda), TwigaFoods (Kenya) and UX (Mozambique) for making this session interactive.
The GSMA Ecosystem Accelerator Innovation Fund provides selected start-ups in Africa and Asia Pacific with grant funding, technical assistance, and the opportunity to partner with mobile operators in their markets to help scale their products and services into sustainable businesses with positive socio-economic impact. Find out more.
The Ecosystem Accelerator programme is supported by the UK Department for International Development (DFID), the Australian Government, the GSMA and its members.