Recently, the GSMA Mobile for Humanitarian Innovation programme announced Flowminder Foundation and Nokia Saving Lives among the first grantees of the Disaster Response Innovation Fund.
Round 1 was designed to invest in innovative solutions that leverage mobile technologies to "save lives, alleviate suffering and maintain human dignity during and after man-made crises and disasters caused by natural hazards, as well as to prevent and strengthen preparedness for when such situations occur." 'Seed' and 'Market Validation' grants of between £100,000 and £300,000 were available. It was an exceptionally competitive selection process, as we received 274 applications across 98 countries. The Fund is supported by the UK Department for International Development (DFID), the GSMA and its members.
Last week at Mobile 360 Series – Africa, we were delighted to introduce two further grantees – this time in the African region. Congratulations to Lumkani (South Africa) and Refunite (Uganda).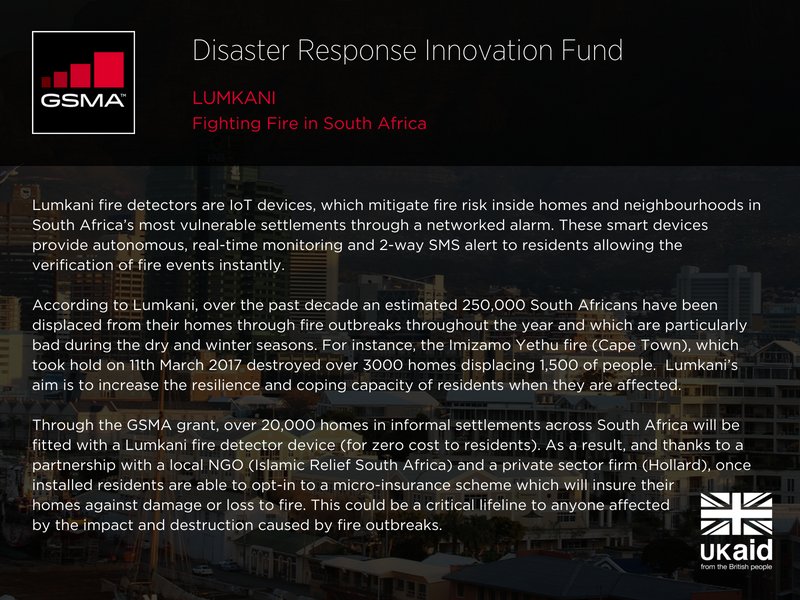 How will it work?
Lumkani's devices are designed specifically for informal settlement environments.
Unlike smoke detectors, these devices detect very rapid rises in temperatures which indicate fire outbreaks as opposed to smoke caused by a fire used for cooking or heating.
Once a fire is detected, the device (aside from the audible alarm) triggers neighbouring detectors through radio frequency transmission to create a community response.
Through GSM technology Lumkani sends out an SMS to all registered residents of the area, providing another layer of alert, geo-locating the specific trigger device.
As a result of this, Lumkani is able to provide a physical address and verify the properties details; a critical pre-requisite for any insurance provider.
A mobile based platform is used to roll out and register all fire detectors and any fire insurance products. Once a device is connected, Lumkani agents are also able to manage the insurance registration through a mobile application.
How will it work?
Targeting refugees in Uganda, Refunite will launch, test and scale their mobile app which allows users to categorise images ("tasks").
Using mobile money, refugees receive micro-payments via their mobile phone for each task correctly completed. The more images/tasks accurately categorised, the more money is received by refugees.
Large data sets of correctly categorised images can be used in the development and deployment of machine learning systems.
Beyond the grant, the goal is to prove this as a commercially viable solution and to crowd in the private sector for longer-term sustainability.
We will be sharing insights throughout the lifecycle of these innovative projects, so stay tuned for more information!
Grant funding is available from up to 300,000 GBP for projects using mobile technology in complex emergencies or forced displacement contexts and delivered by a partnership of two or more organisations.
Successful grantees will also receive mentoring on the use of mobile technology, project support, access to GSMA's global networks and profiling at events and in research publications.
We're particularly excited to receive applications aligned with any of our core focus areas:
1. Mobile-enabled utilities;
2. Gender and inclusivity;
3. Mobile financial services;
4. Digital identity; and
5. Food security, adaption and resilience to climate change.
For full eligibility criteria and to apply, visit: gsma.com/m4hinnovationfund 
This initiative is currently funded by the UK Department for International Development (DFID), and supported by the GSMA and its members.