Pay-as-you-go (PAYG) solar is a flagship example of how mobile technology can help make clean energy affordable for low-income populations, while also creating sustainable business models. It has seen impressive growth in sub-Saharan Africa and Asia in the last five years, with over two million solar home systems (SHSs) sold on a PAYG basis by the end of 2018.
This success has led humanitarian organisations and solar providers alike to consider whether PAYG solar could be a viable option for extending electricity to new untapped off-grid areas, such as refugee camps. Although the opportunity is significant, replicating PAYG solar can be challenging in complex market environments, where providers need to adapt their payment collection methods, educate customers in the use of digital financial tools and rethink their last-mile distribution strategy.
M4H's recent PAYG study, Mobile-enabled energy for humanitarian contexts, digs deeper into this issue and specifically focuses on Kakuma to understand the opportunities and challenges. To date, just over 1,000 SHSs have been deployed to Kakuma Refugee Camp, and the impact has been felt across many households and small businesses in the refugee camp and host community. The key finding of the report is that PAYG solar products can fill the energy access gap in the camp and perhaps in other humanitarian contexts, as well. However, it will not be easy and it is not always business as usual.
"The challenge is not technological anymore, but rather hinges on developing business models and structures that nurture financially sustainable companies." – PAYG solar provider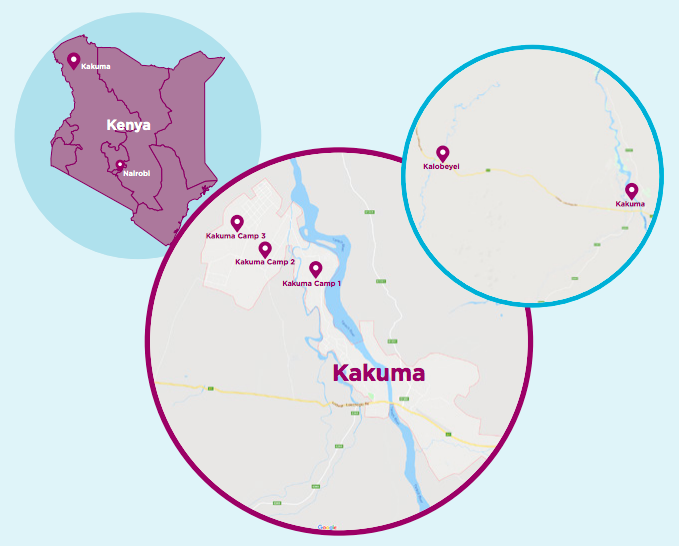 Win-win scenarios: filling the energy access gap
Working together with humanitarian organisations, PAYG solar providers can create a win-win scenario: SHS customers gain access to a reliable, sustainable and affordable energy solution that satisfies the mandate of humanitarian organisations working with refugees, while PAYG solar providers can reach new off-grid customers improving their socio-economic well-being.
For mobile network operators in Kakuma, the opportunity to provide more than just platforms (for connectivity and mobile money) has not been fully realised, but in a favourable country context MNOs could gain new customers, revenues and brand visibility by supporting energy access to yet untapped off-grid areas, including refugee camps.
Debunking common misconceptions
There are a number of upfront and operational challenges for PAYG providers that the research uncovers, but it also captures testimonials that debunk common misconceptions about refugees' access to mobile technology and their ability to pay.
Misconception #1: Refugees do not have access to mobile phones and there is no connectivity in the camp
"We have mobile signal here and across all camps of Kakuma. It only gets worse in the last and newest part, Kalobeyei."
Misconception #2: Refugees have low technological literacy
"Only the elders who don't have any children to help have issues using the phone, most people manage."
Misconception #3: Refugees cannot afford to pay for energy
"I spend KES 1,500 (USD 15) a month on this generator and only get 5 hours electricity a day, but I pay, I need it. Paying monthly is ok, as I get my incentive revenue every end of month. I get KES 10,000, so in the end I spend a lot on energy."
Considerations for the future
After piloting on a small scale and proving the demand for new energy solutions in refugee camps and host communities, providers need to achieve higher volumes — without compromising the quality and sustainability of the products. For the evidenced benefits to spread, the research offers key considerations for humanitarian organisations, PAYG solar providers and MNOs to help them overcome upfront and operational challenges and to become sustainable in the longer term.
The future is uncertain but with dedicated support from humanitarian organisations as facilitators and/or funders, continued determination from service providers and further engagement with MNOs and policy makers, the likelihood of the benefits of PAYG solar – for even the most vulnerable segments of the refugee population – may be realised.
This initiative is currently funded by the UK Department for International Development (DFID), and supported by the GSMA and its members.