The world is experiencing its highest number of refugees since World War II. Across the globe, 172 countries host 19.9 million refugees. Yet, 93 per cent of all refugees are required to provide a proof-of-identification in order to access a SIM card. 81 refugee-hosting countries offer mobile money services, meaning 54 per cent of all refugees must present an identity card to use these services, in order to meet Know Your Customer (KYC) requirements. Given the circumstances under which they flee their countries of origin, refugees are unlikely to be able to meet these registration requirements. This may be for a range of reasons – they may have lost their ID along their journey to country of asylum, host-governments may fail to recognise documentation they possess (for example, that issued by UNHCR), and the complexity of registration and documentation processes in host countries may present a barrier.
Last month the GSMA Mobile for Humanitarian Innovation (M4H) programme participated in the World Summit on the Information Society (WSIS) Forum, a global United Nations multistakeholder platform facilitating the implementation of the WSIS Action Lines for advancing Sustainable Development Goals (SDGs). I was honoured to join UNHCR's panel, Enabling access to connectivity for refugees: inclusion in national frameworks, and discussed the barriers that refugees and other displaced populations face and how governments can enable access to mobile connectivity and services alongside Blair Levin (Broadband for Refugees), Christopher Earney (UNHCR), Dr. Aaron Martin (UNHCR) and Enoch Barata (Uganda Communications Commission).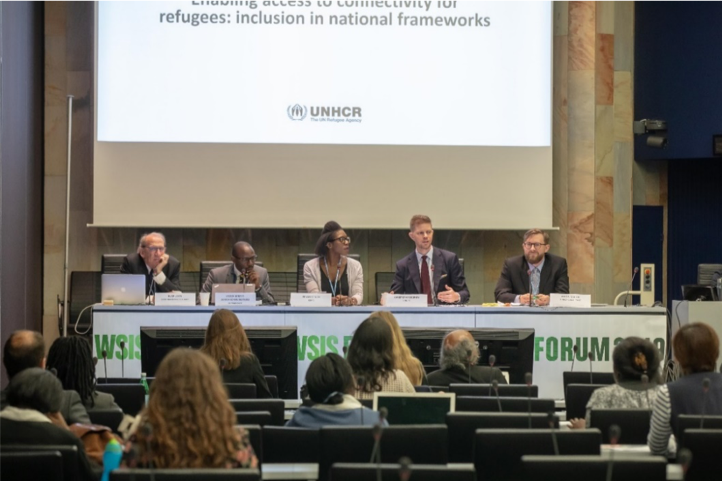 Here are some of the main highlights from the session:
1. Other issues than lack of identification act as a barrier to refugees and other forcibly displaced persons
The big issues for the M4H policy team are the legal and regulatory barriers that forcibly displaced persons face in accessing connectivity and services. These include SIM registration and KYC requirements.  As this tends to be the focus of our work, most of the time I forget to acknowledge there are other issues that prevent displaced populations from enjoying the benefits of digital humanitarian services. GSMA research found that in two Rwandan refugee camps women are less likely than men to own a mobile phone: in Kiziba, women are 13 per cent less likely, while in Bidi Bidi, women are 47 per cent less likely. Other issues include household dynamics and a lack of economic opportunities and digital skills. Therefore, there is the need to consider how other issues – outside the identity bubble (that I operate within) – are negatively affecting displaced populations and how we can possibly address these issues from a policy perspective.
2. Telecommunications regulators are willing to engage on the issue of mobile access for refugees
Although the matter of displaced populations – specifically enabling access to mobile connectivity and services for such persons – is a sensitive subject, regulators are eager to hear from private entities and humanitarian organisations about how they can work to tackle barriers to access. This is evidenced by Enoch Barata from the UCC participating on the panel at WSIS, where he highlighted that Uganda legally allows refugees to use their Office of Prime Minister (OPM) identity card to register for a SIM card and mobile money services. Yet, he also recognised there are still barriers (for example, backlog in identity issuance and affordability of devices and mobile services) that the country needs to work on to enable access to connectivity for refugees. There was also some engagement from civil society organisations and regulators with the panellists, during the time allotted for questions and even after the discussion.
3. A forum is needed for regulators and governments to share their experiences in relation to enabling access to connectivity for displaced populations
Christopher Earney emphasised the need for a space where different regulators and governments to can come together to share which policies and initiatives have worked and, mostly importantly, which have not been successful in relation to enabling connectivity for refugees and other forcibly displaced populations. In 2018, 152 countries adopted the Global Compact for Migration (GCM), a nonbinding agreement that seeks to make international migration safer and better regulated. One of their plans include convening a series of regional and global conferences over the next six years for governments to share ideas and best practices during the country-by-country rollout of the agreement. I think this is important because we exist at a point where people, organisations, and governments are reluctant to acknowledge their failures. Yet, it is only by recognising failure that we can truly learn from it and improve our approaches.