This is part of a series that looks at the evolution of mobile money in the Philippines and was written by Sophia Hasnain, Abigail Komu and Christopher Blackburn. Read the first blog.
Today mobile money providers in the Philippines are facing two main challenges, one from the market and one from competition. On the market side, there is a demand for a suitable payment service for a new customer segment which is comprised of young, tech-savvy, early adopters of technology, who own smartphones yet do not have financial assets (such as a credit history) or tangible assets to become a customer of formal commercial banks'. On the competition side, fintech payment services such as Dragonpay and PesoPay have launched services in the Philippines, providing immediate access to means of payment to the aforementioned segment.
These players are challenging the banks and MNO-led mobile money services by filling the gap created by the projected increase in e-commerce market size. For MNO-led services, this has meant the introduction of a product that marries relevancy and aspiration for this tech-savvy population.
Smart Money and GCash have historically offered a companion card [1] (both open-loop [2] self-branded cards and open-loop cards with international card schemes) with their mobile money account to facilitate ATM cash withdrawal and merchant payments, respectively. However now they are responding to the increased demand for online payments in the market by offering another variation of their product line: open-loop in-app virtual cards [3] as well as open-loop personalised physical cards, both linked to mobile money accounts. The Philippines is one of the few markets where the cards are being used. [4]
A comparison of the offers is given in the table below: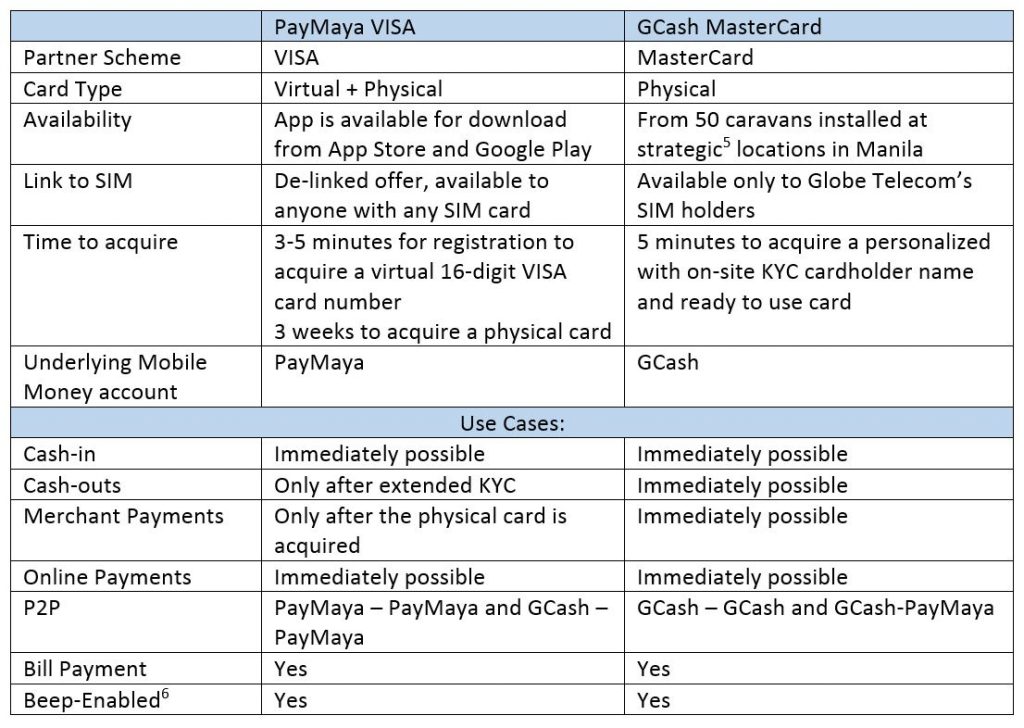 Payment cards have not yet taken up, are expensive to produce but have potential especially on aspirational value. Also they may be expensive, but cheaper in comparison to current alternatives such as cash on delivery. GCash differs from most other mobile money providers by offering a card personalized with cardholder's name to their customers. [7] Pay Maya, on the other hand, has offered this quick service to a niche segment of online purchasers. When shopping online, Filipino customers will often have two choices, either to defer the purchase or pay by cash on delivery. Cash on delivery is expensive, not only for the seller but the buyer as well, as the customer has to wait with cash in hand for the delivery and make a subsequent payment. Now, customers can immediately apply for the card and make a payment without having to wait.
Both Globe and Smart have identified the demand and service gap and have developed products differently that cater for these specific needs. Further, considering the metro nature of Manila, they both have enabled these pre-paid cards with Beep, the default way of payment for Manila's public transport services.
In innovating and taking deliberate steps to target and retain this new customer segment, mobile operators are headed in the right direction in addressing the ever-changing market and competition challenges in the Philippines.
Notes:
[1] A companion card as a debit or pre-paid plastic card tied to the same source of funds as the mobile money account. This means that at any point in time the balance available on a subscriber mobile money account is seamlessly reflected on the card.
[2] Open-loop is used to define cards that can be accepted at locations other than those offered by the card issuer
[3] Virtual debit cards are simply card numbers that are issued (without plastic cards) that can be used to conduct transactions mainly online.
[4] According to the 2015 State of the Industry Report on Mobile Money, there are at least 24 other deployments in the world that offer a companion card attached to a mobile money account.
[5] Such as shopping malls and public transport stations.
[6] Beep is the contactless card payment service for Manila metro transportation
[7] Only 24 operators offer cards and of them only 1/3 offer personalized cards