This blog post is the second of a series on scaling mobile money merchant payments. Read the first post in the series.  
With approximately twelve million transactions per month and more than US$ 325 million transacted, merchant payments represent 1.9% of total mobile money transaction volumes and 4.1% of total mobile money transaction values in 2015. However, this product represents a significant value for only a tiny minority of deployments—over 79% of total volumes were handled by four mobile money providers in 2015. Even those deployments that have managed to achieve a high number of merchant payments, have not managed to reach their entire customer base, which highlights the persistent opportunity that this product offers.
When developing a merchant payment proposition, mobile money providers need to consider and plan for four key dimensions:
1. Issuing, which includes channels (companion cards, USSD, etc.) and customer experience (who initiates the payment);
2. Acquiring, which includes targeted merchant segments and the use of third parties;
3. Pricing, particularly around who pays; and
4. Scheme characteristics, which includes the settlement and interoperability processes.
On top of this, both merchants and customers need continuous support, making education and training essential to increasing the awareness and usage of such a service. Juntos and Kopo Kopo are two start-up companies that are working closely with operators to provide this support.
Personalised conversations to increase customer usage of merchant payments
Juntos equips financial services providers with a customised end-to-end solution to build trusting, informative relationships with customers. This is driven by high-touch, personalised conversations designed by Juntos and delivered via SMS. Tigo Pesa, a leading Mobile Money provider in Tanzania, has partnered with Juntos to pilot these personalised two-way SMS conversations with the aim of helping customers and merchants increase their comfort with, and usage of, merchant payments via Tigo Pesa.
While the pilot sought to track multiple KPIs, an increase in the number of consumers doing merchant payments, and an increase in the number of merchant payments performed by consumers were the top indicators. By combining behavioural data design and data science, the Juntos team identified the best communication to have with each customer for increasing these two indicators. These conversation strategies were tested by randomly selecting a treatment group and a control group and comparing their activity over a five-week span (see Figure 1).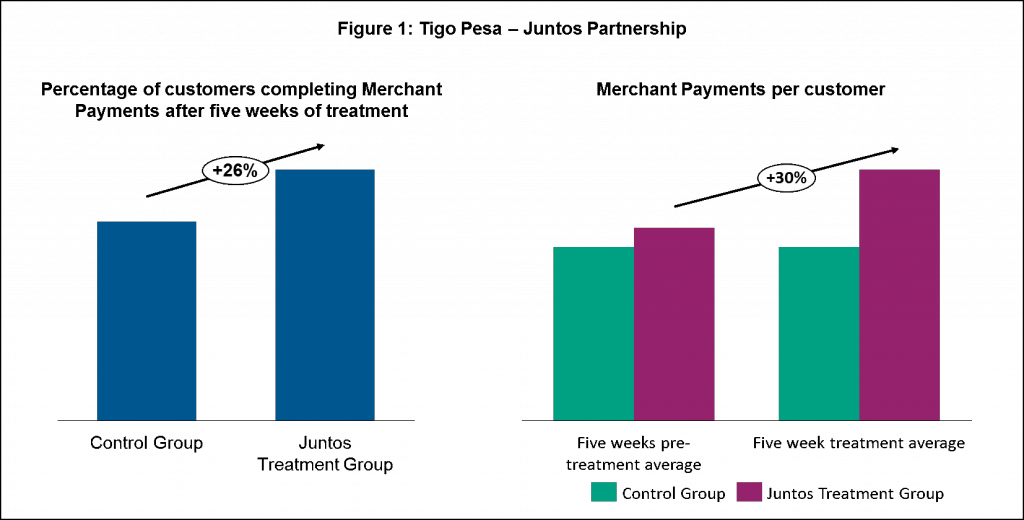 In relation to increasing the number of consumers completing merchant payments, the proportion of the treatment group that began using merchant payments was 26% greater than the proportion of the control group that began using merchant payments at the same time. On increasing the number of merchant payments performed by consumers, the average number of transactions per active customer in the treatment group increased by 30% during the five weeks, with the control group remaining roughly constant.
Driving engagement with merchants after acquisition
Kopo Kopo offers a suite of value-added services to stimulate activity and drive revenues of over 10,000 small and medium merchants in East Africa. Kopo Kopo enables its customers to accept mobile money payments, proactively engaging them via targeted SMS messages and offering unsecured cash advances based on usage and cash-flow data.
When it started acquiring merchants, Kopo Kopo found that the interest of merchants would dwindle during the time between the initial acquisition and the processed application (when a merchant can actually use the system), a period which could reach up to three weeks. To remedy this, Kopo Kopo developed internal tools to reduce this time from three weeks to less than one week leading to a significant growth in activation rates. The company also monitors when merchants engage with the platform and sends them additional information based on this engagement, such as settlement information after the first transaction and web platform usage educational tools.
To sustain merchant usage Kopo Kopo sought to increase user experience and provided its customers with an omni-channel app. This provides merchants with business intelligence tools to understand purchasing trends and customer loyalty and monitor marketing campaigns.
While mobile money providers must continue to deploy a strong sales team on the ground to support the growth of merchant payments, partnerships with third parties who can offer support on education and training for increasing both customer and merchant awareness, and usage of such a service can lead to a significant growth in transactions.