This blog is the first in a two-part series on the State of Mobile Money in Sub-Saharan Africa.
In the last decade, mobile money has become a global story. Sub-Saharan Africa has been a major driver of this success, playing host to almost half of all mobile money deployments worldwide, as well as almost half of all countries where mobile money is available. Earlier this year we published the decade edition of the State of the Industry Report on Mobile Money and this two-part blog series specifically focuses on Sub-Saharan Africa.
Early success in East Africa is spreading to other parts of the region
From only two services across two countries in 2006, there are now 140 deployments in 39 countries. At the end of 2016, there were over 277 million registered mobile money accounts (of which more than 100 million were active) in Sub-Saharan Africa – easily surpassing the number of bank accounts in the region and contributing to increased financial inclusion in the process.
Seven out of the eight countries with more than 40% of the adult population actively using mobile money in 2016 are located in Sub-Saharan Africa. While Kenya, Tanzania and Uganda are among these, Gabon, Ghana, Namibia and Zimbabwe collectively demonstrate that mobile money is now a success story for the whole region.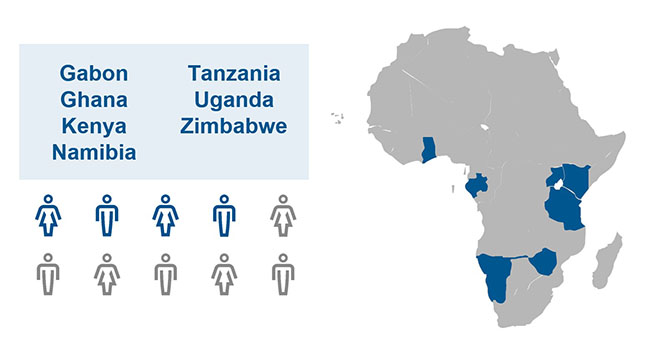 Much of the recent surge in mobile money adoption in the region can be attributed to growth in West Africa, which saw a rapid rise in the number of deployments—from 25 in 2011 to 57 by 2016. Resultantly, the region has witnessed an increase in active mobile money accounts from around 1.5 million in 2011 to 29 million in 2016. West Africa has also seen the value of mobile money transactions rise over 30-fold between 2011 and 2016, showing how ubiquitous and essential mobile money has become in everyday lives.
Financial inclusion
The improvement in financial inclusion across Sub-Saharan Africa has reduced inequality, particularly in line with 11 of the UN's 17 Sustainable Development Goals (SDGs), including those focused on alleviating poverty (SDG 1), decent work and economic growth (SDG 8), and reducing inequality within countries (SDG 10).
Compared to other emerging regions, the impact of greater financial inclusion in Sub-Saharan Africa has been more inclusive. The gender gap in respect to mobile money usage in Sub-Saharan Africa is less pronounced; at 19.5%, this is almost half the average for all low- and middle-income countries.
Sub-Saharan Africa is witnessing an ecosystem evolution
While in-country P2P transfers and airtime top-ups were the dominant use cases by value in 2011, the growth of mobile money has brought about a more sophisticated proposition in the region. In 2016, ecosystem transactions (defined collectively as bill payments, bulk payments, international remittances and merchant payments) represented 24% of the value in circulation (up from 11% in 2011).
A steep rise in bill payments has been the specific driver behind this increase in the region. This is partly because of better third party integration and partly due to efforts on the part of governments and businesses in digitalising payment channels. Person-to-government payments offer several benefits, such as reducing the leakage of funds collected caused by theft, averting bribery and providing a more transparent and secure method of payment.
Regional revenue and growth drivers
Initially seen as a way of increasing customer loyalty and usage of core mobile services, a growing number of services have proven to be sizeable sources of revenue for providers. Across Sub-Saharan Africa as a whole, mobile money revenue rose by 27% between September 2015 and June 2016, and operators saw mobile money contributing increasingly to overall company revenues. For instance, in Kenya, M-Pesa recorded revenues of around USD 530 million in 2016-2017, representing 27% of Safaricom's total revenue. Similarly, Vodacom reported that M-Pesa in Tanzania contributed almost 27% of total service revenue in FY 2015 (USD 112 million), and MTN Group reported that MTN Mobile Money revenue had increased by around 51% to USD 206 million in 2016.
An analysis of leading mobile money providers in the region found that 47% of their revenues – amounting to over USD 400 million in 2016 – was disbursed to agents as commissions. This continues to allow for the creation of more employment opportunities for established and aspiring agents, as well as income generation potential for small and medium enterprises in the process.
Growth in the agent network has served as a crucial driver for mobile money adoption in Sub-Saharan Africa. Both agents per 1,000 adults and active agents in the region saw a ten-fold increase, with agents per 1,000 adults rising from 0.18 in 2011 to 1.75 in 2016, and active agents growing from around 100,000 in 2011 to around one million in 2016. The physical footprint of agents is not only instrumental in promoting and growing mobile money, but also plays an important role in enforcing 'know-your-customer' regulations. This ensures that money laundering and terrorist financing possibilities are countered very early on.
Another key driver for the spread of deployments is the regulatory environments that mobile money providers operate in. Regulators in Sub-Saharan Africa have adopted progressive approaches, and the region has seen steady rise in the number of enabling markets—from 24 in June 2013 to 30 in April 2017. This observation is in line with 2016 analysis which showed that markets with enabling regulation were more likely to see greater success.
In the next post in the series, I will look at the future of mobile money in Sub-Saharan Africa.