In this blog post I will discuss new MNO wallet-to-wallet international remittance services that have launched over the past few months. Until recently in the mobile money industry we have seen a number of MNOs partnering with traditional MTOs (money transfer operators) to facilitate international remittance payments. But now breaking away from this mould are new services recently launched by Tigo, Orange, MTN and Airtel across Sub-Saharan Africa, which operate without the involvement of traditional MTOs such as Western Union or MoneyGram.  These new services have the potential to increase the level of competition in the international remittance space, and so lower the cost for customers.
Globally, in 2013, 232 million migrants remitted earnings worth $540 billion USD back to their families around the world [i]. Africa alone accounts for $60 billion of these remittance flows [ii], with a third of these transfers being initiated from within the African continent itself. The average fee to remit money in Africa is the highest of any region in the world, it is cited by the ODI (Overseas Development Institute) as lying anywhere between 12%-20% [iii]. The World Bank recently reported that an additional $4 billion USD could go into the hands of Africans if international remittance fees fell to 5% (G8 average) [iv], adding further to the positive social and economic impacts of remittances as a source of income.
Recent literature from development agencies and Think Tanks advises governments and Central Banks across Sub-Saharan Africa to loosen the traditional MTO exclusivity agreements [v] in order to encourage increased competition in the international remittance space and so lead to more competitive pricing. Policy makers are increasingly recognising the potential for mobile to lower remittance transfer fees (see graph below), whilst maintaining stringent KYC requirements and even the ability to provide Central Banks with detailed digitised remittance flow data.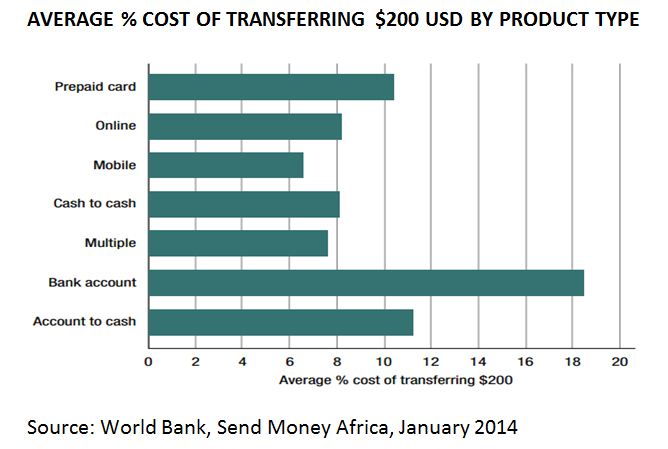 Thanks to enabling regulatory environments in Rwanda and Tanzania, Tigo recently launched a wallet-to-wallet cross border remittance service which allows its Tigo Pesa customers in Tanzania to send money to Tigo Cash users in Rwanda and vice versa. In this new setup, Tigo manages the currency conversion and foreign exchange risk without the assistance of a traditional MTO. Tigo's new cross-border service is currently free for its customers and works in real time, meaning that money can be sent instantaneously across the Tanzanian-Rwandese border. The service, which is available in local languages, uses the same interface as Tigo's P2P mobile money service, thus limiting the need to educate customers about the new cross-border product. The recipient of funds can simply cash-out their emoney from any Tigo mobile money agent in their local currency, paying just the usual cash-out fee. Alternatively, the customer can keep the funds in their Tigo wallet and use these to make airtime top-ups, payments for water, electricity, TV and transportation.
Last year, Orange launched its Orange Money International Transfer service allowing Orange Money customers in Mali, Senegal and Cote d'Ivoire to send and receive money across borders via their Orange Money mobile wallet. Unlike the Tigo Rwanda-Tanzania service, there is no need for Orange to manage a foreign exchange component since all 3 markets use the West African Franc. In April of this year we also saw the launch of a wallet-to-wallet cross-border remittance service between MTN Cote d'Ivoire and Airtel Burkina Faso [vi] (similarly without the need to manage a foreign exchange component since both markets use the CFA). Just this week, Kenya's M-Pesa announced that it plans to launch a mobile wallet-to-wallet cross-border remittance service in 2015, pending approval from Kenyan regulators [vii].
Mobile money wallet-to-wallet international transfers represent a tremendous opportunity that could benefit both customers by making transfers cheaper, quicker and more convenient, and mobile money providers by creating a new source of funds for mobile wallets. Whether we will see this new trend take-off successfully and be readily adopted by new and existing mobile money customers will depend on a few factors, as detailed by Claire Pénicaud in this blog post:
The need for a critical mass of active mobile money users in receiving countries;
A more competitive pricing model that mirrors domestic P2P transfer fees;
Customer acceptance on the sending side;
The need for more enabling international money remittance regulatory frameworks
The GSMA Mobile Money team will continue to monitor the development of these new wallet-to-wallet international remittance services. Please share your thoughts with us by commenting below or emailing us at mmu@gsma.com.