In the past five years, more mobile network operators have successfully scaled their mobile money services based on an agent-based model, helping increase financial inclusion by reducing the high infrastructure costs of traditional "bricks and mortar" banking. As mobile money continues to grow, potentially accelerated with the rise of smartphones, we see three major mobile money trends to watch in 2016.
1. Increasing adjacent revenue streams
Adjacencies are revenues or savings derived from asymmetric business models. Here are a few examples: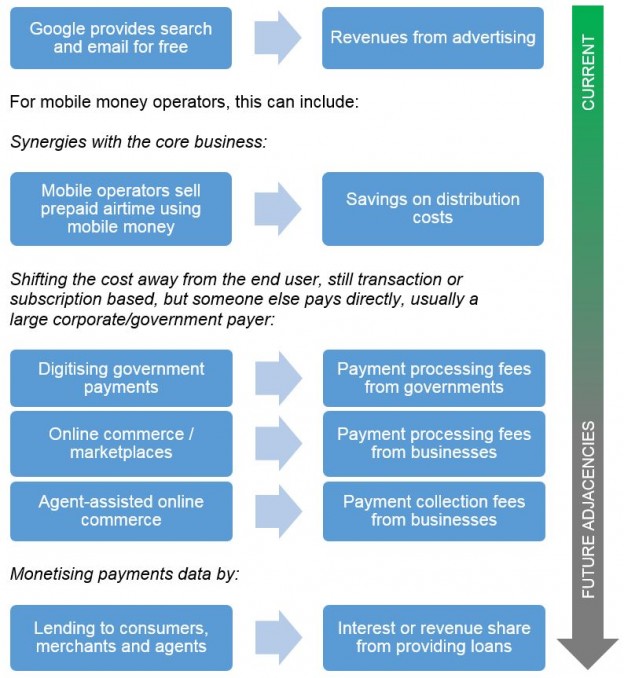 Over time, we anticipate more providers will experiment with alternate business models, like freemium and subscription models, and we expect these to emerge instead of charging consumers a fee for every transaction. This will be primarily driven by supplementing transaction revenues from adjacencies.
2. De-linking the SIM card to increase the addressable market
MNO-agnostic apps can help operators access users from other mobile networks. Zuum in Brazil is one example where customers have access to all mobile money features in the app, regardless of whether they are a Vivo subscriber (Zuum's MNO partner) or another. In India, Vodafone m-pesa and Airtel Money are two examples of this. With the advent of smartphones, MNOs who previously could only provide mobile money services to their subscribers will now be able to increase their addressable market. This is an area we have been watching since 2014, and we'll release new data in our 2015 State of the Industry Report launching later this month.
3. MNOs spinning off their Mobile Financial Services (MFS) business
In the Philippines, two mobile network operators have spun off their MFS businesses into separate subsidiaries. Mynt is a fully-owned subsidiary of Globe Telecom that aims to build a unified financial services offering. Similarly, PayMaya is backed by Smart e-Money, Inc. with close ties to Rocket Internet. This move allows the new business to focus purely on offering MFS and also makes it possible to attract additional investment. We anticipate other providers, particularly MNOs, will start exploring the benefits and risks of this approach.