This blog is the first in a two-part series on the State of Mobile Money in Sub-Saharan Africa.
Earlier this year, we published our annual State of the Industry Report on Mobile Money, which revealed that most growth in mobile money accounts came from Asia, with 90 million new accounts opened in 2018. Despite this incredible growth, Sub-Saharan Africa remains the epicentre of mobile money. So, why is this the case?
Mobile money is the leading force for financial inclusion in Sub-Saharan Africa
According to the latest Findex report, in Sub- Saharan Africa, the share of adults with a financial institution account has risen by a modest four percentage points between 2014 and 2017, while the share with a mobile money account has grown roughly twice as fast, increasing by nine percentage points. With 21% of adults in the region having a mobile money account, Sub-Saharan Africa is the global leader in the use of mobile money. This correlates with GSMA supply-side data on mobile money, which shows that Sub-Saharan Africa plays host to almost half of all mobile money registered accounts i.e. 396 million – of which 37% are active on a 90-day basis.
While active usage across the region still lags behind account ownership, this statistic should be interpreted carefully: for example, it can be the result of a recent large-scale registration campaign focusing on new customer segments, such as women or rural customers. Regional averages can also mislead. Indeed, more than forty per cent of providers (57 out of 132) in the region are achieving activity rates higher than the regional average, with 27 providers driving impressive activity rates of well above 50 per cent. Additionally, the region is driving around two thirds of total global mobile money transactions, with values exceeding $25bn in December 2018.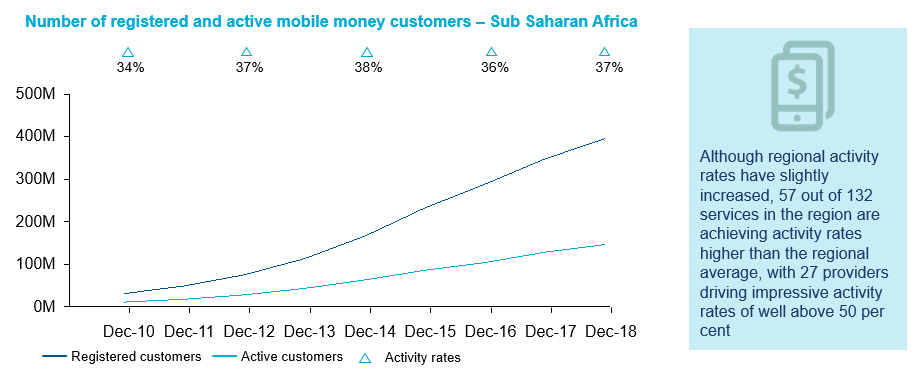 The presence of mobile money agents in rural areas and hard-to-reach places has played a critical role in the success of mobile money in many Sub-Saharan African markets. According to the 2017 Global Findex, 22 per cent of adults without an account cited physical distance to a financial institution as a barrier. The number of agent outlets across Sub-Saharan Africa reached 2.3 million in December 2018 of which 1.4 million were active on 30-day basis. In terms of geographical outreach, this translates to approximately 60 agent outlets per 1,000 sq Km compared to only 1 bank branch and 2 ATMs per 1,000 sq Km across the region.
The digitisation of payments has reached new heights across Sub-Saharan Africa in 2018
Customers in the region are increasingly using mobile money in diverse ways, extending beyond basic use cases such as person-to-person (P2P) transactions and airtime top-ups. In fact, ecosystem transactions (payments involving third parties) quadrupled in volume and grew more than twice as fast in value in 2018, compared to 2010.
While cash-in and cash-out transactions still represent the majority of mobile money flows in the region, there has been a shift away from using cash toward digital payments for most use cases as shown in below, more notably merchant payments and mobile money-to-bank account transfers. This growth in digital payments is a result of increased partnerships with banks, MTOs, governments, and businesses to digitise payments and in turn formalize the economy. Orange, for instance, has established partnerships with governments to offer a range of person-to-government (P2G) payments via mobile money across five of its operations in West and Central Africa (Senegal, Burkina Faso, Côte d'Ivoire, Cameroon and DRC). Another example is the partnership between PayPal and Safaricom, enabling users in Kenya to securely transfer funds between PayPal and M-Pesa.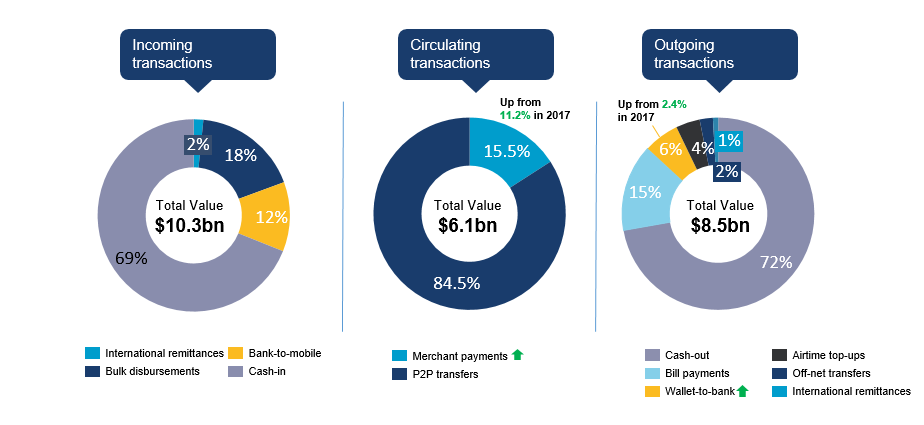 There is still considerable opportunity to further digitise these use cases to drive efficiency and transparency, and to convert informal cash and non-financial assets into the formal financial systems. While each use case is unique, certain common barriers need to be overcome to grow mobile money. These barriers can range from technical challenges in connecting to the mobile money service to establishing viable business models, building meaningful partnerships with governments and businesses, and operating on a level playing field. This is where the shift to the 'payments as a platform' model will have a demonstrable impact, not only on growing the ecosystem and incorporating more partners into the mobile money platform, but also on deepening the engagement with individuals and businesses and offering them a frictionless end-to-end experience.
Industry-wide initiatives will also play a central role in driving the digitisation of more complex use cases, especially where convenience, scale and reach are necessary for uptake. Mowali, a joint venture between Orange Group and MTN Group enabling interoperable payments across the African continent, is a great example. This open industry utility has huge potential to accelerate online and physical merchant payments and to drive the digitisation of a wide range of financial services such as international remittances, payroll services, and more.
In the second part of this blog series, we look at the specific future growth opportunities for mobile money in Sub-Saharan Africa. Click below to explore the associated presentation.