More than one billion people in the world lack any form of legal identification and almost half of these are living in Sub-Saharan Africa. The lack of identification prevents them from accessing life-enhancing digital and financial services. There is a clear role for biometrics to bridge this gap in emerging markets, if attainable at low affordability and low-end technology. This creates opportunities for digital and financial inclusion and places mobile devices at the heart of reducing existing barriers.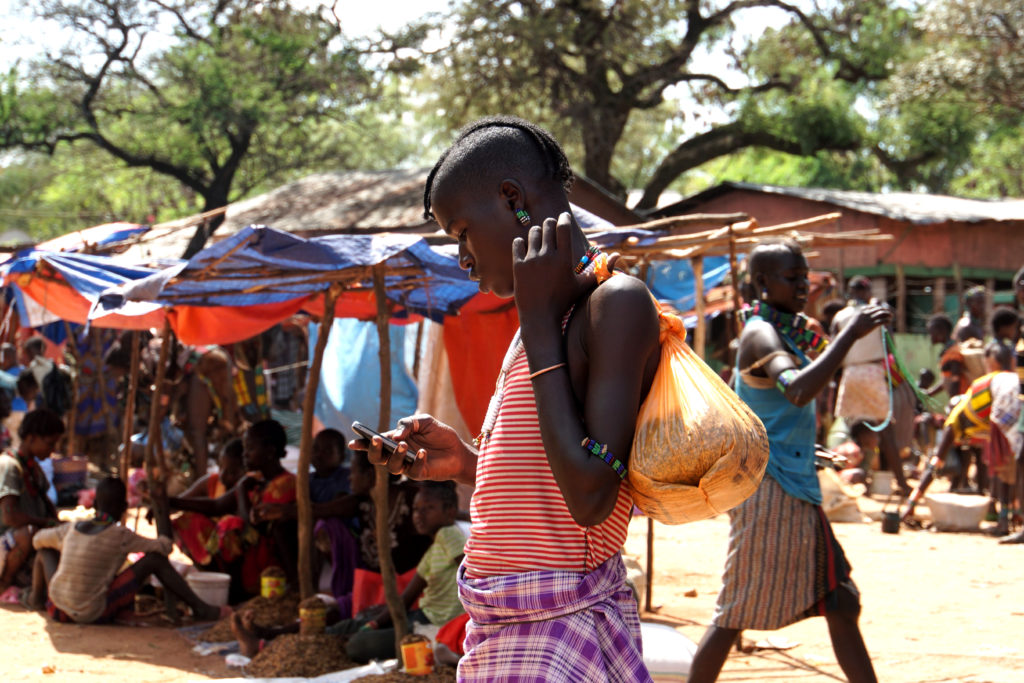 Authentications via mobile devices are on the rise, gaining a considerable share in the biometrics market. The Global Biometrics mentions that the biometrics market is expected to reach 76.64 billion in 2027, growing at a CAGR of 18.0% during the forecast period. Due to this constant growth, in 2023, the biometric payment users will be over 2.6 billion. A considerable share of the market is being represented by emerging markets such as Latin America, Africa and Asia.
Safaricom's Jitambulishe is one of the successful examples in Africa of using voice for several purposes, including unlocking M-PESA accounts. Implementing voice recognition has successfully enabled a range of possible use cases, underlying user identification, authentication and authorisation. The main advantage of voice recognition, making it attractive to mobile operators, is the cost reduction in call centres and improvements through the use of neuro-linguistic programming (NPL) and artificial intelligence, allowing a greater range of features to customers.
The diverse possibilities of voice biometrics also makes it possible to reach all types of mobile markets, since the phones are already set with voice sensors of acceptable quality for the biometric process. If well implemented, voice authentication can unlock access to a large number of previously difficult to reach customers, such as:
people with disabilities;
less literate populations;
featured phones users; and
speakers of different languages and dialects.
The identification process can play an important role at two stages: upon enrolment to services, when KYC needs to be performed, and upon the usage of services, when the enrolled user needs to be authenticated (e.g. changing account settings or authorising financial transactions). The former oftentimes involves the use of a form of foundational IDs issued by governments and requires regulatory approval. The latter may, but does not necessarily involve approval, since it's handling internal validation of previous identification.
This way, mobile technologies have a vital role in lifting identification barriers as they allow the use of biometrics in authentication processes. Biometric information is always with the user, making it ubiquitous and unique for different systems, measurable, convenient and does not allow sharing, making the enrolment process fast and with credible results.
Some initiatives, such as GSMA Mobile Connect, FIDO and OSIA, have emerged with the aim of unifying the digital identification ecosystem. It allows better integration of systems and governments through standards and APIs that offer secure identification, are vendor agnostic, avoid lock-in and provides technological neutrality. This convergence positions biometrics as one of the essential elements to drive ecosystem evolution and market growth.
There are several biometric techniques available such as voice, fingerprint, face and iris recognition. However, some solutions require hardware to be available to end-users and/or merchants/agents that at even lowest cost levels may be an impediment to adoption. Therefore, to make biometrics successful in emerging markets, the solution should meet two main conditions: affordability (low price) and technology level (low-tech environments).
Solutions that use voice or low-resolution cameras have proven to be attractive, since they do not require additional hardware. It allows users of basic devices to benefit from technological advantages provided by biometrics. Including it within well-designed platforms not only enables them to make better use of their mobile wallets, but also makes usage more secure.
It is with these premises that the Inclusive Tech Lab asked itself the question: what can we do to drive digital inclusion in emerging markets?
To answer this question, the Inclusive Tech Lab is working with the operators to understand the existing problems related to biometrics and what would be the appropriate solution to demonstrate the potential of using biometrics. The purpose is to highlight the advantages of using affordable technologies and show the return that such solutions can provide for emerging markets. This would offer the opportunity to trial and integrate different solutions, showing the benefits of biometrics and promoting digital inclusion for all.
Currently, the lab is focusing on the use of voice recognition through different use cases (e.g. user enrollment, IVR navigation, system authentication, SIM reactivation, etc.). Voice was the starting point due to the fact that mobile devices of all types come ready with a microphone, eliminating the need for additional hardware and meeting the premise of low price and low-tech. The asset is still in early stages, but we'll be ready to share more on the project soon.
If you want to know more about it, we would love to hear from you at InclusiveTechLab@gsma.com!