Assessing the opportunity to improve energy access: Ncell in Nepal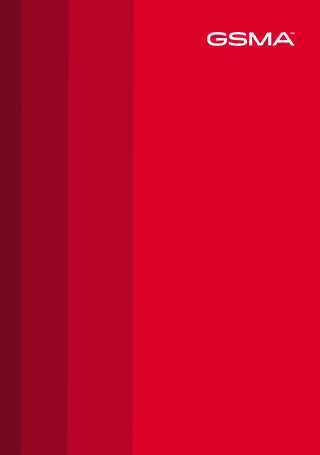 What is the opportunity for Ncell, the dominant mobile operator in Nepal, to leverage its assets and presence across the country to improve energy access? The GSMA Mobile for Development Utilities team, with the support of the UK Government, in partnership with Ncell, explores this question in this new report.
The investigation included desk research to understand the energy challenges in Nepal and to map areas of high potential for Ncell to leverage its tower network presence. Desk research was complemented with a field trip to the Panchthar district, where fewer than half the households have access to the electricity grid and two-thirds of Ncell's towers are completely offgrid. The study also factored in anecdotal information from energy practitioners and mobile payment providers. Key data sources were the national census of Nepal conducted in 2011, Ncell's proprietary tower network data and satellite imagery from Google to estimate demand around promising tower sites.
Key insights were obtained for two business models:
Community Power from Mobile (CPM), with Ncell towers as anchor loads: The energy service company (ESCO) ecosystem in Nepal is still nascent. Ncell would have to support the development of this ecosystem with pilots before any large-scale deployment is possible.
Pay-as-you-go (PAYG) sales, with Ncell as a partner: While solar home systems of a variety of sizes are available in Nepal, and the Alternative Energy Promotion Centre (AEPC) provides subsidies based on system capacity to encourage sales, financed purchase is not commonly available. The first trials of mobile-enabled financed purchase are likely to begin in the next few months in Nepal and offer Ncell the opportunity to participate as a connectivity or distribution partner.
Energy and mobile access in Nepal
Nepal's 5.4 million households are home to over 28 million people. The country is divided into three ecological zones by terrain: Mountain, Hill and Terai (plains). Over 80% of Nepal's people live in rural areas, putting tremendous pressure on the country's electricity distribution systems as they struggle to reach far-flung populations, especially in the Hill and Mountain zones.
Nepal's per capita consumption of electricity of 106 kWh is by far the lowest among proximal South Asian countries. As per the 2011 Census, 67.3% of households have access to the electricity grid. Nearly a million households use kerosene as their primary source of light and about 400,000 use solar for lighting.
Nepal's mobile telephony market is dominated by two MNOs—Ncell and Nepal Telecom—with a combined market share of over 90%. Unique subscribers account for nearly 40% of the total population. However, each unique subscriber has approximately two SIMs, which means millions in Nepal do not have individual access to the mobile network. Although 90% of Nepal's population is covered by GSM networks, only about 40% of its area is covered. GSMA estimates the size of the addressable energy market, defined as the population with mobile coverage but no access to the electricity grid, to be 3.7 million people.
Business Models
CPM
Ncell's network of 2,348 towers is concentrated in the Terai zone, with lower numbers in the Hill and Mountain zones. Of these sites, 156 (6.6%) are off-grid while virtually all sites suffer from brownouts, sometimes for over 20 hours per day during the dry months. Although Ncell is continuously expanding its network to cover remote regions, the operational burden and cost of powering its sites is becoming prohibitive. Subscribers in remote regions typically have limited access to energy, which restricts both mobile phone use and revenues for Ncell. The CPM model, with energy supplied by an ESCO, can help increase revenue while lowering operating costs.
Based on factors such as lack of access to the electricity grid, high usage of kerosene for lighting and high number of rooftops within the vicinity of offgrid sites, three priority districts were identified for CPM: Panchthar, Baitadi and Salyan.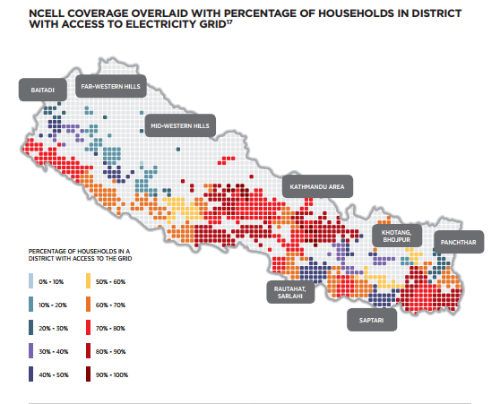 PAYG
PAYG enables access to finance for buyers, while using mobile technology to protect the interests of the provider. This model has been successfully applied to solar home system purchase in East Africa but has yet to gain traction in Asia. The model offers several channels for a mobile operator to participate in the energy opportunity: connectivity, distribution, mobile money and even co-branding. PAYG trials are being planned in Nepal and Ncell can choose how it wants to participate. Based on factors such as lack of access to the electricity grid, high usage of kerosene for lighting and low penetration of solar, three priority districts were identified for PAYG: Saptari, Rautahat and Sarlahi. Compared to CPM, PAYG presents a much larger opportunity but is also slightly more distant. Moreover, the market potential of PAYG depends on AEPC's subsidy policy which may change in the future.
Outcome
Ncell has acted on the CPM opportunity by partnering with Gham Power to install two new cell sites, to not only make affordable energy access to these communities viable, but also to provide 3G coverage. Gham Power applied to the Mobile for Development Utilities Innovation Fund and was awarded a Seed grant by an independent panel of experts. Energy and mobile services to these communities are expected to commence in October 2015. If this unique partnership is successful, it could help simultaneously bridge the energy access and digital inclusion gaps to many remote communities of Nepal.