M-KOPA: Applying the pay-as-you-go model to smartphones in Africa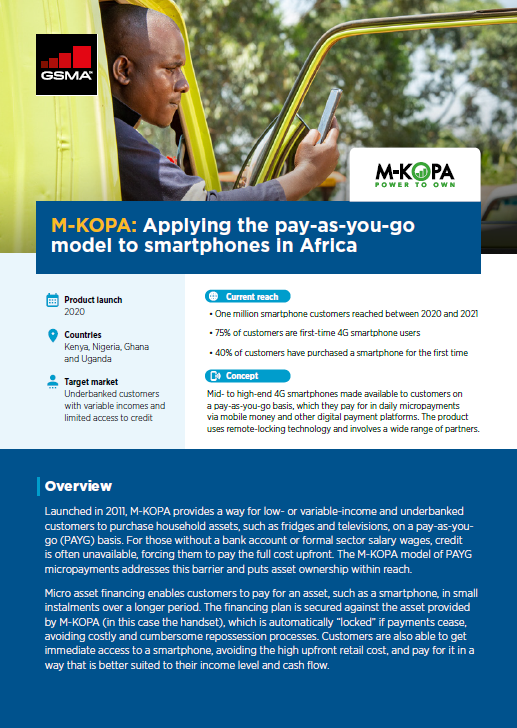 Owning a smartphone is critical for accessing the full potential of mobile internet. Yet, in Africa, handset affordability is a key barrier to accessing and using mobile internet. Our recent report on Making internet-enabled handsets more affordable in low- and middle-income countries identifies how access to financing is a key opportunity, enabling those who are financially excluded to purchase an internet-enabled handset and become connected.
This case study highlights how M-KOPA, a connected asset financing company, is making smartphones more affordable for underserved customers in Kenya, Nigeria and Ghana. It outlines the key success factors that enabled M-KOPA to reach a million customers since launching its smartphone offering in 2020. This includes leveraging daily micro-payments that are more convenient for its customers, embedding remote-locking technology in the handsets, and building partnerships throughout the value chain. It also unpacks the challenges that remain to reach the underserved. This case study underscores the opportunity for smartphone uptake in Africa when a more convenient and customer-focused solution is applied.
You might also be interested in:
Document
Tuesday 5 Apr 2022 | Connected Society | English | Mobile access and use | Report | Research |
This report provides an overview of approaches, business models and technological innovations that are improving the affordability of internet-enabled handsets in low- and middle-income countries, particularly for underserved populations.