Rural Connectivity Innovation Case Study: Cellcard Cambodia and Solar Power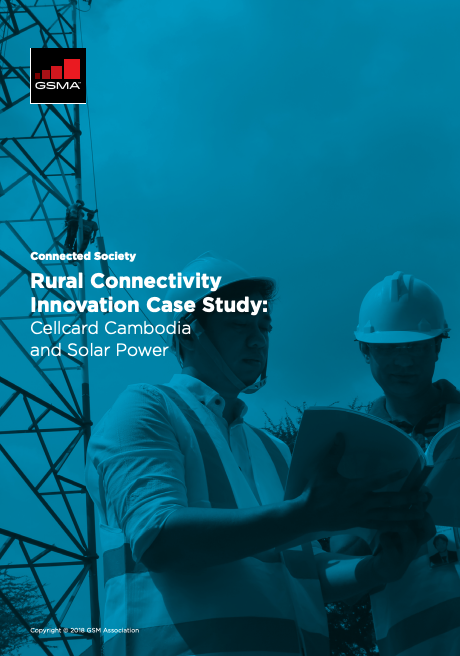 In delivering mobile coverage to rural areas, one of the most significant expenses that operators face in providing users with mobile coverage is the cost of powering cell sites. Using a GSMA bespoke evaluation model, this case study illustrates how the Cambodian operator Cellcard has used renewable energy to bring down the cost of providing coverage, enabling them to spread the benefits of mobile broadband more widely.
It shows that Cellcard is already reaping significant commercial and environment benefits from their use of solar power, saving $7,600 and 38.4 metric tonnes of CO2 per site over a 5 year period. Our analysis also shows that by shifting to fully solar-powered sites, Cellcard could save $51,200 per site over a 10 year period, with CO2 emissions reduced by an additional 82.2 metric tonnes of CO2 over five years.
Mobile broadband (3G or 4G) coverage in the developed world is now almost ubiquitous. However, just over 1 billion people live in areas that are not covered by mobile broadband networks, with more than 95% of them living in low or middle-income countries. This is primarily driven by economics: the uncovered live in areas that are more expensive to supply, which typically have lower levels of demand. This case study is the first of a series – 'Innovations in Rural Coverage' – which focus on the supply side of the equation, profiling innovations with the potential to bring down the cost of increasing coverage to currently underserved areas.