The Value of Pay-as-you-go Solar for Mobile Operators: Insights from customer journeys in Benin and Cote d'Ivoire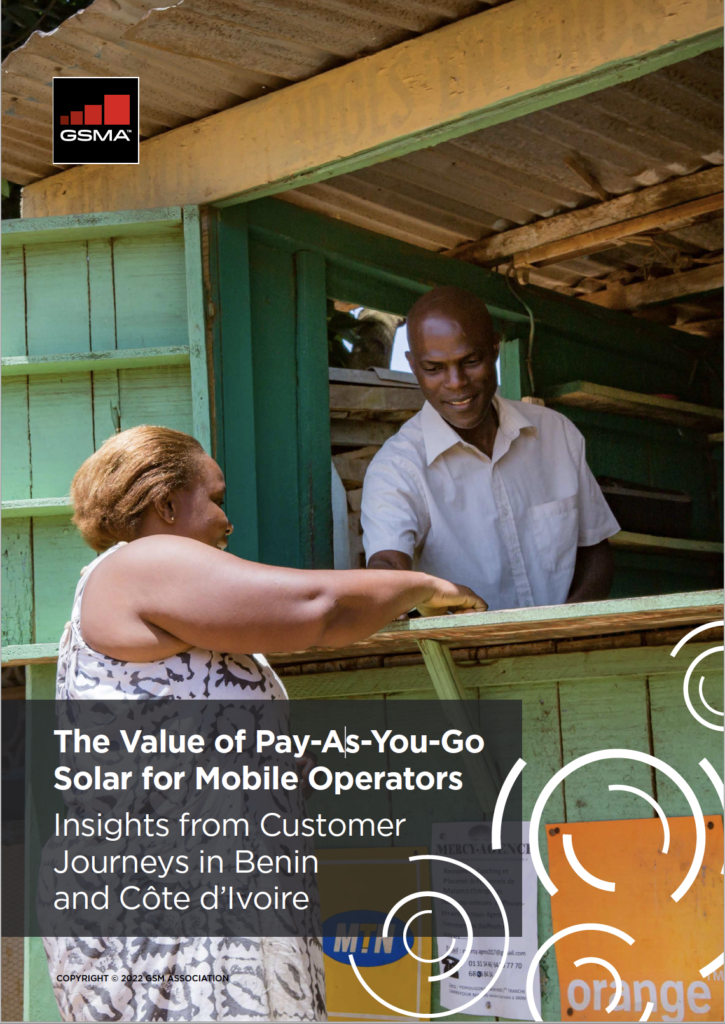 Pay-as-you-go (PAYG) technologies, combined with mobile payments have enabled a new wave of consumer asset financing for low-income customers. PAYG solar energy has emerged as one of the strongest use cases for this technology and the sector has matured from a handful of pilots to a global industry in under a decade. The synergies between mobile operators and PAYG solar providers have been clear from the start. Mobile operators provide the fundamental ingredients for PAYG through mobile money and connectivity. On the other side, PAYG solar boosts operator revenues from mobile money transactions and other services.
In May 2020, the GSMA published the first quantitative analysis of the impact of mobile customers adopting PAYG solar on their mobile usage. That study, conducted in partnership with eight operators in five markets, analysed data for over 200,000 PAYG/mobile operator customers. While the previous research clearly demonstrated the benefits quantitatively, it did not shed light on how and why people changed their behaviour. In order to explore these questions, in partnership with MTN in Benin and Orange in Côte d'Ivoire, we conducted a follow-up qualitative study.
This study repeated and updated the quantitative analysis done in the previous research. We then conducted a series of 120 in-depth interviews with end users, focused on understanding the reasons behind their behaviour change. This report presents ten key reasons why people change their behaviour, and explores the questions of how, when, and for whom behaviour changes.
We also held a webinar to explore the insights from this report with a range of speakers from GOGLA, MTN Uganda, Engie Energy Access and WidEnergy Africa, which you can watch here.
This report is available in English and French.