Uncredentialed and Underserved: Access to Mobile in One's Own Name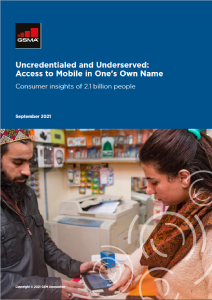 The ability to prove one's identity is essential to securing rights and access to life-enhancing services, including health care, voting, education, financial services, employment and social protections. Identification (ID) is also a critical factor, among others, to accessing mobile services in one's own name, especially in the 157 countries that have implemented mandatory prepaid SIM registration policies.
In order to gauge the scale and nuances of the consumer landscape around ID and access to a SIM card and mobile services in one's own name, the GSMA conducted nationally representative quantitative research in seven populous low- and middle-income countries (LMICs) representing over 2.1 billion people in Algeria, Bangladesh, India, Kenya, Mozambique, Nigeria and Pakistan.
The findings of this research uncover the scale of marginalised people who do not have a SIM card (mobile subscription) in their own name and instead resort to using other people's. The research suggests that these people might never be fully in control of how they use and pay for their mobile service and that they might also never be able to access mobile services in their own name and achieve full digital and financial inclusion. Econometric analysis applied to this research reveals which marginalised groups are statistically less likely to have ID (a barrier to mobile access) and a SIM card registered in one's own name (a barrier to full digital and financial inclusion).
This report provides for the first time:
Figures on ID ownership (by modality) and SIM card registration in one's own name;
Figures showing the gap in ID ownership and SIM card registration in one's own name between different demographic and socio-economic groups;
A review of the barriers to accessing a SIM card in one's own name;
The household composition of those who use SIM cards registered in another's name;
Evidence of awareness and willingness to adopt ID-linked mobile services and benefits; and
Econometric analysis of the likelihood of different demographics and socio-economic groups acquiring an official ID or registering a SIM card in their own name.