This blog was written by Amolo Ng'weno, East Africa Director at BFA and is the first in a two-part series of guest blogs.
Governments in developing countries struggle to raise enough revenue to provide funding for ministries, departments, counties and agencies (MDCAs), often resulting in under-provision of services, lack of supplies, and poor quality delivery.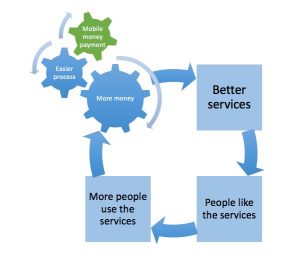 In our study of person-to-government (P2G) payments in Kenya, several agencies reported that when they implemented payments by mobile money, they were able to increase collections by substantial amounts, leading to more funds being collected than when manual systems were in place. As a result of incremental collections, more money is now available to offer better services to citizens.
For instance, the National Transport Safety Authority (NTSA), which offers services such as issuing drivers' licenses, motor vehicle licenses and motor vehicle inspection doubled its revenues in three years. With the additional funds, the NTSA increased the availability of vehicle inspection centres and, in turn, more owners complied with this requirement by bringing their vehicles for inspection, further increasing revenue for the agency. In the past, reports were rife of drivers without licenses and uninspected public vehicles. The past three years has seen the number of driver license renewals double, and vehicle inspections treble.
What changed? There were no changes in fees or penalties, but instead the NTSA had simplified processes and introduced payment by mobile money. Is it possible citizens were not previously intentionally skirting the law, but instead didn't want to deal with the long waits, bureaucratic processes and possibility of corruption that compliance used to entail.
A similar pattern was witnessed with the National Health Insurance Fund (NHIF). When the NHIF increased benefits and simplified payment processes, accepting payment by mobile money from 2009 onwards, over two million new voluntary subscribers – mostly in the informal sector – joined the NHIF. With digital processes, the NHIF could see the flow of funds in real time, which allowed them to accelerate payments to chronically underfunded health facilities. The number of new NHIF members continues to rise each month and there have been improvements in several hospital services over the last decade.
Reviewing this experience, we ask ourselves whether mobile money payments can be a motor of a virtuous cycle where citizens increasingly use and pay for government services, and government services therefore improve, encouraging more citizen uptake. In this way, perhaps mobile money can be a factor in improving the very important relationship between citizen and state.
Download the accompanying report