This blog was co-authored by Mariana Lopez and Abbie Phatty-Jobe.
We were honoured to join governments, the private sector and development organisations in welcoming Financial Inclusion Week 2018 and exploring this year's theme of 'getting inclusion right'. Each year, Financial Inclusion Week presents an important opportunity to take stock of progress made while also acknowledging the challenges that remain in making meaningful, sustainable improvements to the financial lives of the underserved. To mark the event, we convened industry experts from around the world for an interactive Twitter chat on the subject of 'the power of mobile money in reaching the underserved.'
Over thirty participants joined from all over the world, tweeting from Ghana, Pakistan, Nigeria, Cameroon, Uganda, the United States, Zambia, the UK, Rwanda and Myanmar. To start the conversation, we asked participants to share what 'getting financial inclusion right' means to them and their organisation. Fascinating perspectives were shared, from prioritising product design and innovating specifically for women and rural customers, to seeing financial inclusion as the 'bridge between opportunity and outcome'.
We then challenged our participants to describe how mobile money's role in reaching the underserved is likely to evolve over the coming years. Many pointed towards the rise of value-added services and access to smartphones as game-changing developments. Brad Jones, CEO of Wave Money and Uloma Ogba, Project & Knowledge Management Consultant at UNCDF MM4P shared these projections for the future:
Next, we asked participants to name the most significant action public and/or private sector organisations can take to accelerate women's use of mobile money. Participants from Airtel-Tigo Rwanda, MTN Ghana, Dialog Sri Lanka and Telenor Pakistan emphasised the need to address barriers that women face by offering financial services that are relevant to them and that consider their circumstances, capabilities and preferences, such as government-to-person payments, agricultural payments and international remittances. Tapping into traditional behaviours like women's savings groups can also provide compelling new use cases for women. All of these mobile operators have joined the Connected Women Commitment Initiative, committing to reduce the gender gap in their mobile money or mobile internet customer base by 2020. Here's what Leora Klapper, Lead Economist at the World Bank, had to say:



Our fourth question delved into key solutions driving the digitisation of payments and opening a pathway to financial inclusion for farmers. The fintech revolution is encouraging the development of digital solutions to address barriers in farmers' access financial services. Among the solutions mentioned was Pula, an agricultural insurance provider leveraging USSD and satellite data to insure smallholders throughout Africa. Participants also pointed towards global agribusiness value-chains using bluetooth scales to minimise fraud, to improve accuracy of information and to reduce costs for farming businesses. These scales enable farmers to receive digital receipts for transactions and payments for their produce via mobile money. Over time, this builds a transaction history that can be used to assign a credit score, unlocking access to more financial services for farmers.
Next, we delved into the challenges of increased smartphone uptake for the spread of financial inclusion as well as the opportunities this presents. Participants cited challenges including increased security requirements, consumer protection concerns, high costs of data and the lack of access to affordable energy to power smartphones. Many people also emphasised the sustained prevalence of feature phones, and the importance of catering for the many customers who cannot afford smartphones. Ben Lyon, CEO of Hover, pointed towards some of the opportunities around innovation and collaboration:


We then asked our Twitter chat attendees: What data gaps need to be addressed to help inform initiatives and policies to advance financial inclusion for underserved groups? The lack of comprehensive gender-disaggregated data was mentioned repeatedly as a barrier to understanding and addressing women's access to and usage of mobile money. Other participants explained how data could help inform the delivery of timely content to app users who are offline, and outlined the need for data to assist in human capacity development-based products and customised user interfaces for the financially innumerate.
Our penultimate question dove into the policy and regulatory interventions needed to address barriers in providing underserved groups with access to mobile financial services. Participants spoke of the need to align competition policy with financial inclusion objectives to avoid high barriers to third party entry, which could stifle innovation. Other suggestions centred around simplifying know-your-customer requirements for opening mobile money accounts, and ensuring mobile money is well-integrated into national payments strategies. Irfan Wahab Khan, CEO of Telenor Pakistan, shared his insights:
We wrapped up the hour by asking our participants to reflect back on the discussion and share their one main takeaway. Below are some of the learnings they highlighted.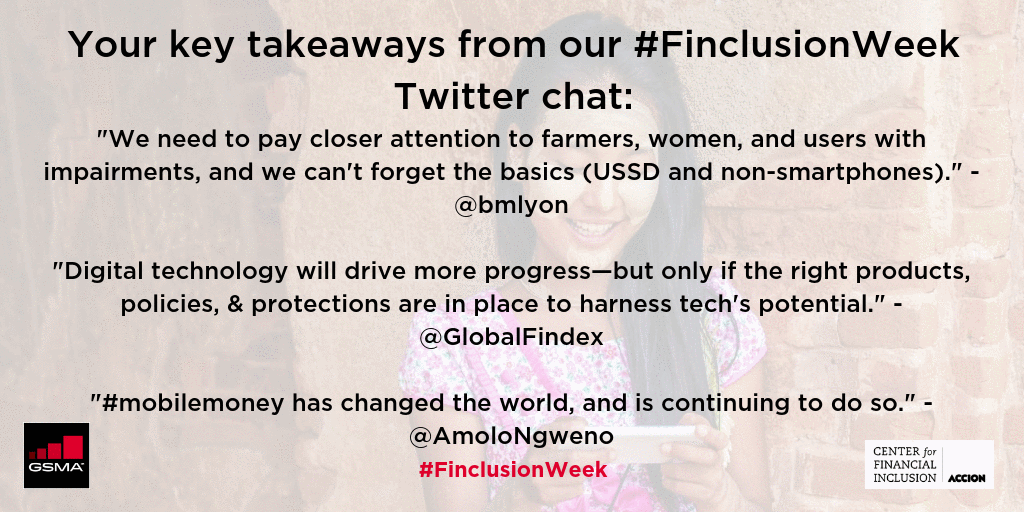 Thank you to the organisers of Financial Inclusion Week and to all of our insightful discussants for their unique perspectives on how we can leverage the power of mobile money to reach all underserved groups. We look forward to reconnecting with you on Twitter in the near future!
Participants: