The GSMA AgriTech team has launched Digital Agriculture Maps (DAMs), the new state of the sector report on digital agriculture in Low and Middle-Income Countries (LMICs).
DAMs has been produced in collaboration with IDH Farmfit in response to the growing need for industry practitioners and investors to monitor a constantly changing and fragmented ecosystem and to identify key trends and emerging opportunities.
Building upon a database tracking 700+ digital agriculture services globally, DAMs offers in-depth analysis on digital tools aimed at smallholder farmers. These include digital advisories, digital financial services for the rural sector, agri e-commerce platforms connecting farmers to markets, smart farming tools enabling automation and monitoring of farming activities and digital procurement solutions.
As the name suggests, the key features of DAMs are its maps. Leveraging an extensive database, the GSMA AgriTech programme has produced regional heat maps that offer a snapshot on the availability of digital agriculture tools in Sub-Saharan Africa, South Asia, Southeast Asia and Latin America & the Caribbean.
Regional map of active digital agriculture services by use case, Sub-Saharan Africa, January 2020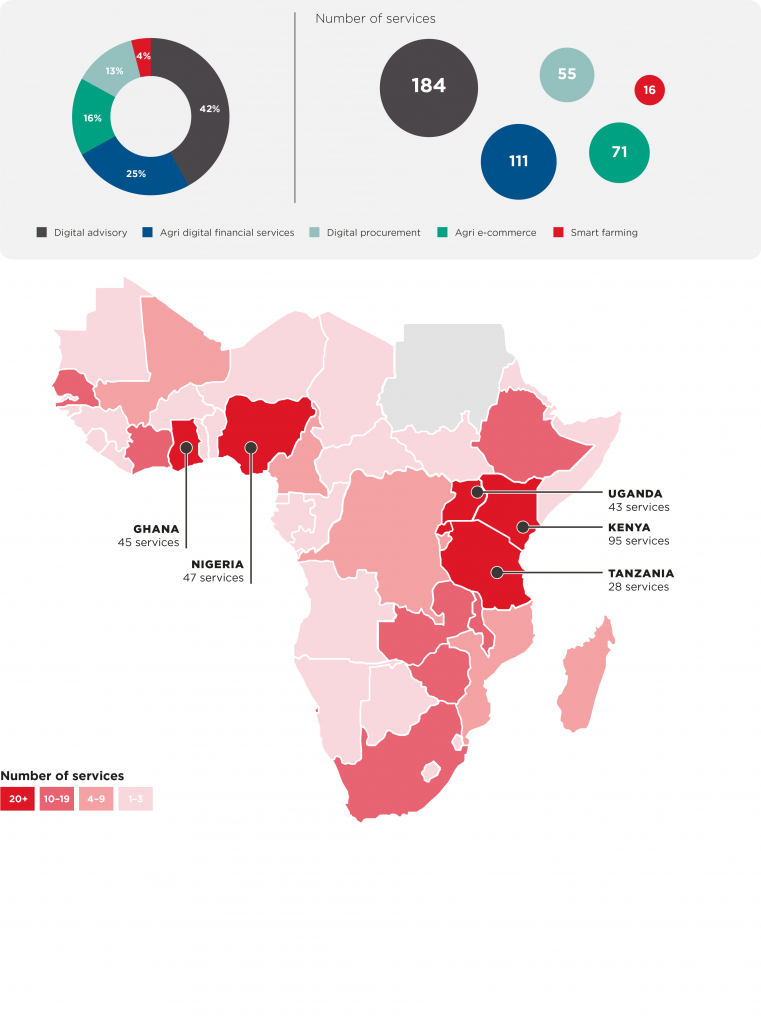 ---
Digital agriculture offers an array of benefits to smallholder farmers, including participation in the formal economy and greater resilience to climate change. The ongoing COVID-19 pandemic has magnified systemic challenges in the agriculture sector faced by smallholder farmers and value chain actors, making the need for greater clarity in the digital agriculture landscape even more urgent.
The range of digital tools in agriculture is broad, from low-tech solutions disseminating voice and text-based advisory on feature phones, to data-driven tools involving satellites, sensors and analytics to enable automation and monitoring of farming activities.
To bring clarity on the sector, together with our partner IDH Farmfit, in DAMs we have segmented services available to smallholder farmers into three broad categories of access that further break down into five use cases and 24 sub-use cases. Each of the use cases and sub-use cases addresses one or more challenges faced by farmers.
Digital agriculture use cases and smallholder farmer challenges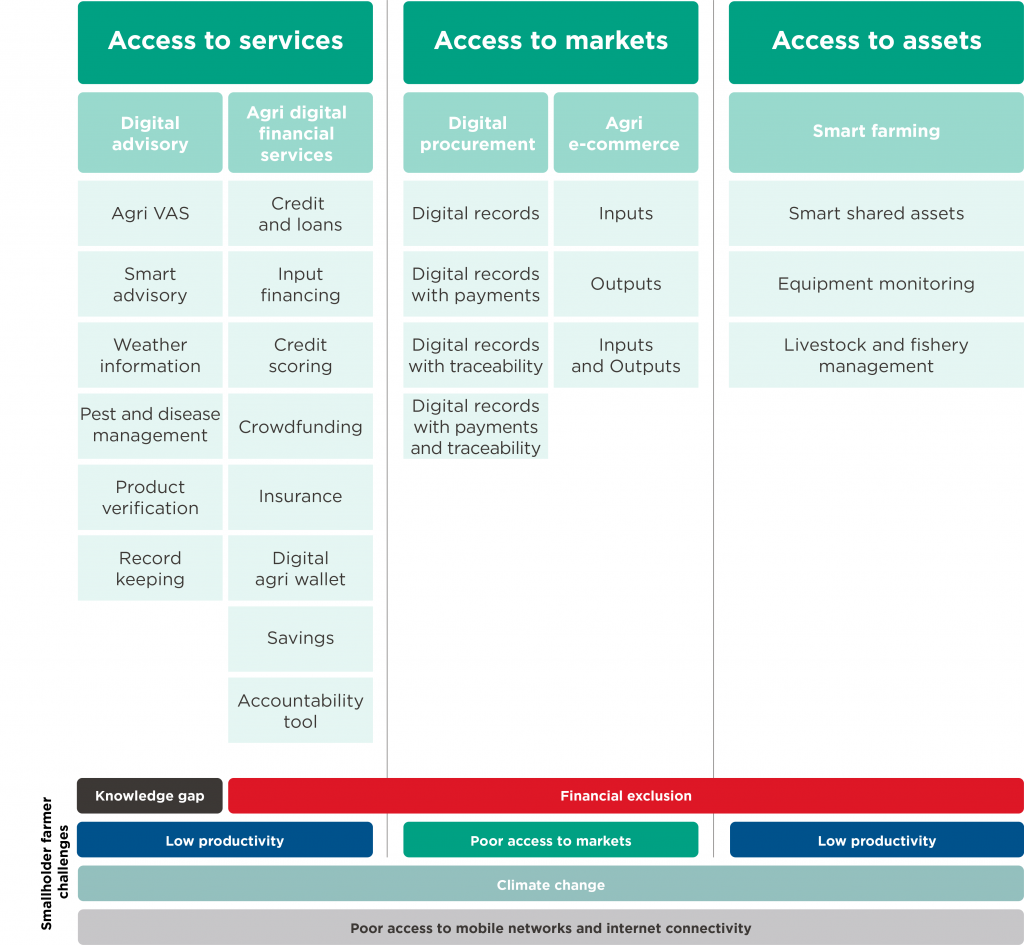 ---
DAMs offers a dynamic view of the evolution of the sector. Digital advisory services first appeared in the late 1990s in response to the need to overcome the knowledge gaps limiting farmers' productivity. Since then, the range of digital agriculture solutions has evolved rapidly and the landscape has become increasingly sophisticated. Digital agriculture tools have become more widespread, from just 50 active services in 2009 to over 700 in 2019.
Number of active digital agriculture services by use case, 2009–2019
---
DAMs is a comprehensive resource that offers both a landscape overview and an in-depth analysis on specific use cases, trends and opportunity areas. We break down our analysis by region and use case to help practitioners understand the specific conditions needed for digital agriculture solutions to scale. The report is corroborated by service-level case studies to illustrate existing best practices. We place particular attention on the commercial sustainability of digital agriculture services, offering a view on the operational and business models required to bring services from pilot to scale.
DAMs should serve as a useful tool for a wide and varied range of audiences:
Investors and donors will find it useful to support their global and regional strategies and investments for social and commercial impact.
Agritech companies and mobile network operators actively serving the rural sector will find valuable information to position themselves more competitively in their markets.
Value chain actors, such as agribusinesses and cooperatives, will find insights on opportunities to launch digitisation initiatives and will gain visibility into the solutions that are available in their markets.
Mobile money providers (MMPs) and financial service providers (FSPs) will find examples and best practices on how to build partnerships to provide financial services to the rural sector.
Institutional actors, such as governments, multilateral agencies and NGOs, will find useful information on using digital solutions to improve their agriculture sector programmes.
We hope you enjoy this resource and we always welcome your feedback. If you have any questions, comments or suggestions please contact us at agritech@gsma.com.
---