This blog was co-authored by Ahmed Javed, GSMA and Damitha Gunawardena, Dialog Sri Lanka.
Digitally-enabled agricultural automation solutions, often referred to as "smart farming" tools, are still nascent in most emerging markets. Sri Lanka is no exception, though, Dialog Axiata PLC (Dialog) is now actively looking at developing automation tools for the agricultural sector on the back of its Internet of Things (IoT) platform deployment.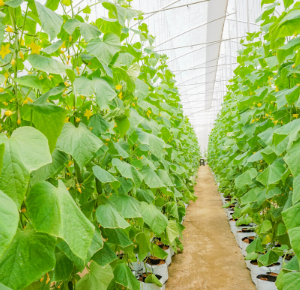 Smart farming refers to the use of sensors, drones, satellites and other farm assets to generate and transmit data about a specific crop, animal or practice to support agricultural activities. It relies on IoT connectivity between devices to optimise production processes and growth conditions. Smart farming tools can significantly improve farmer yields, especially in the context of farming inside protected enclosures, such as poly tunnels.
Dialog have extensive experience in the design, launch and scale of digital agriculture services. Launched in 2016, Dialog's pioneering direct-to-consumer agricultural value added service (Agri VAS), "Govi Mithuru"/"Uzhavar Thozhan" ("farmer's friend"), today provides over 600,000 farmers with advice on farming best practices across multiple crops. In 2018, Dialog launched Agri-Gate, a digital tool that delivers efficiencies in the agricultural last mile for agribusinesses and farmers supplying crops to them, thus extending its agricultural portfolio to enterprise solutions. Dialog is now further diversifying into smart farming solutions for protected enclosures.
Understanding user needs: The challenges around Smart Farming in Sri Lanka
The potential adverse impacts of environmental variations and threats, such as changing weather patterns or pest attacks, on crop yield are well-known. Protected cultivation helps lower these risks. It is used primarily by progressive farmers for high-value, fast-moving crops such as certain varieties of mushrooms and vegetables, as these provide a stronger business case. In the absence of automated solutions, progressive farmers in Sri Lanka growing crops in protected enclosures are forced to use manually-operated exhaust fans, misters, foggers and drip irrigation lines to control the enclosure's environment. Manual operations result in imprecise measurements, and yield improvements are minimal when compared to automated smart farming alternatives. However, prohibitive costs, limited after-sales support and the lack of supporting algorithms customised to local weather and environmental parameters mean that imported smart farming kits have had limited market share or yield impact in Sri Lanka.
Smart farming as a strategic growth opportunity for Dialog
Due to the centrality of agriculture to Sri Lanka's economy (25.7% of the workforce was active in the sector in 2019) and Dialog's strategic focus on both agriculture and IoT, smart farming has emerged as a promising use case that addresses identifiable user needs and has strong revenue potential. It allows Dialog to pursue the twin strategic objectives of i) diversifying their agri-tech offering and ii) growing the adoption of their IoT platform.
Allowing access to a new segment of progressive farmers, Dialog will be able to diversify their agricultural product offering through this solution. Research from Dialog's Agri Tech team has shown that improved control of humidity, temperature, irrigation and fertigation (the injection of fertilizers, and other water-soluble products into an irrigation system) resulting from automation could bring about up to 50% increase in yields. This immediate financial benefit for farmers, in turn, opens up a potential new revenue stream for Dialog as well.
In the IoT space, Dialog is working on multiple initiatives with enterprise partners to develop an array of solutions across multiple verticals including utility, industrial monitoring and automation, energy management and smart cities. Supporting its partners in solution design, Dialog also enables them to connect with end users via its proprietary IoT platform. Dialog's NB-IoT & LTE-M-ready network is supporting the scale-up of multiple IoT services as an increasing number of pilots convert to commercial launches. This smart farming solution opens up a new segment, namely progressive farmers in Sri Lanka, to grow adoption of the IoT platform.
Leveraging local expertise
Dialog's Agri Tech team has set three objectives to drive the design process of its smart farming solutions, affordable hardware, the use of Sri Lanka-specific agronomic data models and strong after-sales customer service infrastructure.
Dialog started its smart farming journey with the aim to develop low cost IoT-enabled sensors and actuators for protected enclosures that enable farmers to automate, monitor and control farm activities by using a smartphone app. For example, as humidity in the enclosure drops below a defined threshold, the farmer gets an alert on her/his smartphone and misters in the enclosure are automatically turned on. The farmer can also choose to only receive alerts and trigger the resulting action, in this case the turning on of misters, manually. The same logic applies to temperature and nutrient control.
Combining its own industry expertise with the agricultural and technology research experience of Sri Lankan academia, Dialog partnered with The University of Moratuwa's Mobile Communications Research Laboratory, in the country's Western Province, to collaboratively design and develop the hardware component of the product; the sensors and actuators.
At the same time, the University of Ruhuna's Faculty of Agriculture, in the Southern Province helped Dialog develop parameter models for different crops cultivated in protected enclosures. These data models include optimal humidity, nutrient and temperature levels to be maintained during each stage of the farming cycle and trigger system responses (e.g. releasing additional fertilizer) to changing soil or environmental conditions. Dialog then customised its own proprietary IoT platform and the newly-developed data models were fed in to the platform.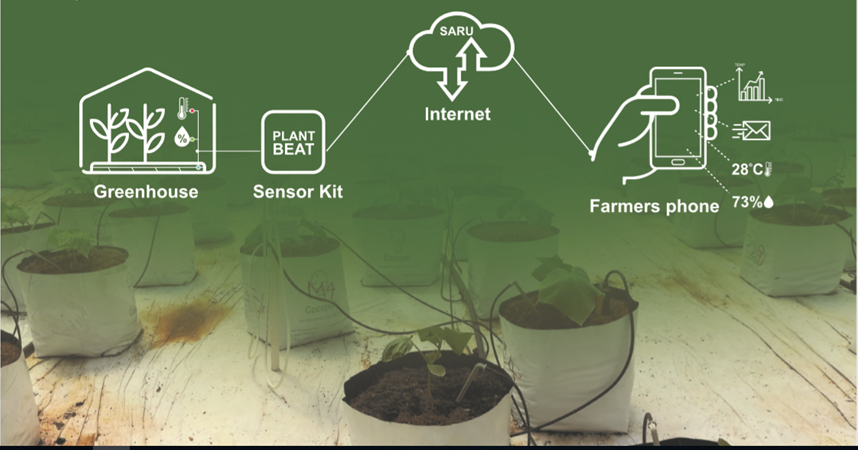 In addition, Dialog has formed a partnership with Plant Beat , a local SME focused on protected agriculture, to manage solution deployment and customer support. With Dialog's support, which includes training and up-skilling of Plant Beat staff to install and service the solution on-site, Plant Beat would take the product to the market under their own brand while providing end-to-end implementation and ground level support services to the farmers. Farmers are charged a setup fee and a monthly subscription which, by Dialog estimates, is less than 5% of the average yield increase received by the farmer. Besides Plant Beat, Dialog is exploring partnerships with other organisations to support the commercialisation of its smart farming solutions.
Benefiting from local partnerships and product development, Dialog has developed sensors and control systems that are 10 times cheaper than European alternatives, while at the same time it has been able to customise its smart farming technology to Sri Lankan environmental conditions.
Promising early results
Dialog initially pilot tested its smart farming solution for growing salad cucumbers, a high-value export crop, in an automated protected enclosure. The solution delivered 41.6% higher yield and superior nutritional quality compared to a conventional protected house. Pilot testing has been expanded to other crops with similar success. For example, a yield increase of 48.2% observed for growing high-value American Oyster mushroom in controlled environments.
Dialog is now focusing on establishing distribution partnerships to take the solution to market, while simultaneously working with partner universities to develop parameter data for other varieties of crops. In parallel, research is ongoing to develop low cost structures for the protected houses, the largest cost component in protected agriculture systems, and define monetisation models with partners.
As local sensors are 10 times cheaper than existing alternatives, farmers should be able to recoup investment in automating the protected house within 3 months, enabling them to reinvest a portion of their profits from each harvest to expand the protected enclosure as well. This provides both a unique selling proposition and a clear path to scale for Dialog while providing progressive Sri Lankan farmers with a viable opportunity to evolve their own farming practices.
The GSMA will continue to track the progress and outcomes of this smart farming initiative with Dialog, along side the work both companies are undertaking towards digitization of agricultural value chains in Sri Lanka.
Want to stay updated on what we're up to?  Sign up to our quarterly newsletter here, just check the AgriTech box.