5G Caribbean Virtual Summit – Day 1
Around the world, many countries are deploying 5G to pave the way for advanced services and applications.  Despite common technical considerations that are necessary to maintain an interoperable ecosystem, each region has unique requirements, opportunities, and challenges that define their network. The Caribbean region is not exempt of this reality, their migration to this new technology will be facilitated by the collaboration with stakeholders that participate and supports Telecommunications and IT in the region.
Mobile evolution relies on many elements, from technology innovation in infrastructure and operations, to the regulatory framework that makes it a reality. The allocation of adequate spectrum and bandwidth has a great impact on the adaption of a variety of 5G services in terms of data speed, capacity, and reliability. Balancing the allocation to include other technologies that require their share of available spectrum, allowing stakeholders of the ecosystem to design adequate network architectures, technical and commercial solutions, and offer optimal level of services to the consumers, enterprises, and other verticals alike is paramount.
5G is a platform for new opportunities, and it can be configured considering various scenarios to leverage existing infrastructure and to plan the best way forward. The 5G Caribbean Virtual Summit conference will focus on regulation as a foundational base for digital transformation and innovation in Caribbean region.
Schedule:
June 30 – 10:00 am EST – 12:00 EST (5G training)
June 30 – 01:30 pm EST – 03:30 EST (5G Summit Part 1)
Wednesday, June 30, 2021 -Training: 5G Explained Technical Foundation (Operators and Regulators only)
The 5G Era
Definitions, Architecture, and Implications of Requirements
Differences and Opportunities for Coexistence: (4G vs 5G)
Use cases: Enhanced Mobile Broadband (eMBB), Fixed Wireless Access (FWA), massive Internet of Things (mIoT), and Ultra-Reliable Low-Latency Communication (URLLC)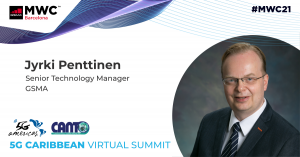 Operator Keynote
Naji Khoury
President & CEO - Liberty Puerto Rico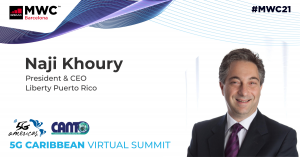 CITEL Remarks
Oscar Giovanni Leon Suárez
Executive Secretary - Interamerican Telecommunication Commission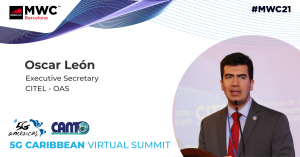 GSMA Foundry Introduction
The go-to place for cross-industry collaboration and business development, where GSMA members and industry players come together to rapidly develop real-world solutions to industry challenges, nurture new ideas through initial commercial trials and scale proven solutions at a regional and global level to forge our digital future.
The Foundry utilises the global power and reach of the GSMA to convene, engage and unify the end-to-end connectivity ecosystem.
Spectrum Management in 5G
Veena Rawat
Senior Spectrum Advisor - GSMA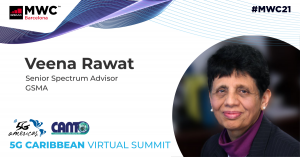 Opportunities for new mobile technologies in the Caribbean
Antonio García Zaballos
Lead Specialist Telecommunications - Broadband Platform Coordinator
Interamerican Bank of Development, Washington D.C.
Giovani King
Chief Operating Officer - Regulatory Authority of Curacao
Jose Otero
Vice-President - 5G Americas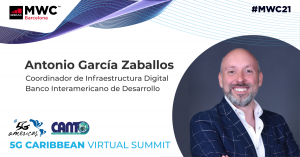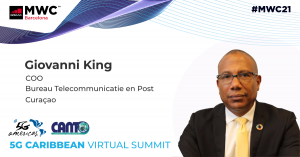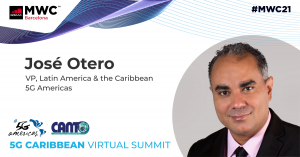 Remarks
Teresa Wankin
Secretary General - CANTO