Alumni Profile: Pauline Seymour, Utilities Regulation and Competition Authority, Bahamas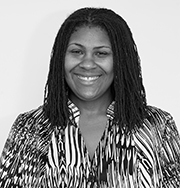 For this month's profile we interviewed Pauline Seymour, one of online learners from the Bahamas. Pauline is the Regulatory Manager, Legal, Electronic Communications for the Utilities Regulation and Competition Authority (URCA) of the Bahamas. Pauline tells us about her first impressions of our courses and why she would encourage other regulators to "just do it" if they are thinking about taking a course.
How did you find out about the GSMA's online courses?
I worked with GSMA documents in the past and originally wanted to take the Disaster Preparedness and Response course.
What was the first thing you thought when you heard about our courses?
I considered taking the available Competition Policy, Mobile Money for Financial Inclusion and Internet Governance courses. I especially wanted to broaden my knowledge of competition policy, and learn more about how Mobile Money can be an opportunity for development. I wanted to understand global experiences in addressing these issues.
What made you want to take your first course?
I thought the course would be great to get a panoramic view of the current regulatory environment, what challenges we are encountering and how the principles of governance are applied.
What do you enjoy most about the courses?
The mixed environment; there is a lot of input from people with different perspectives and experiences. Some participants are at different stages of addressing the same issue, so that is also quite interesting. I also like how we receive immediate feedback from the course facilitator.
What did you like most about your experience?
Having access to knowledgeable facilitators and people who were well versed in their areas. I enjoyed interacting with professionals in various sectors around the world. It is a stimulating environment, and I was learning quickly because the content was delivered in real-time.
What would you say to a regulator or policymaker that was thinking about taking a course with us?
"Do it". The courses provide a unique broader perspective on issues relevant to the telecoms sector, and it allows regulators to have an immediate view of what is currently happening. It is a quick way to research current issues as the GSMA provides additional materials, and also to form professional relationships.
How have you used what you learned during the course(s)?
I have considered the issues raised in the discussions during the Competition Policy course, and I have been able to use what I have learned to provide feedback on URCA reports and contribute to discussions on the topic. The course gave me a better understanding of the impact of competition policy on OTT service providers.
Back