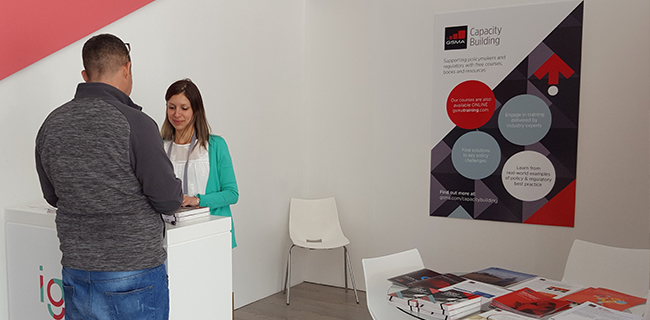 Our highlights from the Internet Governance Forum 2016 in Mexico

The Capacity Building Team attended The Internet Governance Forum (IGF 2016) in Jalisco, Mexico from 6 – 9 December. The IGF is a multi-stakeholder forum that facilitates discussion and dialogue around public policy issues related to the Internet. The IGF brings together representatives from developed and developing nations and gives them an equal opportunity to engage in the debate on internet governance. Over 1,500 delegates from civil society, private sector, government and intergovernmental organisations as well as delegates from the technical community attended the Forum from countries across Africa, Asia, Latin America and Europe.
Dominque Lazanski, Public Policy Director from the GSMA Capacity Building programme, took part in panel discussions during the forum on topics such as cybersecurity, cybercrime, child online safety and getting the next four billion people online.
We also had an exhibition stand where we spoke about the Capacity Building Programme to government and regulatory representatives from many countries, as well as to academic and training organisations with an interest in joining the Capacity Building Programme as partners.
Additionally, our Latin American partners CAF–Development Bank of Latin America and the United Nations Economic Commission for Latin America and the Caribbean (ECLAC) promoted capacity building during the event and encouraged more regulators and policy makers from Latin America to take advantage of the telecommunications training opportunities that CE-Digital (a joint initiative of CAF, eLAC and GSMA) offers. The organisation delivers both online and face-to-face courses in Spanish in the region. Visit the CE-Digital e-learning platform for more information.
Back