Business Environment
All over the world, mobile operators are providing the essential connectivity that people and businesses expect. In recent years, the industry has adapted to major changes brought about by the convergence of technologies and services, and by the emergence of internet platforms and services. Telecommunications markets have expanded and competition has increased as a result.
In most countries, however, mobile operators are still subject to regulations designed for the voice era. These rules and obligations restrict their ability to innovate, invest and compete on equal terms in the digital ecosystem.
Policymakers should strive to create an enabling business environment that fosters competition and protects consumers without impeding commercial activity or economic progress. This will require a fresh look at regulations and revisions that better reflect today's technologies and markets.
The following pages cover several policy topics affecting mobile operators, laying out the key points of debate and formally agreed industry positions. As the mobile industry continues to roll out 4G networks and initiate 5G trials, the need for pro-investment policies and modern regulatory regimes has never been greater.
Resetting policy and regulation to drive the digital economy
Digital technologies have fundamentally changed our daily lives, from shopping and entertainment to managing household finances. When given the opportunity, consumers have been quick to embrace digital tools. Many governments, recognising the value of mobile to society, have implemented bold policies to cultivate the digital economy while extending connectivity to underserved communities.
A holistic policy framework that reflects the changing digital landscape, while reducing costs and barriers to network deployment, will deliver the best social and economic outcomes. If regulatory policies and institutions fail to adapt, markets can become distorted in ways that harm competition, slow innovation and, ultimately, deprive consumers of the benefits of technological progress.
Figure 1 identifies four areas of policy action related to network investment, regulation, promoting the digital economy and demonstrating digital leadership.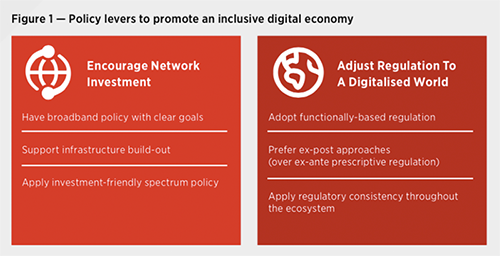 1 GSMA Report: Embracing the Digital Revolution — Policies for Building the Digital Economy (February 2017)
Emerging technologies are driving new business models and blurring boundaries between once-distinct markets. Yet, regulatory systems developed during the early years of mobile telecoms are still in place in many countries, and reforms have not kept pace with the converging and dynamic digital ecosystem. Tomorrow's technologies cannot be allowed to be stifled by yesterday's regulations, which need to be reframed for the digital and mobile age.
The good news is that policymakers recognise the need for change. In many jurisdictions, such as the European Union, reforms are underway that will protect competition and consumers without impeding social and economic progress. By updating the regulatory framework, policymakers can ensure that government and industry are aligned and working to foster an inclusive digital society for all.
Background
From the outset, mobile markets have been characterised by a vibrant, competitive market structure that drives investment and innovation.
Today, demand for robust, high-speed, high-quality mobile broadband continues to grow. This drives mobile operators to make large, regular investments in network infrastructure and services to provide consumers with improved offerings at lower costs. For example, while operators continue to invest in their 4G networks, they are also starting to invest in the spectrum and technology required to roll out 5G networks.
The high level of competition in the mobile services market has caused the tariffs charged to mobile users to fall steadily and significantly over the past few years. At the same time, consumption of mobile services, particularly mobile data, has grown steadily, with users typically getting more for their money.
To preserve competition, foster innovation and support the wider societal benefits of mobile connectivity, policymakers must ensure the right economic conditions are in place to support investments. In particular, they must recognise the competitive nature of today's mobile markets, avoid regulating prices and steer clear of interventions aimed at engineering market structures. Instead, they should allow market mechanisms to determine the optimal mobile market structure.
Some regulators have used spectrum caps – limits on the amount of spectrum one entity can hold – to influence market structure. However, spectrum caps can have unintended consequences, including inefficient allocations of spectrum and/or reduced incentives to invest. Since this ultimately produces poor outcomes for consumers, they must be considered carefully.
At the same time, competition authorities tasked with assessing the impact of proposed mobile mergers must take full account of the dynamic efficiencies (and accompanying societal benefits) arising from mobile mergers.
Debate
Can mergers between mobile operators bring significant consumer benefits in mobile markets and wider society?
Industry Position
When assessing mobile mergers, policymakers should consider the full range of benefits of mergers, including price effects, innovation, investments and the use of spectrum over the short- and longer term.
Investment and quality of service. Competition authorities should consider placing greater emphasis on how mergers may affect an operator's ability to invest. Growing demand for data services requiring ever-increasing bandwidth necessitates continuous investment in new capacity and technology.
Positive spill-over effects in the wider economy. Improvements to digital infrastructure support economic growth by increasing productivity across the economy.
Greater benefits than network sharing. Competition authorities have often argued that network sharing is a better alternative to mergers. While the pro-competitive nature of network-sharing agreements can only be assessed on a case-by-case basis, these agreements are not always feasible between merging parties because of an asymmetry of assets (such as spectrum holding) or different deployment strategies.
Unit prices. There is no robust evidence to suggest that four-player markets have produced lower prices than three-player markets in the past decade, in Europe or elsewhere. Mergers can accelerate the transition between technology cycles in the mobile industry (which are responsible for significant reductions in unit prices), leading to improvements in quality and innovation in services. As the market moves from voice to data, the global volume growth rate of mobile networks is accelerating. This requires more concentrated market structures to meet the investment challenge, drive mobile data unit prices down and fuel demand for mobile data services.
Effects of remedies on investments and use of spectrum. Mergers that compel mobile operators to provide third parties with access to their networks could reduce incentives to invest and significantly diminish benefits for consumers. In three cases where the European Commission's Directorate-General for Competition made a network entry option available (Ireland, Germany and Austria), nobody took the option, even though it was arguably offered on favourable terms. Remedies that involve reallocating network assets or reserving spectrum for other operators could, in some cases, deter investment and lead to the underuse or misuse of resources.
Resources
GSMA Report: Assessing the Case for In-country Mobile Consolidation
GSMA Report: Assessing the Case for In-country Mobile Consolidation in Emerging Markets
GSMA Report: Assessing the Impact of Mobile Consolidation on Innovation and Quality — An Evaluation of the Hutchison/Orange Merger in Austria
GSMA Report: Assessing the Impact of Market Structure on Innovation and Quality in Central America
The dynamic benefits of mergers
Recently, there has been heated debate about the effects of consolidation on the performance of mobile markets following mergers in key European markets, including Austria, Germany, Ireland and the UK. While some argue that consolidation has a detrimental effect on competition and prices, others argue that, without consolidation, mobile markets will not achieve the necessary scale and fail to attract sufficient investment.
In the past three years, multiple studies have analysed how mergers affect investment. For example, a 2017 GSMA report analysed the impact of the Hutchison/Orange merger in Austria in 2012 on coverage and quality of service. It was found that, within two years, Hutchison expanded population coverage of its 4G network by 20 to 30 percentage points as a result of the merger. 4G download and upload speeds also increased by 7 Mbps and 3 Mbps, respectively, within the same period. The quality of mobile networks in Austria improved overall, with 4G download and upload speeds increasing by more than 13 Mbps and 4 Mbps in 2013 and 2014 respectively, and 3G download speeds increasing by 1.5 Mbps after 2014.
Since 2015, at least seven other studies have examined the relationship between market structure, innovation and investment, as measured by mobile operators' capital expenditure (CapEx). None found that greater market concentration resulted in lower investment per operator or lower total country investment.
Meanwhile, initial studies have found that investment always increases with market concentration, suggesting that the Hutchison/Orange merger would have had a positive effect on Austrian consumers.
CERRE (2015) found that, on average, a 10 per cent increase in the Herfindahl-Hirschman Index boosts the CapEx of mobile operators that have merged by 24 per cent. In 2016, Houngbonon & Jeanjean and found that markets with four players average 14 per cent lower investment per operator than markets with three players, and that a higher number of operators tends to decrease investment. DG Competition (2017) found that investment per operator increased as a result of the five-to-four merger in the UK in 2010, although no statistically significant effect was found when analysing investment per subscriber.
A second set of studies (Houngbonon & Jeanjean, 2016 and HSBC, 2015) suggests that greater market concentration increases CapEx per operator only when their profit margins are less than 37 to 44 per cent. Operators in most four-player markets are below this threshold, including the Austrian operators before the merger. These studies suggest that the introduction of competition initially has a positive effect on investment, but that as mobile markets become less concentrated it has a negative effect. Other studies have found that investment does not depend on market structure (WIK, 2015 and Frontier, 2015), suggesting that a mobile merger would have a neutral effect on outcomes such as network quality and coverage.
While many believe that consolidation is likely to lead to less investment by operators, there was evidence that concentration leads to increased investment after a merger. This is because larger operators enjoy economies of scale that enable them to extend coverage and undertake network upgrades. They are also financially stronger due to higher profit margins and better access to complementary assets and commercial partnerships, which can lead them to expect higher returns from their investments.
3 GSMA. (2017). Assessing the Impact of Mobile Consolidation on Innovation and Quality: A Evaluation of the Hutchison/Orange Merger in Austria.
4 CERRE (2015), Frontier (2015), Houngbonon & Jeanjean (2015), Houngbonon & Jeanjean (2016), HSBC (2015), WIK (2015) and DG Competition (2017).
5 Although WIK (2015) found that market structures that provide higher profit margins and greater economies of scale (both enhanced by market consolidation) boost total CapEx per country.