In the last few years, more competition and lower switching costs have led to an increase in customer churn for Mobile Network Operators. Therefore, the drive to provide efficient services with a smaller price tag has been at the forefront of most strategies. Although this isn't a very sustainable solution. Rather than constant switching, customer loyalty is key to profitability for MNOs – after all, how will they consistently manage their large, fixed infrastructures otherwise? Plus, of course, they also need to invest in their networks, especially since the move to 5G is on the horizon.
Here at the GSMA, we want to help operators reduce customer churn, so that's why GSMA Intelligence conducted a consumer report on the subject, spanning 20 markets and 20,000 respondents, which this blog looks at in detail. We also set up our service, GSMA Network Settings Exchange, in response to a need identified by product experts in the Terminal Steering Group – it's a simple way to improve the customer experience and lessen churn.
The GSMA Intelligence 'Consumer in Focus' Mobile Operator Churn Dashboard
It stands to reason that if you give your subscribers the services they want or expect, they're less likely to move to another network. Yet, what do they want, and what makes them leave? Well, the report from the GSMA Intelligence, 'Mobile Operator Churn Dashboard', shows the biggest churn driver is slow mobile data speeds.
You see, COVID-19 changed consumer behaviour. During the pandemic there's been a much greater use of services such as online TV and video calling, which require faster data speeds. Post-COVID, these consumption habits are set to stay, whether people are at home or not. And as the report states, 'understanding consumer pain points and priorities' is critical in this 'new normal.'
Why do customers leave?
So let's look a bit deeper into what consumers say are driving their decision to churn, according to the report. Overall, across all regions from Asia Pacific to the Middle East and Africa, 43% of customers cited slow mobile data speeds as the key reason they'd leave a network, with inflexible mobile plans coming in second place, mentioned by 39% of the people asked.
Figure 1: Overall Churn Drivers
What's interesting is, there are some indications that there's less churn on 5G. For instance, in Asia Pacific with most age groups, we can see a dramatic fall in the percentage of customers who're likely to churn when they're on 5G. So, for the 18-24 age group on 3G, 29% are potential switchers, but on 5G, it's just 11%. For 35-44s, on 3G, 27% are looking to leave, while on 5G, that falls to 9%.
Figure 2: Asia Pacific 3G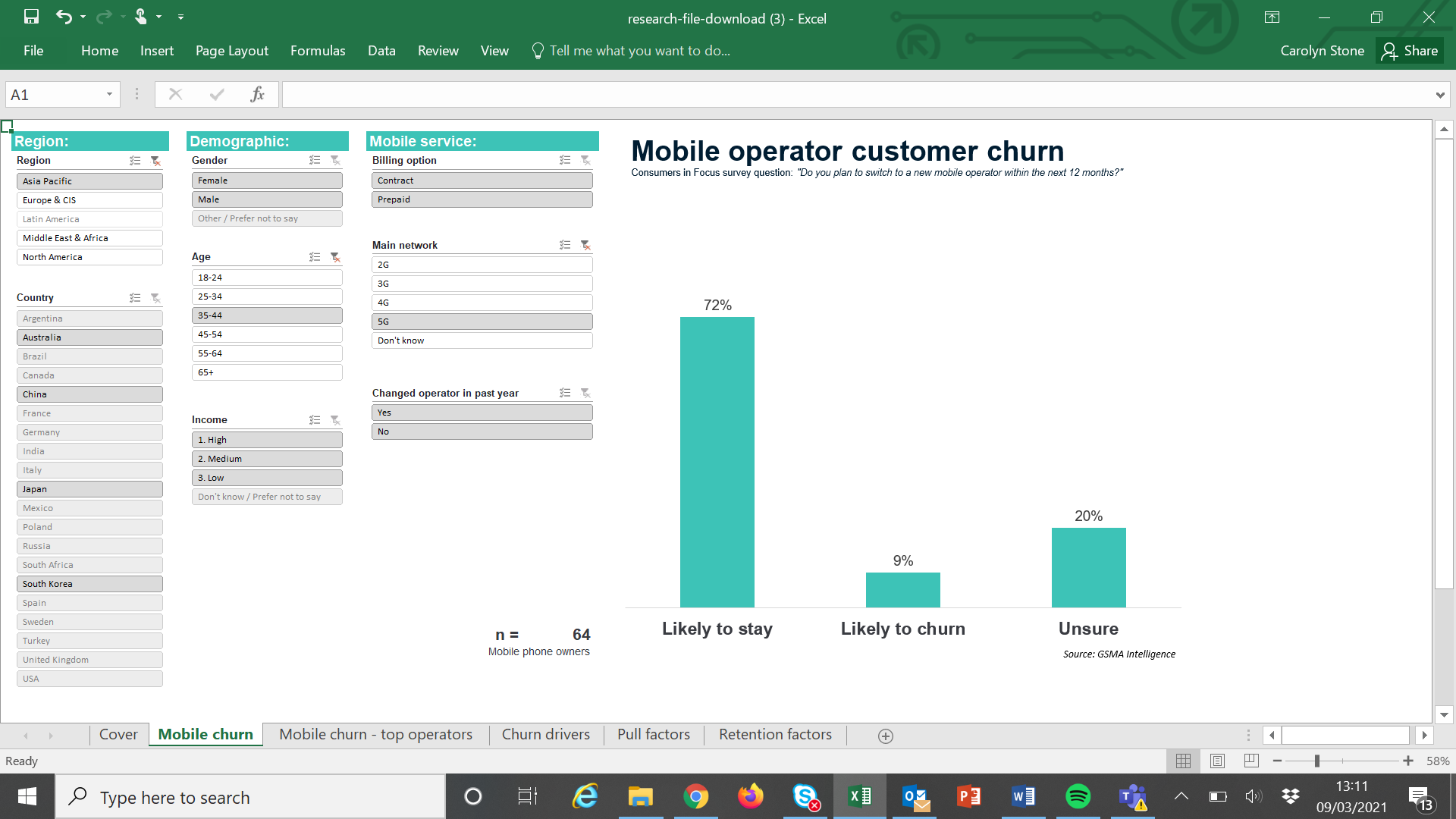 Figure 3: Asia Pacific 5G 
In Europe and the Commonwealth of Independent States (CIS), 24% of 35-44s are likely to churn on 2G, compared to 6% on 5G.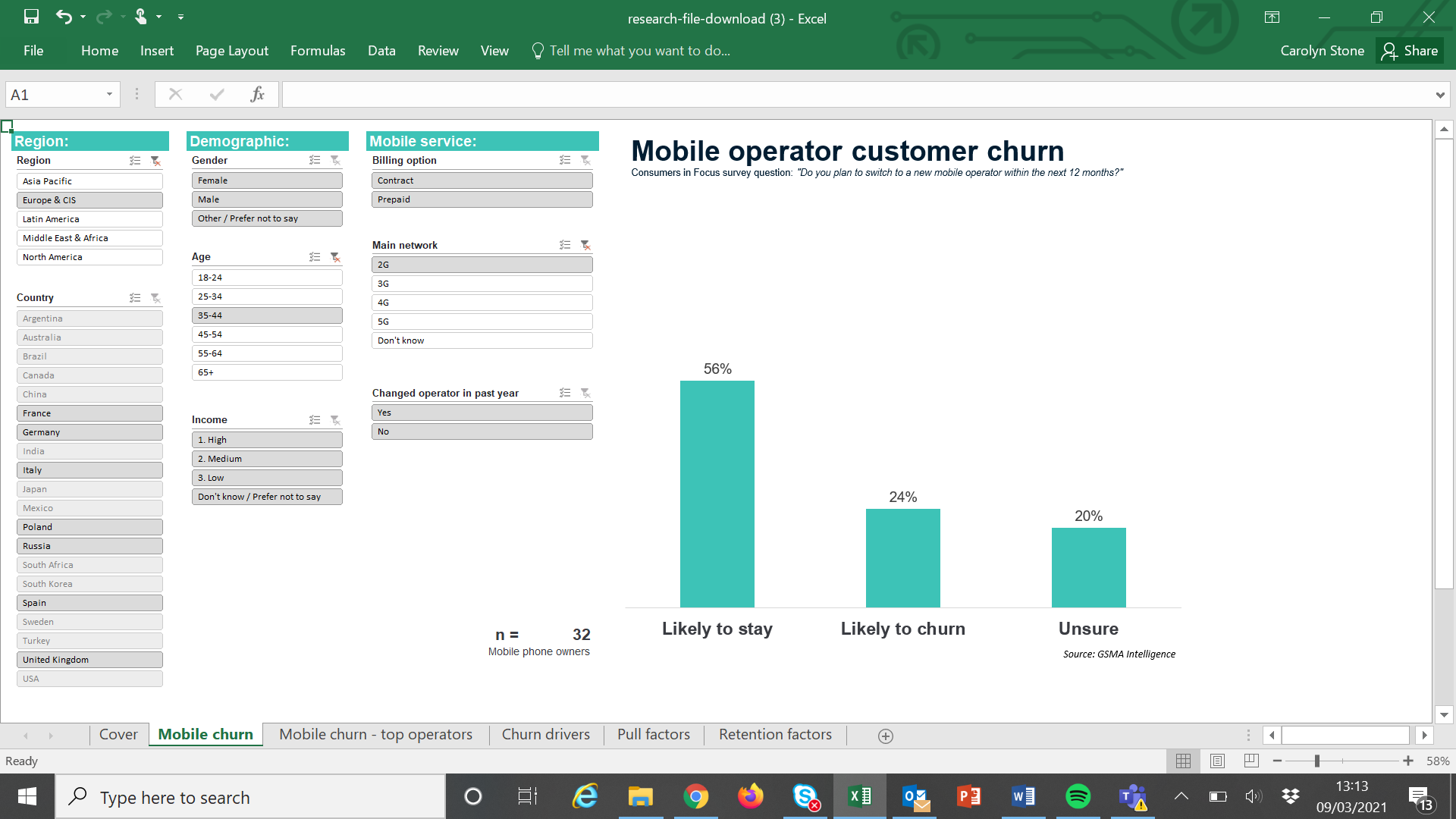 Figure 4: Europe CIS 2G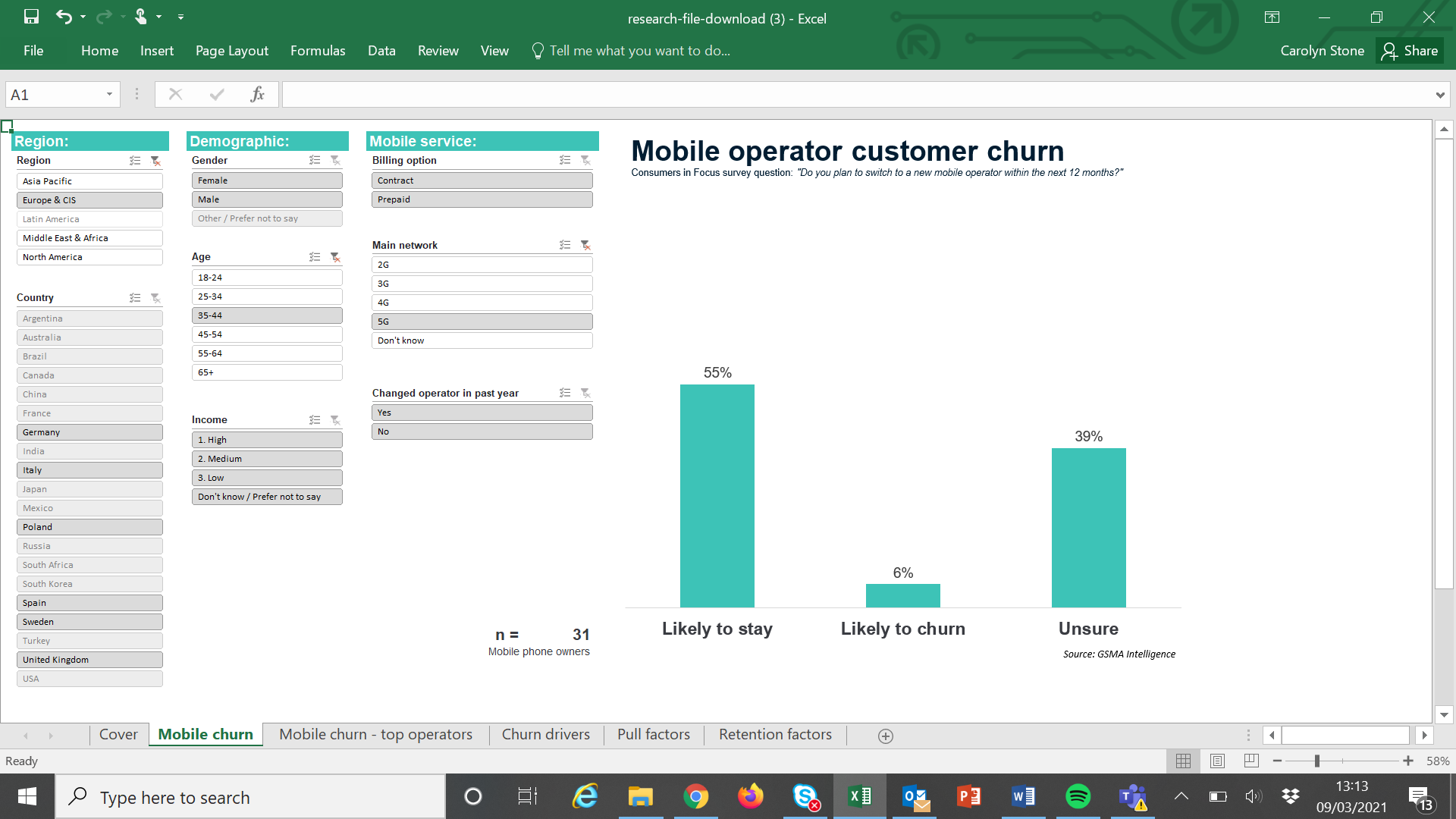 Figure 5: Europe CIS 5G 
What does this tell us? Well, it suggests that customers are churning for the faster speeds and better services, like VoLTE (Voice over LTE) and ViLTE (Video over LTE), that networks with 5G can better support. This is backed up by 'slow mobile data speeds' being one of the main churn drivers in the report – significantly, 50% in Asia Pacific.
In the few cases where there are higher rates for potential churning on 5G compared to 3G, this could be an indicator that the services aren't working properly, due to incorrect network settings on devices. For example, in North America (26% of 35-44s) and Europe and CIS (24% of 25-34s).
What do customers want?
So slow internet speeds and inflexible mobile plans are why customers leave, yet what do they actually want? Well, for those who'd switched operator recently, 'a more affordable plan' (49%) was the top pull factor across all regions – which comes as no surprise. Yet close behind better network coverage (29%) was faster data speeds (24%). Interestingly, in North America, 19% switched because they were offered 5G.
Figure 6: Pull Factors 
So, what reduces churn?
The 'retention factors' in the report are revealing too. These are the services consumers across all regions say they'd be interested in adding to their subscription or contract if they were available. They are: digital security services (45%), wearable devices (39%), video streaming content (36%), music streaming content (35%), smart home devices (35%), entertainment devices (30%) and gaming content (21%). Most of these retention factors require packet technology to work as customers would expect.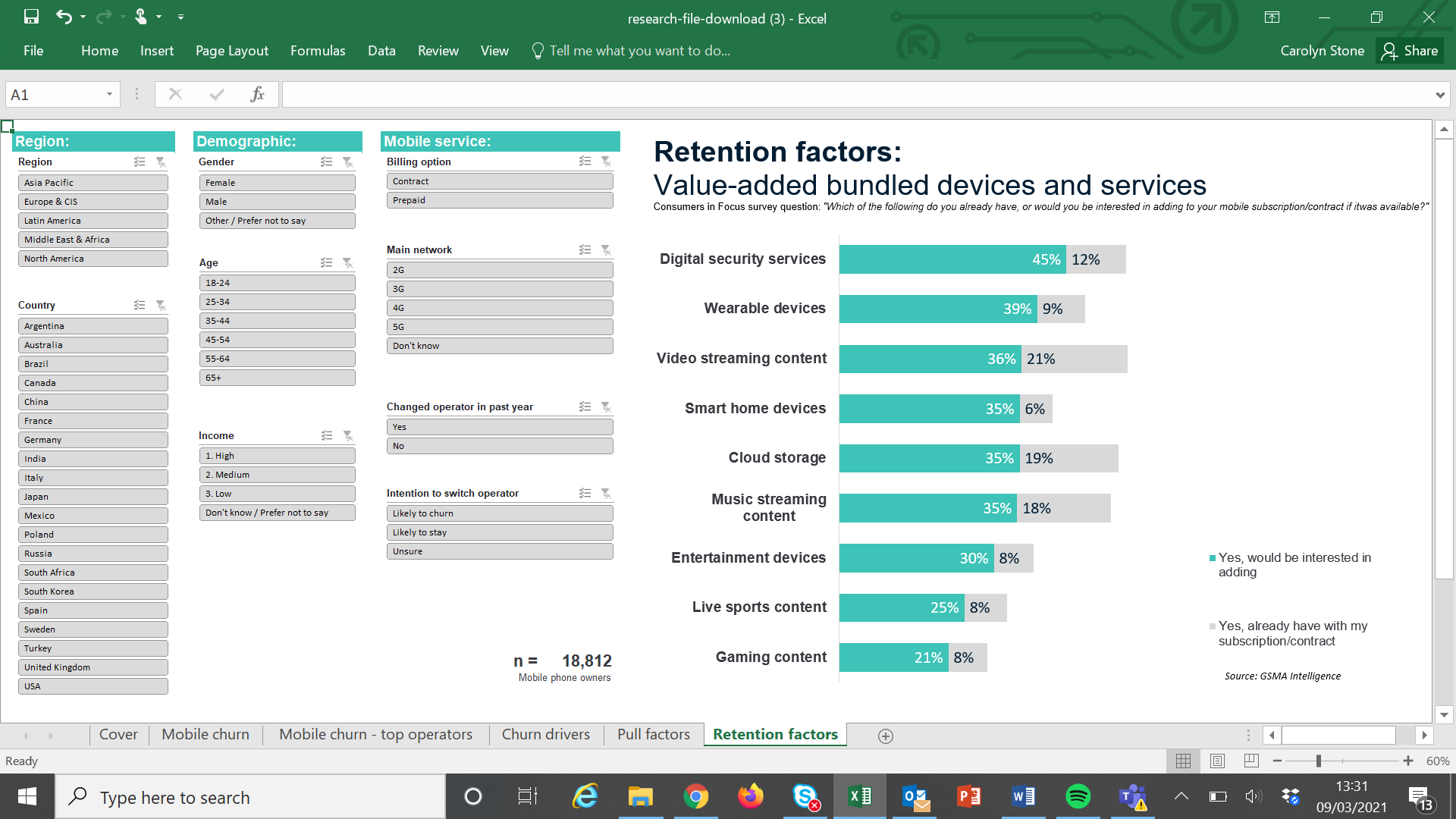 Figure 7: Retention Factors 
Therefore, the report from GSMA Intelligence shows us that although 'more affordable plans' come top in what customers want, it's better quality services that will actually reduce churn and get them to stay with an operator – services that require the speeds and capabilities only 4G and 5G can bring. Which means investing in networks and preparing for the move to 5G is crucial in the next few years, as these become the services customers demand more and more.
Here's a simple way to help reduce churn
Of course, implementing 5G comes with many challenges. Not least the fact that network settings under 4G and 5G are highly configurable within each device – rather than being hardcoded in, as they were for 2G and 3G. Plus, packet technology offers many options to manage quality and choose routing strategies. This variety means superior services, yet brings greater complexity, so there's more chance of problems arising.
Although as networks sunset 2G and 3G, there'll be no fall back. 5G has to work smoothly because it'll be used to run everything, from IoT in factories, to self-driving cars and even surgery. As a recent Telecoms.com article called 'Anatomy of a 5G Network That Can't Fail' remarks, '…when the consequences of failing to deliver as promised are more than a temporary nuisance, precautionary measures are no longer optional – they become the new imperative.'
Therefore, one preliminary and basic step is that operators need to ensure that their network settings are correct on subscribers' devices, so all their services run as they should.
This is where the GSMA Network Settings Exchange can help. Set up, so operators have reliable services in the complex 4G and 5G era, it makes sure devices have the latest network settings they need to run as smoothly as possible. Giving subscribers what will retain them, namely, dependable multimedia services, like music and video streaming.
It's a simple way to reduce churn because the GSMA Network Settings Exchange lets operators easily upload their latest settings data in a standardised format, for 90% of device manufacturers worldwide to download in one go – in a way they can use.
Find out more about the GSMA Network Settings Exchange, and sign up to start reducing customer churn right now. 
You can view the full Mobile Operator Churn Dashboard here (note that a GSMA Intelligence subscription is required).