Mobile operators around the world offer advanced mobile services with faster speeds and better performance. The continued roll out of 4G has revolutionised mobile broadband and the arrival of 5G builds on that momentum.
While the potential is clear to see, continued growth relies on backhaul options that can keep up with data demand. Backhaul is the link that connects mobile base stations to the rest of the operator's network and then onto the internet. It is important because it has a direct impact on the speeds users get. A fast link from the base station to the user or vice versa falls flat if the backhaul link can't keep up.
A new report from ABI Research details backhaul trends across all network types, including the growing dependence on fibre and terrestrial wireless.
Fibre and terrestrial wirel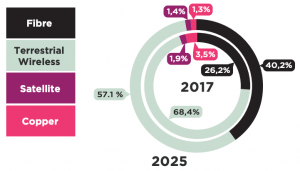 ess dominate backhaul services today and tomorrow. On a worldwide basis, these two approaches will be used to connect 97.3 per cent of base stations by 2025. Together, they can offer the capacity and affordability to connect mobile broadband in rural and urban areas. They are also the only two that can truly keep up as access speeds surpass the gigabit barrier.
Terrestrial backhaul is currently the most popular backhaul method, and will still have the largest worldwide share by 2025. For example, the number of base stations using frequencies between 41 GHz and 100 GHz as backhaul is expected to grow by almost 150 per cent in that timeframe. To keep up with capacity demands, countries need to ensure mobile operators have access to sufficient spectrum across a range of bands.
Making the spectrum available is only the first step. The cost and conditions for access to this spectrum must also be fair, allowing mobile operators to build the best possible networks.
While fibre and terrestrial wireless dominate the backhaul scene, other technologies are used to fuel mobile networks. Backhaul via satellite plays a role in remote areas, and while it currently represents 1.9 per cent of backhaul links worldwide, it is expected to drop to 1.4 per cent by 2025.
In the end, for regulators and governments, making the most of the massive potential mobile offers is like putting together a puzzle where each piece fits with the next. From assigning spectrum with fair prices, terms and conditions, to designing investment-friendly regulatory frameworks, facilitating backhaul and streamlining planning approvals for widespread small cell installations, the pieces must all come together.
Backhaul is a critical component of mobile broadband delivery. To see the true benefit of the next generation of mobile networks, understanding backhaul requirements is a vital part of delivering services to users.
Our full report on backhaul is available here.