The 3.5 GHz Range in the 5G Era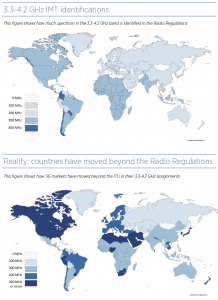 The 3.5 GHz range (also known as C-band) is the basis for the first implementations of 5G globally.
This spectrum is at a balancing point between coverage and capacity that provides the perfect environment for the earliest 5G connectivity. Planning of these frequencies has taken place over multiple WRC cycles and work on harmonisation continues today. However, in recent years, the 3.5 GHz range's status as the principal 5G launch band has become clear globally and this has driven a wider ecosystem, increased device diversity, and enhanced competition.
The correct assignment of the 3.5 GHz range will allow wide contiguous channels of 80-100 MHz per operator to be used which will maximise network performance while minimising consumer costs. 5G networks are also reaching into mmWave for the highest capacity and will use lower frequencies to provide greater coverage. However, all over the world the equilibrium provided by 3.3-4.2 GHz has seen these frequencies become the birthplace of 5G.
Also, read more about 5G spectrum on the GSMA's in-depth guide here.