Lessons from European spectrum pricing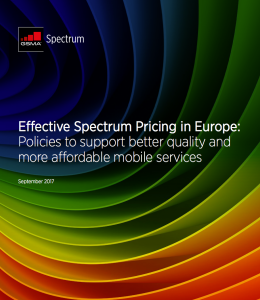 The GSMA's "Effective Spectrum Pricing in Europe" report highlights good and bad practice by policymakers. For governments that want to help deliver affordable, high quality mobile broadband services there are valuable lessons.
This report on European spectrum pricing follows the global study published earlier this year. The global study analyses of worldwide trends alongside the consumer impact of spectrum pricing.
The European report looks at the 28 EU member states plus Switzerland and Norway in more detail. As with the global study, the observation is that average spectrum prices have trended upwards in Europe. Again, it also appears to show a link between high spectrum prices and more expensive, lower quality mobile broadband services. These trends link directly to lost welfare benefits.
With a few notable exceptions, European countries have a solid track record of making spectrum available in a timely manner and signposting future releases. European-level initiatives to promote common availability of spectrum across the continent have likely helped in this regard.
However, approaches to setting reserve prices and award rules are much more varied, with examples of both good and bad practice. Bad award rules are the most common problem, and most high price outliers amongst European spectrum awards. They can be explained by policy decisions that encouraged bidders to bid beyond market value so as to protect broader enterprise value.
Recommendations on European spectrum pricing
To help countries learn the lessons of good and bad practice, the GSMA makes four key recommendations:
1. Set modest reserve prices and annual fees, and rely on the market to set prices
2. License spectrum as soon as it is needed, so as to avoid arti cial spectrum scarcity
3. Avoid measures which increase risks for operators
4. Publish long-term spectrum award plans that prioritise welfare bene ts over state revenues
Read the full report in English here
And you can find the GSMA's other reports on spectrum pricing here.