Getting mmWave 5G right, sets the stage for big socio-economic benefits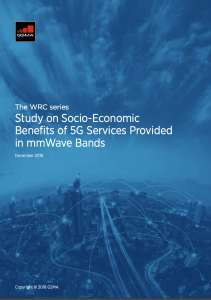 The first commercial 5G services are already here and the coming years will see launches all over the world. A new report looks for the first time at the socio-economic impact of millimetre wave (mmWave) 5G across industries and continents.
The integration of the technology into our lives and work has the potential to impact communities and economies even more than previous generations. But not all 5G networks are created equal; their performance is heavily reliant on the amount of spectrum made available by regulators and governments.
One part of this puzzle is access to so-called millimetre wave spectrum. The use of this range in mobile networks is a chance to offer performance levels that haven't been possible before. And it is something only the mobile ecosystem can offer. In the process, areas such as fixed broadband, industrial automation, intelligent transport systems and virtual reality can all be taken to new levels.
The report, written by TMG, details of the benefits it helps realise over a 15-year period, from 2020 to 2034. By the end of this period, $565 billion in global GDP and $152 billion in tax revenue will come from mmWave 5G services. That equals 25 per cent of the overall value created by 5G, an amount that countries which choose to ignore this opportunity risk missing out on. The report also breaks down the impact on a regional level.
Raising the bar
Behind these numbers, a whole new world is opening up. For example, mobile broadband at fiber-like speeds to homes and offices. Also, widespread implementation of industrial automation, especially processes requiring a high degree of precision, benefit from the low latency associated with mmWave 5G. Given the latency and peak data rate requirements, millimetre waves are expected to play an important role in the mass adoption of augmented and virtual reality, as well.
None of these use cases will reach their full potential without access to this spectrum.
The availability of millimetre wave spectrum is dependent on what happens at the World Radiocommunication Conference in 2019. Government backing for the mobile industry is needed during the whole process. The GSMA recommends supporting the 26 GHz, 40 GHz and 66-71 GHz for mobile.
The mobile industry knows how to maximise the positive socio-economic impact of spectrum resources. There are almost 9 billion mobile connections and over 5 billion unique subscribers. This has been possible thanks to a fruitful collaboration with governments and regulators. The arrival of 5G offers the opportunity to build on this success and usher in something even greater.
You can find all the GSMA's reports on 5G spectrum here.