The Impact of Spectrum Set-Asides on 5G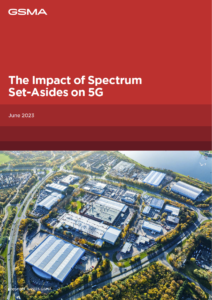 This report analyses the potential approaches available to regulators for spectrum set-asides. Through five country case studies it also demonstrates the wider impact of these approaches, especially on mobile markets.
Over the last few years, regulators have increasingly been requested to provide harmonised IMT spectrum for applications other than public mobile networks. These requests have tended to come from companies, industries, or public sector organisations (so-called 'verticals') for use in private networks.
Weighing options
Making spectrum available for industry users has to be balanced against demand from other users, including mobile operators who have increased spectrum needs as mobile data traffic grows. As a result, the benefits that regulators expect from an assignment of IMT spectrum to private or local networks have to be carefully weighed against the cost resulting from potentially denying other users access to the same resources.
Looking at existing practice shows that regulatory approaches to making available spectrum for private networks and industry users and their resulting impacts can differ widely. To see what can be learned, the report takes a look at the different approaches chosen by Germany, U.K., the U.S., India and Finland.
Main findings on set-asides
Importantly, the report analysis shows that caution has to be taken when making long-term decisions on spectrum assignments and highlights that market-driven approaches that foster cooperative solutions can bring the best outcome for spectrum users and consumers alike. Regulators and governments need to consider that:
Set-asides carry significant risks to the economy
Spectrum sharing frameworks are complex and carry risks on certainty of tenure and access
Well-designed licence conditions for mobile are least intrusive and stimulate cooperation
Interest is mainly driven by properties of the spectrum band rather than the licensing mechanism
Watch this webinar recording with the author of the report, as we examine the different regulatory approaches and the impact of set-asides on 5G. Download the webinar slides here.
To learn more about spectrum licensing, you can also download the GSMA's positions on mobile spectrum licensing here.