Governments that release harmonised Digital Dividend spectrum and encourage greater broadband connectivity will boost economic growth, create jobs and deliver enhanced social value.
Global harmonisation of GSM spectrum has been a critical factor in reducing handset costs. Over 5 billion mobile subscribers use GSM technologies over common spectrum bands, creating markets for mobile devices that transcend national borders. International agreements on spectrum use have made mobile phones the most successful consumer device in history, spanning the digital divide.
The Digital Dividend Band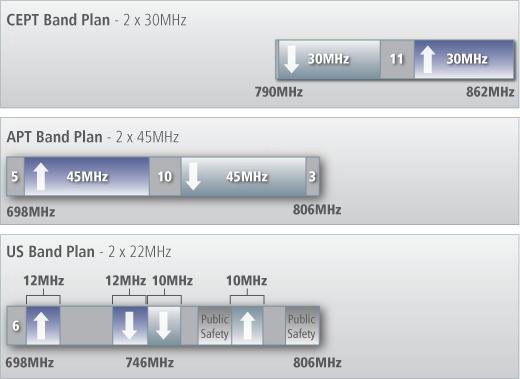 Spectrum harmonisation is a vital aspect of spectrum policy, as demonstrated by GSMA-commissioned research indicating that handset markets are only economically viable for device makers when more than 100 million units are sold per year. Harmonisation saves 10 per cent off the bill of material, and countries risk a significant time-to-market delay, maybe years, if countries follow a device roadmap that wasn't internationally harmonised.
Adding bands to a device's capability also reduces the sensitivity of the phone, reducing range and/or data rates and further increasing the cost of delivering services. Harmonisation creates a large, unified marketplace for mobile devices and products. At the same time, as spectrum does not respect borders, countries can minimise interference issues by ensuring that harmonisation occurs at a regional level.
The Digital Dividend spectrum is especially important for delivering affordable access to broadband, especially in rural areas. It is approximately 70 per cent cheaper to provide mobile broadband coverage at frequencies around 700/800MHz than to use the 3G frequencies at 2100MHz. This means networks can be rolled out quickly and cost-effectively, bringing cheaper services to consumers. These effects are multiplied when countries work together to ensure they implement the digital dividend in a harmonised way regionally, or globally if possible. In countries where harmonised spectrum is not made available in a timely way, the uptake of broadband will be lower and slower.
Since the Digital Dividend spectrum was first identified at the World Radiocommunication Conference 2007 (WRC-07), ITU regions have been engaged in meetings to agree on common regional band plans to enable low-cost consumer devices and services.
The decision at WRC-12 to extend the Digital Dividend band below 790MHz in ITU Region 1 has created a need for a new phase of planning to harmonise as widely as possible across the region. The precise nature of the band plan for this lower Digital Dividend is not yet known, but will be the subject of significant study and discussion to ensure maximum harmonisation, both within Region 1 and globally. The time between today and 2015, when the spectrum allocation is activated, can be used to create this harmonisation and the largest possible market to benefit consumers.
ITU Region 1
In May 2010, the European Commission adopted a decision establishing harmonised technical rules for Member States on the allocation of the 790–862MHz band. This decision will result in a vast European ecosystem of affordable devices and equipment using the Digital Dividend frequencies. The spectrum is already being used to connect rural homes to the internet using LTE technology across the continent, ahead of the 2015 deadline for implementation. To accelerate the process, the Radio Spectrum Policy Programme (RSPP) adopted by the European Commission requested EU Member States to release the Digital Dividend spectrum for mobile by 1 January 2013.
The market for network equipment and devices in the 790–862 band is rapidly growing, with parts of the Middle East following the European plan for the Digital Dividend in Region 1 and African markets seeing the opportunity to leverage these economies of scale.
ITU Region 2
The United States was the first market to identify and then auction the 698–806 spectrum, which was allocated to AT&T and Verizon for their LTE deployments. Both operators have commercially available LTE networks that already provide coverage for over 75% of the US population. The band plan also accommodates US requirements for public safety and for broadcasting. Across the rest of the region, countries are assessing their options. Many see the benefits of harmonised spectrum allocations for mobile.
Latin American markets, however, have two options for harmonisation — they can follow the US to take advantage of the available terminal equipment or they can align with the Asia Pacific band plan to take advantage of the larger device market.
Analysis undertaken by TAS Consultancy for the GSMA shows that the economic value to Latin America of allocating the Digital Dividend to mobile, rather than broadcasting, is in the region of US$27 billion. Harmonised allocations across the region are important to realise this value and exploit the full potential of the band.
ITU Region 3
At the September 2010 Asia Pacific Telecommunity meeting in Korea, there was agreement on a harmonised band plan at 698–806MHz for the region. This is the first time a band plan has been specifically designed to meet the needs of these markets, rather than importing US or European band plans. This represents an exciting new era for mobile, with two-thirds of the world's population located in the region. Given the huge potential economies of scale, this band plan may also be taken up in much of Latin America and parts of Africa. It will represent another vast ecosystem for the Digital Dividend.
A Boston Consulting Group report found that allocating 698-806MHz for mobile broadband deployment in Asia would mean a US$1 trilion increase in GDP for Asia Pacific countries by 2020. The report found that a harmonised allocation would create more than 2.7 million newly-created jobs across the region, and a US$215 billion increase in tax revenues.1 Failure to harmonise could cost up to 30 per cent of these jobs and 18 per cent of the incremental tax revenue in markets that fragment their allocation.
Greater harmonisation expands marketplaces and means that manufacturers can reach bigger economies of scale. This allows them to amortise their vast research and development costs across much wider areas, and reduces costs of devices. Harmonisation of the Digital Dividend is a key tool in enabling affordable mobile broadband to be given to consumers.