Every industry needs to take climate action and the mobile industry is committed to achieving net zero carbon emissions by 2050, in line with limiting global warming to 1.5°C. This Climate Action Toolkit has been created for mobile operators, but it has relevance to all organisations in the mobile ecosystem. The Toolkit explains the urgency of climate action and how to disclose your climate risks through respected international bodies. It gives guidance on how to set a science-based target aligned to the ICT sector decarbonisation pathway to net zero emissions by 2050.
Step 1 - Disclosing your climate risks
The first step to managing your climate risks is to understand them. The two leading disclosure frameworks for understanding your climate risks are CDP and TCFD.

CDP runs the global environmental disclosure system. Each year CDP supports thousands of companies, cities, states and regions to measure and manage their risks and opportunities on climate change, water security and deforestation. It does so at the request of their investors, purchasers and city stakeholders.
By reporting to CDP, you can gain competitive advantage by getting ahead of regulatory and policy changes, identifying and tackling growing risks and finding the new opportunities for action being demanded by your investors and customers across the world.
Understand and implement CDP recommendations

The Financial Stability Board established an industry-led task force: the Task Force on Climate-related Financial Disclosures (TCFD). The Taskforce helps identify the information needed by investors, lenders, and insurance underwriters to appropriately assess and price climate-related risks and opportunities.
Better access to data enhances how climate-related risks are assessed, priced, and managed. Companies can more effectively measure and evaluate their own risks and those of their suppliers and competitors. Investors will make better informed decisions on where and how they want to allocate their capital. Lenders, insurers and underwriters will be better able to evaluate their risks and exposures over the short, medium, and long-term.
Step 2 - Committing to a carbon reduction target
After understanding your climate risks, the next step is to manage them. The GSMA, in collaboration with the ITU, GeSI and the SBTI, has developed a decarbonisation pathway to net zero carbon emissions by 2050 for the ICT sector. This includes carbon reduction targets for the mobile sub sector.
The second step is to commit to setting a target. Commitments are made through the Science-Based Targets Initiative (SBTI) and many GSMA members have already committed.
If a business would like to commit to setting a science-based target aligned to the ICT sector pathway, the following is a guide to making a public commitment on the SBTI website.
Step 3 - Calculating a carbon reduction target
The next step is to calculate what the carbon reduction target is for your business.
The ICT sector pathway document contains the decarbonisation pathway to net zero by 2050 and expands upon how this was calculated.
For more detailed information, there is a Company Guidance document which contains information on how the targets relate to the ICT sector pathway.
Company Guidance document for mobile operators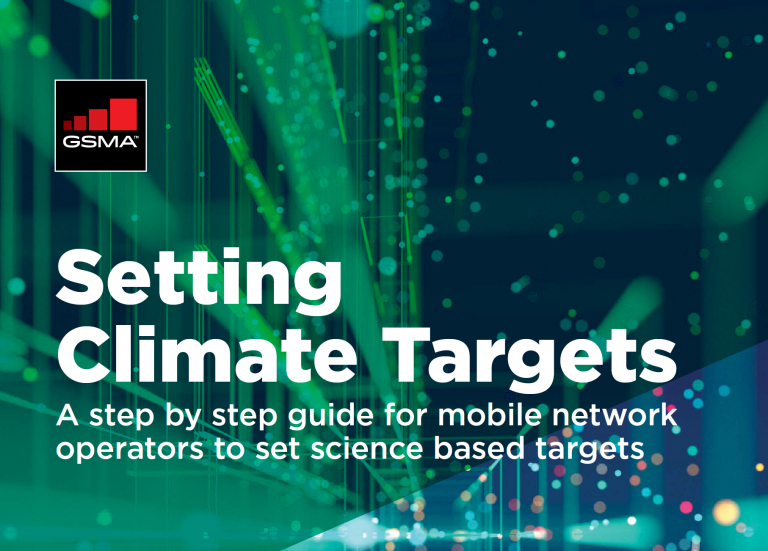 The Setting Climate Targets guide is a step by step guide to understand which targets are relevant to mobile operators, and provides fundamental information on the full target-setting process, from measuring corporate greenhouse gas emissions (GHG) to developing targets and submitting them to SBTi for validation.