Awards of the Digital Dividend Spectrum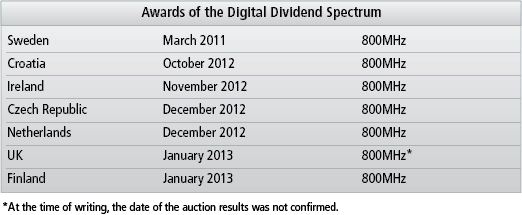 USA
The United States' Auction 73 of 700MHz spectrum concluded on 18 March 2008 after nearly two months of multi-round bidding. The auction attracted huge media attention, being the first time Google had ventured into a spectrum auction. Verizon and AT&T were the principal winners.
The auction offered a total of 62MHz of bandwidth, between 2MHz and 22MHz of bandwidth per license. Five blocks of spectrum were sold:
Block A: 2X6 MHz (698–704MHz, 728–734MHz), divided into 176 geographic areas
Block B: 2X6 MHz (704–710MHz, 734–740MHz), divided into 734 geographical areas
Block E: 6 MHz unpaired (722–728MHz), divided into 176 geographical areas
Block C: 2X11 MHz (746–757MHz, 776–787MHz), divided into 12 geographical areas
Block D: 2X5 MHz (758–763,788–793MHz), sold as nationwide
The lots plan for the auction was structured this way to accommodate some US specific interests on use of some of the bandwidth.
Auction 73 concluded with 1090 provisional winning bids covering 1091 licences. The provisional winning bids for the A, B, C and E Block licences exceeded the aggregate reserve prices for those blocks. The provisionally winning bid for the D Block license did not meet the applicable reserve price and thus did not become a winning bid. Accordingly, Auction 73 raised a total of $19,120,378,000 in winning bids and $18,957,582,150 in net winning bids (reflecting bidders' claimed bidding credit eligibility).
Verizon launched its LTE network in 2010, and by July 2012 had more than 304 cities covered with LTE, about 75% of the US population. AT&T launched its network in 2012, and had more than 47 markets with LTE by July of that year.
Germany
Germany's multi-band auction that included the 800MHz band ran from 12 April to 20 May 2010. A total of 360MHz of spectrum in the 800MHz band, the 1800MHz band and the 2.6GHz band were offered by this first major multi-band auction in Germany. For the 800MHz band, a spectrum cap was implemented.
The auction resulted in 2X30MHz of bandwidth in the 800MHz being sold. The multiband auction raised a total of €4.384 billion in auction revenue. Revenue from licensing the 800MHz band was €3.576 billion, over 80% of the multiband auction's total revenue.
Licence conditions on coverage and roll-out apply to the 800MHz band. The winning bidders must first roll out mobile broadband to underserved areas. Areas with higher populations cannot be served until 90% of each of the preceding categories is served.
It was reported by BnetzA that coverage obligations had been met by the operators in seven of the 13 required states.
Winners:
Telefónica O2 Germany
800MHz band: 2X10MHz (791–801MHz, 832–852MHz) O2 started marketing its commercial LTE network on 1 June 2011, focusing on service to rural areas supporting peak download speeds of 7.2Mbps. Having met the required coverage obligations, O2 Germany introduced urban services on 3 July 2012.
Vodafone
800MHz band: 2X10MHz (801–811MHz, 842–852MHz) Vodafone launched its LTE network in December 2010, reporting that they had 1,500 LTE base stations rolled out by March 2011, that they would have all GSM base stations equipped with LTE within three years and that they would offer speeds of 5Mbps in rural areas and up to 70Mbps in cities. A minimum download speed of 3Mbps is being guaranteed in all areas. This increases to 50Mbps and 10Mbps upload, depending on the topography and other variables. Vodafone introduced urban services at the end of June 2012.
Deutsche Telekom
800MHz band: 2X10MHz (811–821MHz, 852–862MHz) Deutsche Telecom introduced rural LTE services in early 2011 following extensive trials of the technology. By July 2012, the operator achieved sufficient coverage to meet its regulatory obligations and launched a city-wide LTE service in Cologne.
Sweden
In November 2009, the Swedish government adopted an ambitious broadband strategy, and the 800MHz band auction was used as a tool to achieve some of its goals. A coverage obligation was imposed for the 'FDD6' lot, which comprised a 2X5MHz lot (816–821MHz, 857–862MHz)2. Swedish regulator PTS laid out the rules as follows:
The licence holder shall cover the permanent homes and fixed places of business that lack broadband and which have been identified by PTS.
PTS will only identify households and businesses that have stated that they would like to have coverage.
'Coverage' means firstly access to data communications services at a bit rate of 1Mbps, or a higher applicable level for functional access to the internet, secondly that the licence holder's roll-out costs are appropriate and cost-effective.
The requirement to provide cover is basically limited to a roll-out cost corresponding to the licence holder's coverage bid in the combined selection procedure.
The lowest coverage bid that can be made is SEK 150m.
The maximum coverage bid that a bidder can offer is SEK 300m (ceiling amount).
The licence holder will thus use at least SEK 150m and at most SEK 300m, plus an adjustment for inflation, to provide coverage through roll-out, depending on the size of the bid.
The promised coverage shall be provided through roll-out within certain time frames, for which reason households and businesses will rather quickly gain access to data communications services with the above-mentioned bit rates.
The promised coverage shall be provided through roll-out within certain time frames, for which reason households and businesses will rather quickly gain access to data communications services with the above-mentioned bit rates.
The coverage requirement applies for the entire period of the licence.
By formulating the coverage requirement in this way, PTS achieves a condition that is changeable over time.
The fact that PTS annually identifies the group of homes and places of business that do not have data communications services with a certain bit rate means that the licence condition corresponds to the actual need for broadband in rural areas.
In addition, the permanent homes and fixed places of business gain access to data communications services where the bit rate complies with the data rate set by the Government for 'functional access to the internet'.
A spectrum cap of 2X10MHz per bidder was imposed by a decision by PTS3.
The auction concluded after five days of bidding between February and March 2011. The online auction concluded 31 bidding rounds before awarding licences for SEK 2,054,000,000 (approximately EUR 233 million).
Winning bids:

Net4Mobility, which won the coverage frequency block FDD6, will receive SEK 300m to cover those permanent homes and fixed places of business that lack broadband.
Net4Mobility is the joint network operating company owned by the operator Tele2 AB and the operator Telenor ASA. Hi3G, TeliaSonera and Net4Mobility each bought 2X10 MHz bandwidth meaning the existing four mobile operators in the Swedish market, '3', Telia, Tele2 and Telenor Sweden all managed to gain access to 800 MHz band spectrum.
The 800MHz spectrum is now being used to complement the LTE networks deployed at 2.6GHz and to provide the rural coverage obligations attached to the licence.
Italy
After 469 rounds of bidding lasting 22 days, Italy closed its 4G auction on 29 September 2011, raising €4.95 billion in the process. Spectrum was made available in the 800MHz, 1800MHz and 2.6GHz bands for mobile. Vodafone, Telecom Italia and Wind secured licences of 2x10MHz of 800MHz spectrum each. Wind won the lowest-priced block of 5MHz, the only block without coverage obligations. The licenses are valid until 31 December, 2029.
The 800MHz spectrum sold raised some €2.96 billion and will become available in January 2013 after the local television stations have freed it up. The price paid per mobile operator is outlined below:
Wind 2×10 MHz €977,900,000
Vodafone 2×10 MHz €992,400,000
Telecom Italia 2×10 MHz €992,200,000
The 800MHz spectrum will become available for use in January 2013 following the completion of the analogue switch-off in Italy.
Portugal
In late November and early December 2011, the Portuguese regulator, ANACOM, undertook a multi-band spectrum auction covering the 800MHz, 900MHz, 1800MHz and 2600MHz frequency bands simultaneously.
ANACOM had revised the auction several times and offered several consultations on the auction rules before it announced a minimum bid level of €113m for total spectrum bids. The auction comprised a qualification stage, a bidding stage, an assignment stage and an allocation stage.
Six lots of 2x5MHz were made available from 791–821MHz and 832–862MHz, with a reserve price of €30 million per lot. Three operators were each awarded 2x10MHz in the 800MHz band at a cost of €90m per operator. Licences are valid until 2026
The auction rules are published here: http://www.anacom.pt/streaming/english_version_Auction_Regulation.pdf?contentId=1101807&field=ATTACHED_FILE
The licences in Portugal are for 15 years and are renewable; however, the regulator has looked to unify the conditions of rights of use into a single licence rather than multiple licences. This is for all spectrum won by each company in what were multiple-band auctions (800MHz, 1800MHz, etc.). The regulator has issued a consultation on this, and the licences will come into effect once the consultation has ended in March 2012.
The analogue switchover in Portugal was reported to be complete in April 2012. Operators are expected to utilise the 800MHz spectrum for rural and in-building coverage when deploying LTE services, using both Digital Dividend spectrum and 2.6GHz frequencies.
Spain
In July 2011, the Spanish government auctioned 310MHz of spectrum in 58 blocks from the 800MHz, 900MHz and 2.6GHz frequency bands, with licences valid to 2030. Telefónica's Movistar, Vodafone Spain and France Telecom Orange won the majority of the spectrum. The remaining spectrum was reserved for regional operators.
Up to 10 blocks were auctioned every day, with bids being sought in rising percentages of 1, 3, 5, 10 and 15 percent. The auction process was structured to last about a week, depending on the number of competing bids. The final duration was 22 days, including 166 rounds of bidding.
Each block of 800MHz had a minimum bid price of €170 million. 60MHz of 800MHz spectrum was licensed for €1.3 billion and the total auction proceeds (which included 2.6GHz spectrum and some other mobile allocations) amounted to €1.65 billion.
Telefónica committed €668.3 million for two lots of 2×5MHz of spectrum in the 800MHz band, a single 2×5MHz block in the 900MHz band and two lots of 2×10MHz in the 2600MHz band.
Vodafone Spain, paid €517.6 million for two 2×5MHz spectrum blocks in the 800MHz, alongside a total of 40MHz in the 2600MHz band.
Orange España agreed to pay €437 million for a total of 20MHz in the 800MHz band and 40MHz in the 2600MHz band.
The 800MHz Digital Dividend spectrum is expected to become available in 2014, once the switch-over from analogue to digital television broadcasting in Spain has been fully completed. Frequencies in the 2600MHz band, meanwhile, are available for immediate use.
France
On 22 December 2011, three of the four operators bidding for spectrum in the 800MHz band won four blocks of spectrum. Bouygues Telecom, Orange France and SFR were the winners, with SFR paying the most. SFR's winning bid included two of the four blocks made available by the regulator, ARCEP. New mobile entrant Iliad was unable to secure 800MHz spectrum, but had secured a substantial holding of 2.6 GHz spectrum which was auctioned earlier in 2011
All three winning mobile operators also agreed to host Mobile Virtual Network Operators on their 800MHz networks. A total of €2.64 billion was raised in the process. The price paid for the spectrum per mobile operator is outlined below:
Bouygues Telecom, 2x10 MHz: €683,000,000
SFR, 2 pairs of 2x5 MHz (2x10MHz in total): €1,065,000,000
Orange, 2x10 MHz: €891,000,000
SFR are obliged under the conditions of the licence to offer access to the 800MHz spectrum, once the network at 2.6GHz reaches 25 per cent of population coverage.
The 800MHz auction was for 15 year licenses, commencing 1 January 2014.
Switzerland
On 23 February 2012, Switzerland's auction of spectrum in the 800MHz, 900MHz, 1.8GHz, 2.1GHz and 2.6GHz bands ended after 13 days of bidding. The auction comprised all mobile frequency bands at once, including frequencies coming up for licence renewal. The licences allow operators to use the spectrum on a technology-neutral basis through 2028.
Mobile operators Orange, Sunrise and Swisscom satisfied the admission criteria and were allowed to participate in the auction. In&Phone did not satisfy the admission criteria and was therefore not allowed to participate in the auction. All three operators successfully won spectrum, generating revenues of CHF 996.3 million for the Swiss government.
Details of the auction are available in the Ofcom media release available at:
http://www.news.admin.ch/NSBSubscriber/message/attachments/26004.pdf
The three successful operators all secured 2x10MHz of 800MHz spectrum, which will be available for use before the end of 2013.
Denmark
In June 2012, Danish Mobile operators TDC and the Telia and Telenor joint venture TT-Netvaerket secured spectrum in the Danish 800MHz auction. The auction followed a Combinatorial Clock Auction (CCA) format used in number of recent European spectrum auctions.
There were three bidders (Hi3G, in addition to TDC and TT- Netvaerket). TDC received 2x20MHz (801–821MHz and 842–862MHz) at a license price of DKK 627,804,000 while TT-Netvaerket won 2x10MHz (791–801MHz and 832–842MHz) at a license price of DKK 111,463,000. Hi3G were unsuccessful.
A coverage obligation was imposed on the 800MHz licensees aimed at improving access speeds in areas of Denmark worst affected by the lack of high-speed broadband. The obligation requires a mobile broadband service provision allowing users to experience an average download access speed of at least 10Mbps outdoors.
Information on the auction, including consultation documents are available at the Danish Business Authority web site: http://www.erhvervsstyrelsen.dk/auction_800mhz.
Japan
At the end of June 2012, Japan's Ministry of Internal Affairs Communications awarded rights to the use of 700MHz spectrum to NTT DoCoMo, KDDI and e-Mobile in 2x10MHz blocks. The ministry has allocated frequencies in the 700MHz band (718–748MHz, 773–803MHz) for mobile phone use, harmonised with other countries' frequency allocations. The allocation provides 30MHz of spectrum aligned with the APT Band Plan
700MHz spectrum will be available for commercial LTE services in 2015
Romania
In August and September 2012, Romania held a multi-band auction selling off licences using the 900MHz, 1800MHz, 2.6GHz bands as well as the Digital Dividend frequencies. The four existing operators — Orange, Vodafone, Cosmote and RCS — all submitted bids, as well as a greenfield operator called 2K Telecom, part of the Asesoft group.
Licences for the spectrum were for 15 years, extending to April 2029. There was thus an 18 month gap between the auction and expected access to the spectrum.
The auction concluded in September 2012. Winning bidders in the 800MHz frequencies were:
Cosmote Romania (2x5MHz)
Vodafone Romania (2x10MHz)
Orange Romania (2x10MHz)
The final 2 x 5MHz block was not assigned. A total of €682 million was raised through the multi-band auction.
Croatia
In September 2012, the Croatian government issued a public invitation to tender for the 790–862MHz frequency band. The licences will be valid until October 2024.
The process concluded by the end of October with licences issued to Hrvatski Telekom and Vipnet. A one-off fee of HRK300 million (€40 million) is payable by the operators, after which they will pay an annual spectrum fee.
Each operator has a 2x10MHz allotment. One 2x10MHz allotment was left unassigned after the third Croatian operator, Tele 2, did not bid.
Ireland
Ireland announced plans to auction six paired lots of 2x5MHz of Digital Dividend spectrum in early 2012. It announced that it would use a combinatorial clock auction to assign the spectrum, setting a minimum price of €20 million per 2x5MHz block.
Meteor, Vodafone and Telefónica were the eventual winners, each securing 2x10MHz in a dual licence that initially runs from 2013–2015 and then from 2015–2030. The split ties in with the time rights of existing spectrum licences. The spectrum was allocated as follows:
Meteor: 791–801MHz x 832–842MHz
O2: 801–811MHz x 842–852MHz
Vodafone: 811–821MHz x 852–862MHz
The auction also sold 900MHz and 1800MHz spectrum, and raised a total of €854.64 million. Hutchison participated in the auction and gained spectrum in the other bands, but not in the Digital Dividend band.