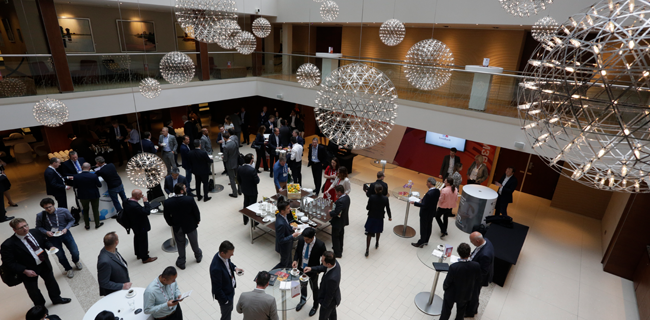 The IoT Masterclass: Securing the Connected Future
By 2025, the world will be composed of 27 billion connected devices.[1] From waste management to water meters, a whole host of new services and devices will share data. This opens the door to a wealth of opportunities – and potentially serious security threats.
Exploited security gaps, confidential data leaks and fallen reputations are characteristics of the age we live in. However, there are promising signs that the digital community is investing more in security.
To flourish in the coming years, businesses need to consider security for their IoT solutions not just at the point of their product's first use, but for its whole lifecycle. With the marked increase in the deployment of LPWA solutions, these long-term safeguards are especially timely.
Collaboration is essential if the industry is to navigate through this transformative period. To this end, IoT security experts will be gathering on the 23rd-24th May 2017 for the IoT Security Masterclass at  GSMA Mobile 360 – Privacy & Security. Covering common approaches to vulnerabilities for the entire ecosystem, this is a must-attend event for any IoT service provider, device manufacturer or developer who needs to keep informed of the latest thinking inside the IoT security community.
Key to addressing the latest security issues are the GSMA IoT Security Guidelines, the widely acclaimed 'baseline' for IoT security. These offer best practice for the secure end-to-end design, development and deployment for a wide range of scenarios, and are intended to help businesses verify and trust the identity of connected devices.
To help the industry adopt a common approach and allow companies to demonstrate the readiness of their products, the GSMA introduced the GSMA IoT Security Assessment. This  process is intended to give businesses confidence that their solution is protected from cybersecurity risks, and enhance their reputation as trusted IoT solution providers to gain the trust of their business partners
These two invaluable tools have already proved their worth for mobile network operators such as Telefónica. Using both the Guidelines and Assessment, the operator was able to improve security features in a new remote tracking system that optimises the flow of traffic in the Port of Seville. By using these tools, Telefónica also discovered new security measures that hadn't been considered, such as further controls on network monitoring.
Discoveries such as this are sure to become commonplace as the wide IoT industry unites behind a common approach to IoT security. By adhering to the GSMA IoT Security Guidelines and then evaluating the security measures they have taken with the GSMA IoT Security Assessment, service providers can feel assured that they have reached a robust benchmark of security – and have communicated this with others. The upcoming IoT Security Masterclass will be a rare occasion to learn more about these valuable resources and the most pressing issues of the day – right at a time when much of the industry is in the formative stages of addressing IoT security.
Back