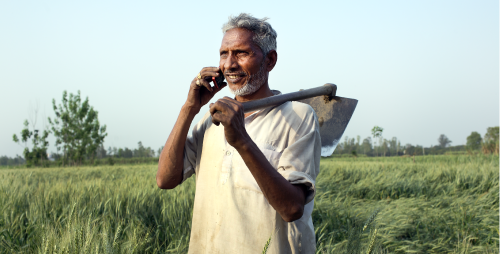 The mFarmer Initiative was launched by the GSMA mAgri Programme in 2011 in partnership with USAID and the Bill & Melinda Gates Foundation. The objective of the mFarmer Initiative is to provide 2 million smallholder farmers across Sub Saharan Africa and India with access to affordable agricultural information services provided via mobile phones.
Through a competitive grant application process, four projects were selected to be part of the mFarmer Initiative. Each of the projects was awarded a grant of USD 400,000 to develop and scale commercially viable Agricultural Value Added Services (Agri VAS).
The GSMA mAgri team works closely with each of the mFarmer grantees for an implementation period of 2 years, providing targeted business consultancy, advice on service improvement and monitoring and evaluation support.
The services developed in partnership with mobile and agriculture partners under the mFarmer Initiative include:
Tigo Tanzania: Tigo Kilimo service
Handygo India: mKisan service
Airtel Kenya: Airtel Kilimo service
Orange Mali: Senekela service
Lessons from the projects are available on our website under Resources and in our blog posts.
The GSMA mFarmer Initiative is supported by the Bill & Melinda Gates Foundation and USAID