Could eSIM Revive Roaming Revenues?
The travel industry is shifting from pandemic emergency response to gradual re-opening in 2021. However, the travel experience will change dramatically. Travelers will prioritize safety, social distancing and avoiding physical interactions, including airport kiosks to purchase SIM cards and connectivity services. This behavior change by customers demands that Telecom Operators adapt and offer a new way for customers to browse, purchase plans and provision their devices when traveling.
In today's digital world instant connectivity is a must. The physical SIM, which was once irreplaceable and tied to individual mobile networks, is making way for the embedded SIM (eSIM). While physical SIM cards have become smaller over time, the capabilities of the SIM card have not materially improved and its limitations have become more apparent.
Today eSIM and dual SIM-enabled smartphones, laptops and tablets are being manufactured at scale by Apple, Samsung, Google and other OEMs. The GSMA predicts that by 2023, at least 20% of new global smartphone connections will occur via eSIM. eSIMs are means of meeting greater demand for more flexible connectivity as the industry moves into the 5G era.
Advantages of eSIM:
● Device connectivity in minutes from any location.
● Multiple Operators' profiles can be stored on each device.
● Enhanced security in eSIM Devices
● No need for customers to swap physical SIMs when traveling.
● Reduced cost to manufacture, store and distribute physical SIMs through a network of dealers, resellers and retail stores.
Pandemic's impact on roaming
The pandemic has negatively impacted almost every industry and country. For Telecom Operators the impact can be clearly seen in the drop of roaming traffic and revenues due reduced international travel by both consumers and enterprise customers.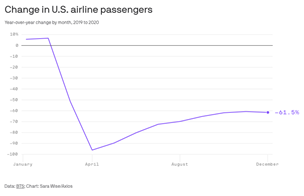 One proxy measurement for roaming traffic is airline passenger volume. According to data from the US Department of Transportation, domestic flights saw 59% fewer passengers in 2020 compared to 2019, while the number of people taking international flights dropped by 70% YoY.
With the introduction of effective Covid vaccines in early 2021 international travel will rebound. Operators need to be ready.
Disruption is here, and the time to act is now
Although roaming traffic is down, there is a light at the end of the tunnel in 2021 for agile Telecom Operators – eSIM. With eSIM, it's possible to acquire high ARPU travelers, greatly improve the customer experience, and cut operating costs by offering services through digital channels to customers everywhere in the world.
GSMA standards are in place and an expected 225 million eSIM-enabled smartphones from Apple, Samsung, LG, Motorola and others will ship in 2021. Telecom Operators can seize the opportunity to become digital leaders and reduce their dependence on retail stores and airport kiosks for new customer acquisition and roaming revenue.
Advantages of eSIM for Telecom Operators

White-labeled eSIM Traveller App for Global Data Service
LotusFlare has combined eSIM with a 5-star mobile app built using Internet company best practices for performance and UX/UI. The result is the eSIM Traveller App available for white label. It allows customers to browse, purchase and activate prepaid mobile data plans globally via eSIM. No need to visit a retail store, swap physical SIMs or involve a call center agent.
With eSIM Traveller App, Telecom Operators can:
1. Offer a branded app to sell their roaming plans to travelers.
2. Enable a best-in-class digital user experience.
3. Acquire high ARPU subscribers via a low-cost digital channel.
4. Eliminate negative experiences and costs associated with physical SIM cards in the time of the pandemic.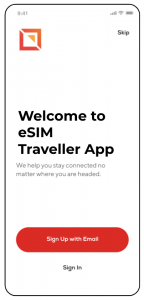 Using public cloud hosting infrastructure and agile development, a Telecom Operator can be up and running in 2-4 months with a fully branded app. The product could be marketed to subscribers across a Telecom Group or in one specific country. A Telecom Operator can feature roaming plans from a specific Telecom Group or a roaming alliance. Co-marketing partnerships with local airlines or travel sites could enhance product visibility and customer adoption.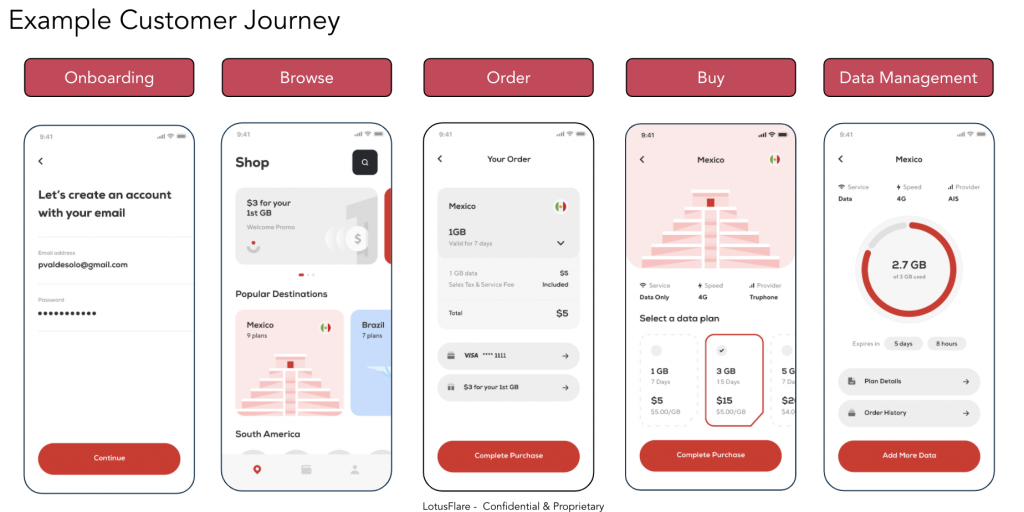 The future of roaming
As the world turns the corner past COVID-19, Telecom Operators must look to improve customer experience and recover roaming revenue. An app designed specifically for travelers featuring friction-free customer onboarding, plan purchase and device provisioning powered by eSIM helps solve both these challenges. Customers can purchase a plan in the comfort and safety of their homes without having the hassle of buying a new SIM upon landing at the airport. And Telecom Operators have a new channel to sell their roaming plans via a low cost, convenient digital platform.
LotusFlare eSIM Traveller App is part of the larger Digital Network Operator® (DNO™) software platform, a full-stack and modular IT platform that lets Telecom Operators create 100% digital customer journeys and significantly reduce costs.
Ready to play offense with eSIM? Contact us now to see an eSIM demo.