eSIM Summit at MWC Barcelona 2022
eSIM Adoption and Global Market Trends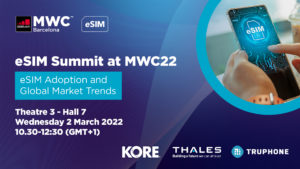 According to the GSMA intelligence "eSIM: State of the consumer market and the road ahead" report by 2025, 2.4 billion smartphone connections will  use eSIM globally.
As market adoption grows and eSIM becomes part of day-to-day business, having a clear roadmap and strategy will be crucial to capture and monetise the new opportunities presented by eSIM.
 This eSIM Seminar will focus on the adoption of the eSIM and trends of the global market. This event will provide the opportunity to meet with top-level experts from the eSIM industry, Operators, Device Manufactures, Service Providers and others, to explain the opportunities and the eSIM solutions for market challenges.
Sponsors
Platinum 

Gold 
eSIM Scaling Massive IoT
The inconvenient truth – 6 years as an eSIM partner with Apple
Unleash the power of eSIM
Event Agenda, PPT Decks & Speakers
PPT
Topic
Speaker
eSIM Summit Introduction
Here
eSIM Summit – Welcome
Gloria Trujillo, eSIM Technical Director, GSMA
Here

eSIM in 2022 and beyond: assessing new developments, market trends and consumer behaviour

This presentation will provide an overview of the new developments and trends shaping the eSIM market in 2022 and beyond, and what they mean for industry players. The analysis will cover both the consumer and enterprise IoT markets. As consumer awareness of eSIM grows, the presentation will also shine a light on what consumers think about eSIM and what they expect from the new technology.   

Pablo Iacopino, Head of Research and Commercial Content at GSMA Intelligence

,

GSMA
Part 1 – eSIM involving in Massive IoT
Here

Can eSIM be the Linchpin of Massive IoT?

Key network technologies are creating simpler, more accessible pathways to realizing the true potential of IoT. The ability to transform enterprise operations across a wide ecosystem of connected devices is the heart of Massive IoT. One of the next-generation connectivity technologies that might hold the key to accelerate this segment of IoT is eSIM. KORE discusses where this technology fits in opening the globe to extensive IoT enablement, and how to optimize a technology that is rapidly developing in a competitive market.

Marco Bijvelds, Senior Vice President, EAP, KORE

 

Panel Discussion:

eSIM in Action: How to accelerate and keep Massive IoT SAFE?

Adoption of eSIM heralds a new way to address how data from IoT is secured at source, in transit and integrated with zero-touch into big data insights. These are critical success factors for anyone addressing cost and reliability of scalable IoT. This relaxed "fireside chat" will spotlight case studies and learnings from pragmatic pathways available to adoption and acceleration of eSIM and how to make most of the security that comes with standards-based security schemes such as IoT SAFE. Further, a glance in what some leading-edge developments in key industrial markets and a chance to ask your questions!

Moderator: Gloria Trujillo, eSIM Technical Director, GSMA

Marco Bijvelds, Senior Vice President, EAP, KORE 

Loic Bonvarlet, VP Product and Marketing, Kigen

Here
Part 2 – eSIM Revolution 

Yolanda Sanz, eSIM Technical Director, GSMA

Here

The inconvenient truth – 6 years as an eSIM partner with Apple

Apple fired the gun on eSIM sparking one of the biggest transformations the mobile industry has seen. Join Michael Moorfield, CTO @ Truphone to hear their unique journey of enabling eSIM with Apple and the inconvenient truths for the wider mobile ecosystem.

Michael Moorfield, Chief Technology Officer , Truphone

Here

Unleash the power of eSIM

In a market increasingly equipped with eSIM solutions, it is time to embrace this technology to meet new and existing challenges such as supporting telecom operators to launch new digital-first brands, and simplifying the access & management of cellular connectivity for the massification of IoT. Join Thales in their discussions on how to get the most out of eSIM and benefit from this revolution.

Antoine Thomas – eSIM solutions Director – Thales DIS

François Bogusz – Digital Telco Director – Thales DIS

eSIM Summit Closing

Closing Remark

Yolanda Sanz, eSIM Technical Director, GSMA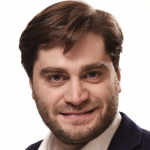 Pablo Iacopino
Head of Research and Commercial Content at GSMA Intelligence, GSMA
Pablo leads the Commercial Research practice at GSMA Intelligence. He drives the research agenda and themes, overseeing the production of content for a range of topics such as 5G and network transformation, telecoms and media convergence, new telco technologies, IoT and enterprise opportunities, spectrum, and the future of the digital consumer. Some of his recent research publications delved into operator revenue and services beyond connectivity, eSIM, 5G investment and opportunities, B2B strategies, and Edge Computing. Pablo is a regular speaker at industry conferences and events, with more than 35 presentations and panels per year. He has more than 15 years' experience in the telecoms sector in different roles, including industry research, equity research and investor relations.
Marco Bijvelds
Senior Vice President, EAP, KORE
Marco Bijvelds, SVP, EAP at KORE, brings more than 10 years of IoT experience through senior management positions. Adaptive to the dynamic and fast-paced IoT industry environment, Marco has been successfully implementing KORE's go-to-market product strategy in Europe, strengthening KORE's position in the European marketplace.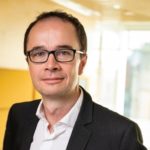 Loic Bonvarlet
VP Product and Marketing, Kigen
Loic Bonvarlet oversees Product Management and Marketing for Kigen, helping to facilitate adoption and scalability of a secure, integrated and cost effective cellular IoT. He drives the entire Kigen portfolio from embedded solutions to services. He has more than 20 years of experience in Telecoms, wireless, security and IoT in development, support, technical sales and product marketing.
Prior to Kigen, Loic Bonvarlet worked at Arm (2018-2020) as Product Marketing Director, Secure Identity notably to develop and promote Kigen Portfolio and first iSIM projects.
In his previous Gemalto role, Loic Bonvarlet was leading IoT Services Product Marketing including the Gemalto IoT platform and Security Solutions (Trusted Key Manager and Secure Element). As North America Application Engineering Director, he helped key cellular module customers to successfully go to market.
Loic holds a Master of Engineering in Telecoms and networks from Grenoble Institute of Technology.
We welcome for social shares please use from this mix of company and speaker mentions:
Twitter: @Kigen_Ltd
Speaker Twitter: @lbonvarl
Speaker LinkedIn: https://www.linkedin.com/in/loicbonvarlet/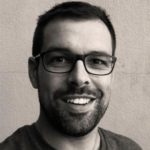 Antoine Thomas
Head of eSIM Solutions, Thales DIS
Antoine Thomas serves as the Head of eSIM Solutions and is notably in-charge of the eSIM products and solutions, business and strategy in Thales Digital Identity & Security.
He was previously Product Director for eSIM solutions from 2016 to 2018 responsible for the roadmap and deployment of eSIM solutions at Gemalto.
Antoine has twenty years of experience in combined Security, Telecommunication and Payment business. He has held various positions in Technical, Sales and Marketing with Gemplus, Gemalto and now Thales.
Antoine holds and engineering degree in Computer Science with specialization in Operating Systems, Artificial Intelligence and Banking from École Nationale Supérieure d'Informatique pour l'Industrie et l'Entreprise (ENSIIE) in Paris, France.
François Bogusz
Digital Telco Director , Thales DIS
Francois Bogusz is in charge of the Trusted Digital Identity product line for Thales Mobile Connectivity Solutions. Thales ID solutions allow digitalization of Consumer's identity proofing, on boarding and authentication journeys. Such solutions are also a key element to enable fast, flexible and fully digitalized end-user journeys to access connectivity services from a mobile app.
Francois was previously serving as the Director of Product Management for eSIM Solutions, responsible for the definition of the eSIM Solutions products and deployment strategy addressing Consumer, M2M and IoT markets for Thales Digital Identity Business Unit.
Prior to the acquisition of Gemalto by Thales, François was based successively in in Singapore in charge of the teams developing eSIM and eSE products and in South Korea acting as Product Manager for Embedded Secure Elements (eSE) and working closely with Samsung Mobile to successfully deploy large-scale mobile payment and transport solutions worldwide.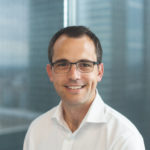 Michael Moorfield
Chief Technology Officer , Truphone
Michael Moorfield is the Chief Technology Officer at Truphone. He is responsible for the Enterprise Mobility, IoT and eSIM product portfolio in addition to driving the Truphone technology strategy and innovation agenda. He has led the global expansion of Truphone's eSIM and Remote SIM Provisioning services and is a member of GSMA Industry Standard Approval Group. Prior to joining Truphone, Michael worked for IBM as a Managing Consultant for several large multinational banking and telecommunication organisations. Michael holds a degree in Software Engineering from RMIT, Melbourne, Australia.