Changing the way wireless networks are built
Alpha Wireless was well and truly on display at MWC Los Angeles 2019 – attendees got a taste of the company's offerings not only at its exhibit stand but before they even stepped through the front door. For those with their eyes peeled on their way in, the Alpha Wireless CAN was spotted atop a lamppost near the entrance to the Los Angeles convention centre where the three-day event was held last month.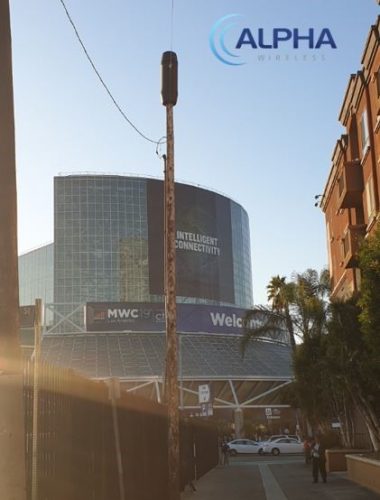 https://alphawireless.com/#can
For operators looking to increase coverage and capacity, the CAN is an excellent option because it brings the antenna, shroud, radio and power into a single ultra-compact casing. It's perfect for any operator needing a discreet solution for super fast planning and zoning approval and cost-effective deployment. It has been popular in North America since its commercial release earlier this year.
Among the hot topics at the event was the launch of commercial service in the CBRS 3.5GHz band. Experts came together to host a workshop discussing OnGo powered by CBRS Alliance, its deployments and the changes it is likely to have on the wireless industry. Alpha Wireless has over 12 years' experience in designing and engineering 3.5 GHz-capable antenna solutions and have one of the largest 3.5 GHz antenna portfolios in the market. They have shipped over 25,000 antennas to customers globally to-date and is strategically positioned for the expected exponential growth in this area.
With one of the widest and broadest portfolios in CBRS applications available in the market, MWC provided the perfect platform to show a variety of OEMs how Alpha Wireless can help them with their end-to-end solution approaches.
In addition to the CBRS launch, the AW3711 a panel antenna used in the design of wireless networks also proved popular at MWC. It is a 33-degree beamwidth antenna designed to provide high capacity for fixed wireless broadband. This product was developed to offer a narrow Azimuth Beam with four-port functionality and RET control. It was designed for six-sector sites to increase capacity for fixed wireless access and is particularly notable for its ability to reduce interference and has reduced azimuth sidelobes (<25 dB). Improving the SINR and thus enabling higher modulation schemes for maximum throughput.
To find out more see here. Watch the must-see CAN video now.
The GSM Association ("Association") makes no representation, warranty or undertaking (express or implied) with respect to and does not accept any responsibility for, and hereby disclaims liability for the accuracy or completeness or timeliness of the information contained in this document.