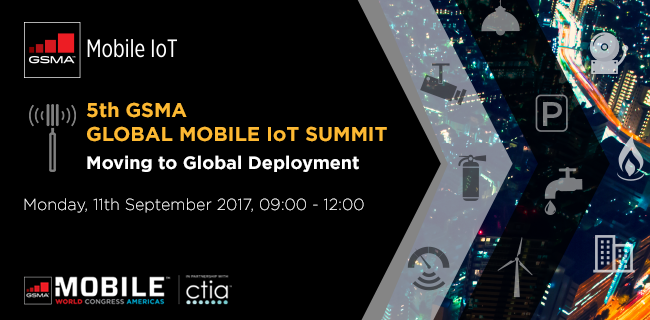 5th GSMA Global Mobile IoT Summit
Navigation
Start:

September 11 @ 9:00 am

End:

September 11 @ 12:00 pm
Venue:

The Village

Address:
Google Map

969 Market Street, San Francisco, CA 94103, USA
Moving to Global Deployment
After a successful year, delivering more than 40 Mobile IoT pilots globally, the industry is now progressing to commercial deployments of Mobile IoT (licensed spectrum low power wide area) networks in 2017/18.
Designed for IoT applications that are low cost, use low data rates, require long battery lives and often operate in remote and hard to reach locations, low power wide area (LPWA) technologies, namely LTE-M and NB-IoT, make it viable to connect large numbers of new devices and applications, paving the way for broad adoption by both individuals and enterprises.
The 5th GSMA Global Mobile IoT Summit will explore the ongoing commercialisation of licensed spectrum LPWA networks and their power to deliver service to billions of new devices providing complete IoT connectivity.
Register now and learn from mobile operators, customers and the wider ecosystem how the industry is 'Moving to Global Deployment' and how companies can take the next big step forward, moving from pilot to successful launch to market.
Agenda and speakers will be announced shortly.
Register below
*Disclaimer – GSMA Ltd takes the privacy of your information very seriously. To view the GSMA Privacy Policy, click here.
Disclaimer – GSMA takes the privacy of your information very seriously. To view the GSMA Privacy Policy, click here.
+ iCal Import
+ Google Calendar