Mobile IoT will play an integral role in the 5G era – indeed, the technologies already have a complementary relationship today.
Mobile IoT refers to low power wide area (LPWA) networks in licensed spectrum, standardised by 3GPP to assure the most secure and reliable form of delivery for cellular IoT. Mobile IoT is thus the most trusted architecture available for applications which use low data rates, require long battery lives and low unit costs, and often operate in remote or hard to reach locations – examples include smart utilities, smart environmental monitoring and smart logistics.
5G is the coming new generation of mobile networks, representing a seismic shift in mobile capability – one which will wholly transform the uses to which mobile technology can be put.  There are 3 major areas of application for 5G: Massive IoT, critical communications, and enhanced mobile broadband. Massive IoT is the name given to the process of bringing vast arrays of previously standalone objects online, making possible the promise of smart cities. Critical communications refer to use cases which simply cannot fail – such as emergency services or digital healthcare – and as such require both maximal bandwidth and flawless reliability. Enhanced gigabit mobile broadband speaks for itself, and is in truth something of an understatement – by the end of the decade, most consumers will have access to superfast broadband on their mobiles, allowing them to communicate and access digital services with far higher speed and reliability than hitherto.
Both NB-IoT and LTE-M – the family of licensed-spectrum LPWA technologies which make up Mobile IoT – will provide crucial support to 5G's use cases, and will work in harmony alongside 5G's other applications in a mutually reinforcing way. As can be considered in greater detail by consulting the GSMA's recent paper Mobile IoT in the 5G Future, 5G was developed with precisely this intention: many of the same operators who are deploying Mobile IoT are also committed to the future of 5G, and have a natural desire to make good on their investment in doing so. Those operators, in partnership with vendors and developers, are therefore launching Mobile IoT networks as a core component of their long-term strategies for 5G IoT. In short, Mobile IoT delivers trusted low power wide area capability today, while forming the foundation of the 5G future and massive IoT.
This future of Mobile IoT is now assured, as 3GPP has agreed the that the LPWA use cases will continue to be addressed by evolving NB-IoT and LTE-M as part of the 5G specifications, so confirming the long term status of both NB-IoT and LTE-M as 5G standards.In order to complete 5G system support for Mobile IoT, 3GPP is also investigating options for the 5G core network to support LTE-M or NB-IoT radio access networks. This will enable a smooth operator migration path to 5G NR frequency bands while preserving NB-IoT and LTE-M deployments.
Mobile IoT is in the process of delivering massive IoT for the 5G future, while enabling key capability for today's IoT. The two are neither in tension, nor duplication – in fact they are two complimentary technologies pivotal to the success and growth of the IoT.
Video
Friday 15 Jun 2018 | 5G | Mobile IoT Initiative | Resources |
This webinar to explores how Mobile IoT can enhance a 5G future, while still providing capability for today's key IoT applications such as smart metering, smart logistics and environmental monitoring. Best practice and recommendations ...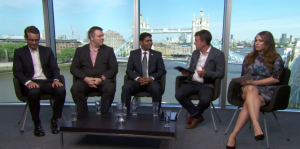 Document
Monday 14 May 2018 | 5G | MIoT Technology | Resources |
In the near future with 5G, mobile operators will continue to provide secure connectivity and high value services, enabling a complete range of IoT solutions for consumers and businesses. Mobile IoT technologies, NB-IoT and LTE-M, ...